April 25, 2022
FOR IMMEDIATE RELEASE:
The National Writers Series Closes its Spring Season with Two Very Different Authors:
George Saunders and Paul Holes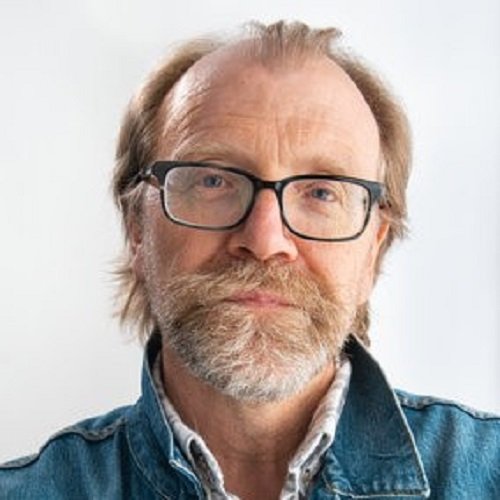 The National Writers Series will bring its Winter/Spring season to a close in a few weeks, with our final events taking place nearly back-to-back. We're hosting two very different authors for two very different conversations: One about the art and craft of writing, and one about the emotional cost of capturing criminals.
The Authors
It's hard to imagine an American author with more critical acclaim than George Saunders. He's the #1 best-selling author of ten books, including the Man Booker Prize-winning novel Lincoln in the Bardo, and Tenth of December, nominated for the National Book Award. He's also been named one of Time magazine's "Most Influential People in the World."
When it comes to true-crime street cred, there's one name at the top of the list: Paul Holes. The retired cold-case investigator spent decades capturing criminals and is credited with the discovery that helped catch California's most vicious serial predator: The Golden State Killer.
The Books
George Saunders joins us to discuss A Swim in a Pond in the Rain, his newest book (recently released in paperback) that was named one of the best books of 2021 by The Washington Post, NPR, Time, San Francisco Chronicle, Esquire, and more.
The book is a literary version of the MFA writing class he's been teaching for over 20 years. It's an exploration not just of how great writing works but also of how the mind itself works while reading. This event is a must for anyone who loves the written word.
Paul Holes will be joining us to talk about his first book, Unmasked: My Life Solving America's Cold Cases. It's a memoir that takes us through his memories of a storied career as an investigator for the Contra Costa County Sherriff's department and provides an insider account of some of the most notorious cases in contemporary American history.
It also pulls back the curtain on the most intimate scenes of his life and shows the detective work's impact on his marriage. This story is about the gritty truth of crime-solving when there are no flashbulbs and "case closed" headlines.
Event Details
George Saunders joins the National Writers Series for a virtual event on Zoom on Thursday, May 5th, at 7 p.m. ET.
After that, Paul Holes will join us live on stage at the City Opera House on Tuesday, May 10th, at 7 p.m. ET. This event will also be live-streamed.
Virtual/livestream tickets are available at the National Writers Series website. In-person tickets can be purchased through the City Opera House. Attendees of our virtual events will be sent a link to the livestream following registration.
Guest Hosts
Our guest host for the evening with George Saunders will be a fellow short-story author, writer and teacher: Kevin Fitton, who leads the Creative Writing Labs for the NWS Raising Writers program.
Our guest host for the evening with Paul Holes is Pulitzer-Prize-winning journalist Paige St. John, whose podcast "The Man in the Window" documented the hunt for the Golden State Killer. St. John is also a former Associated Press correspondent who was based in Traverse City.
Hi-res images: