George Saunders • Thu, May 5, 2022
George Saunders is the #1 New York Times bestselling author of ten books, including Lincoln in the Bardo, which won the Man Booker Prize; Congratulations, by the way; Tenth of December, a finalist for the National Book Award; The Braindead Megaphone; and the critically acclaimed short story collections CivilWarLand in Bad Decline, Pastoralia, and In Persuasion Nation. He teaches in the creative writing program at Syracuse University.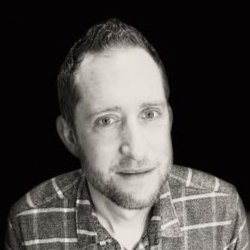 Kevin Fitton is a writer, musician, educator and instructor for the NWS Creative Writing Labs. He is the author of the story collection, Auras, forthcoming from Fomite Press. He published the children's book, Higher Ground, with Caldecott-winning artist, Mary Azarian, along with over a dozen short stories in nationally recognized magazines, like Jabberwock, Limestone, and The Saturday Evening Post.
He holds an MFA from Bennington College and is the recipient of a doctoral scholar award at Western Michigan University, where he is pursuing his PhD in Creative Writing. He lives in Grand Ledge, Michigan with his wife and two daughters.