Paul Holes • Tue, May 10, 2022
In 2018, Paul Holes retired as a Cold Case Investigator after spending more than 27 years working in Contra Costa County in California's Bay Area. Paul specialized in cold case and serial predator crimes, lending his expertise to notable cases, including the murder of Laci Peterson and the kidnapping of Jaycee Dugard. Most prominently, Paul's career culminated with his identification of the Golden State Killer, the most notorious and cunning serial predator in U.S. history.
Since the arrest of Joseph DeAngelo, the Golden State Killer, Holes has been very involved on the media side, continuing to assist law enforcement and victims' families with their unsolved cases through the television shows The DNA of Murder with Paul Holes and America's Most Wanted, and with the podcast Jensen & Holes: The Murder Squad.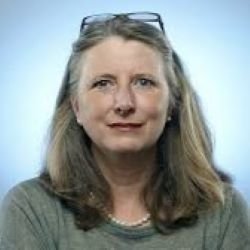 Paige St John is a Pulitzer-prize winning investigative reporter. She is the host of the award-winning podcast Man in the Window, a dissection of the crimes of serial rapist and killer Joseph DeAngelo in the context of 1970s attitudes toward women and rape, and the struggles of DeAngelo's survivors in the era of True Crime entertainment.
Paige has a long history with Michigan – as a writer for the Detroit News and former Traverse City correspondent for the Associated Press. She accepts payment in fresh morels or a chance to cast a fly in the Betsie.