Ruth Ware • Sun, Jun 25, 2023
Ruth Ware is an international number No. 1 bestselling author. Her thrillers In a Dark, Dark Wood, The Woman in Cabin 10, The Lying Game, The Death of Mrs. Westaway, The Turn of the Key, One by One and The It Girl have appeared on bestseller lists around the world, including the Sunday Times and The New York Times. Optioned for both film and TV, her books have been published in more than 40 languages. She previously took the National Writers Series virtual series stage in September 2020 with guest host and bestselling author Megan Miranda. Ruth lives near the seaside resort of Brighton, England, with her family. Visit www.ruthware.com to find out more.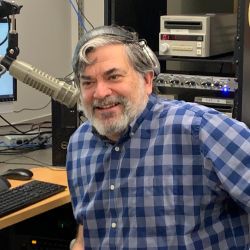 Eric Hines, the station manager at WNMC, the community radio service of Northwestern Michigan College. frequently interviews NWS authors on his morning show.
Now he'll take the City Opera House stage for an in-person interview with Ruth Ware! Eric was born and raised in Philadelphia and has degrees in English from Lafayette College and Rutgers University. He previously worked as a writer and editor for publications like AllMusic Guides, Food Quality magazine, and the Traverse City Record-Eagle.