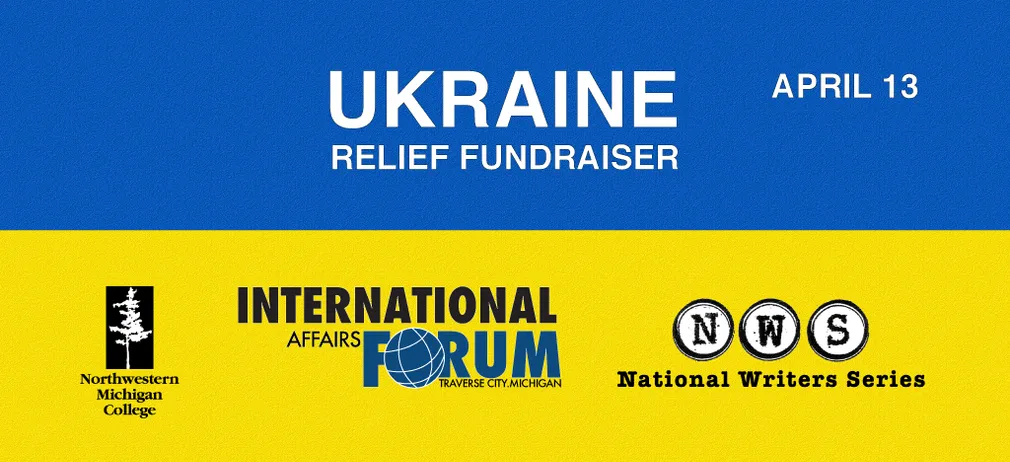 International Affairs Forum and National Writers Series to host fundraiser event for Ukraine, refugees on April 13
TRAVERSE CITY – Northwestern Michigan College's International Affairs Forum and the National Writers Series will host a Ukraine Relief Fundraiser on Wednesday, April 13 at 6:30 P.M. at the City Opera House in Traverse City. Doors will open at 5:45 P.M. for a pre-event reception.
Through this major fundraising drive, donors' financial support will have global and local impacts. The following groups are actively working in Ukraine and the region, aiding children, families, and first responders, or will be responsible for resettling refugees in the Grand Traverse region in 2022 and 2023. All funds raised will go directly to these organizations:
Bethany Christian Services, providing refugee services in Michigan
Save The Children Ukraine, supporting the basic needs of the most vulnerable families
Foundation Ukraine, providing critical support for first-responders
INARA Ukraine Response, the International Network for Aid, Relief, and Assistance, providing comprehensive care for war-wounded children and their families.
Europe is facing a humanitarian crisis not seen on the continent since the end of World War II. Ten million people have now fled their homes in Ukraine because of the Russian invasion, including 3.6 million who have left for neighboring countries. The challenges to house and support these refugees inside and outside of Ukraine are staggering.
Guest speakers appearing virtually include:
Dr. Ulana Suprun, former Minister of Health for Ukraine, connecting from Kyiv, founder of non-profit Foundation Ukraine
Arwa Damon, CNN senior international correspondent, recently reporting from Ukraine, founder of INARA
In-person guest speakers include:
Tracy Busch, PhD, associate professor of history, Ferris State University. Busch holds a doctorate of Russian and European History from Georgetown University.
Lt. Col. Benjamin Busch, actor, filmmaker, USMC Reserve, recently returned from training Ukrainian civil defense forces
Kristi Gleason, vice president for adult and family refugee and immigrant services, Bethany Christian Services
Chelsea Hill, branch director, Traverse City, Bethany Christian Services
Moderators include:
Major General Michael Lehnert, USMC ret., IAF Advisory Board (virtual)
Doug Stanton, award-winning author, co-founder National Writers Series
John Zachman, PhD, professor of political science, Northwestern Michigan College
Dr. Ulana Suprun is the former Health Minister of Ukraine and founder of Foundation Ukraine. She is on the ground in Kyiv helping to organize relief efforts and shared this statement ahead of her remarks on April 13:
"Putin's army is deliberately and knowingly targeting civilians, residential communities, schools, maternity hospitals and medical facilities…Ukraine's First Responders have been working 24/7, rescuing families…They have saved thousands of lives [and] need our help including medical supplies, communication devices to enhance their capacity, personal protective equipment to keep them safe…We are hoping to raise funds to provide Ukraine's fire fighters and emergency workers with the equipment they need to save the lives of Ukrainians affected by the acts of terror committed by the Russian military."

– Dr. Ulana Suprun
The fundraiser event will be held Wednesday, April 13, at 6:30 P.M. at the City Opera House (106 E. Front St, Traverse City). Doors will open at 5:45 P.M. for a pre-event reception. The event is free and open to the public. Tickets are required. Donations are strongly encouraged in advance and at the event. The event will be live streamed. For in-person tickets, donation links, livestream access, and all event details, go to TCIAF.com.