Susie Yang • Thu, Aug 5, 2021
Named one of the Best Books of 2020 by USA Today and longlisted for the Center for Fiction's First Novel Prize, Susie Yang's New York Times bestselling novel, White Ivy, is filled with surprising twists and a nuanced exploration of class and race.
Susie Yang was born in China and came to the United States as a child. After receiving her doctorate of pharmacy from Rutgers, she launched a tech startup in San Francisco that has taught 20,000 people how to code. She has studied creative writing at Tin House and Sackett Street. She has lived across the United States, Europe, and Asia.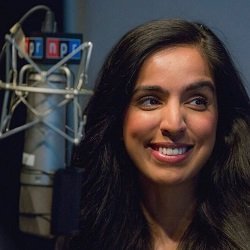 Aarti Shahani is an award-winning NPR journalist and best-selling author. She is creator and host of Art of Power (a co-production with WBEZ), a weekly podcast featuring fascinating people who've done big things. Aarti's first book, Here We Are (an NWS book!), chronicles her unlikely journey from undocumented kid in Queens, New York to national voice on the frontlines of the most powerful industry on earth. An Amazon bestseller, the memoir has garnered critical acclaim.