September 14, 2021
FOR IMMEDIATE RELEASE:
The National Writers Series Presents
"Afghanistan Today: An International Panel"
on Thursday, September 23rd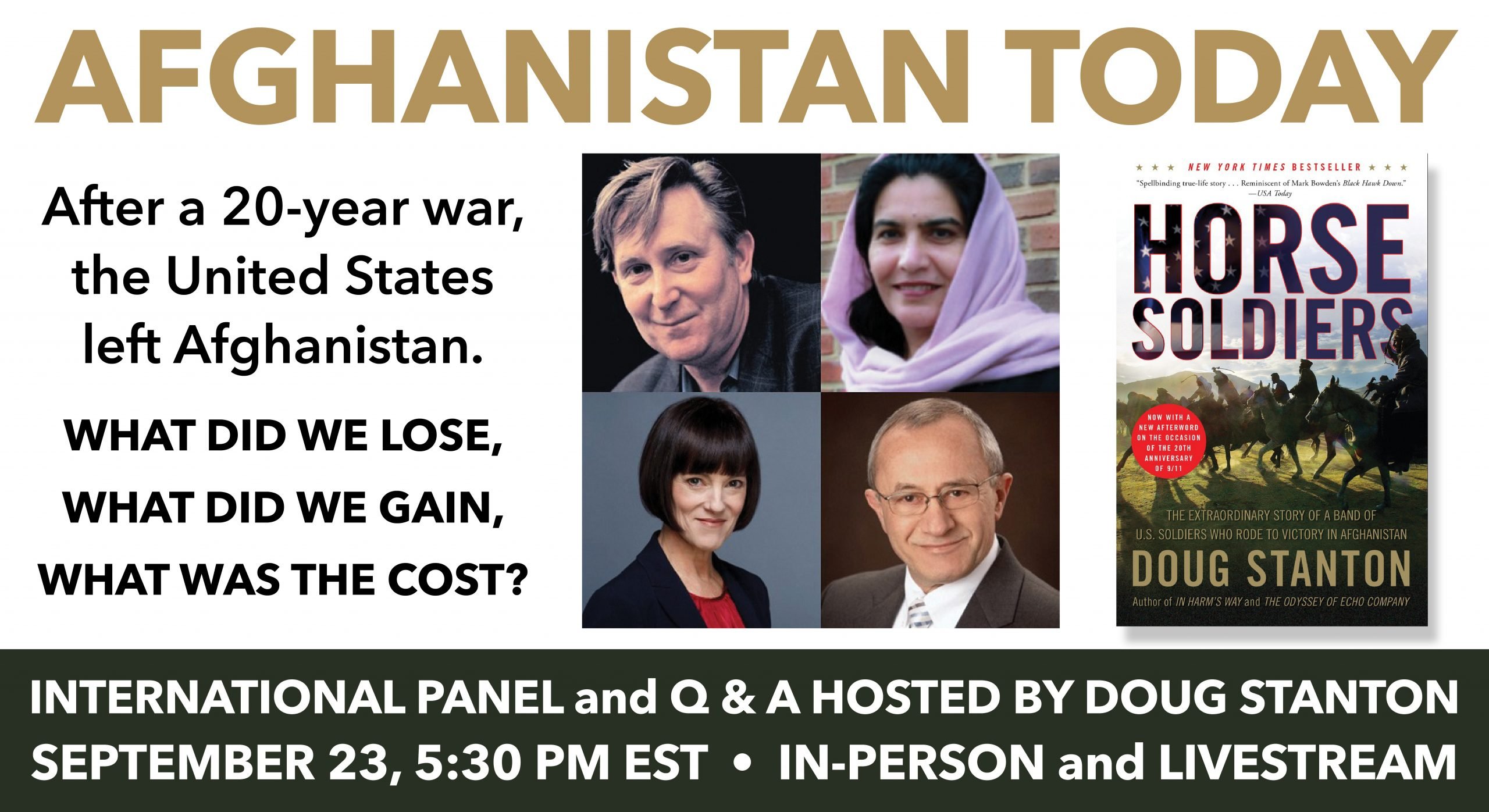 Even though the events of the Afghanistan war took place half a world away, there are many connections to that 20-year conflict right here in Michigan. The National Writers Series is honored to be able to present the views and remembrances of five people connected to America's Longest War in a very special event on Thursday, Sept. 23 at the City Opera House in Traverse City.
To commemorate the 20th anniversary of 9/11, NWS co-founder Doug Stanton wrote a new afterword to his New York Times bestselling book Horse Soldiers, which tells the story of soldiers on the ground during the earliest days of the Afghanistan war. He'll also be leading a discussion with the four panelists NWS is bringing to the City Opera House stage:
Jack Segal, is a former senior U.S. diplomat who made 40 visits to Afghanistan between 2002 and 2010 during his time with NATO advising generals and influencing civilian policymakers during the Afghanistan conflict, established the first US Consulate General in central Russia (Yekaterinburg), and served on the National Security Council and at the US Embassy in Tel-Aviv, specifically working on issues in Gaza. He is also an adjunct professor at Northwestern Michigan College and a former International Affairs Forum of Traverse City board co-chair.
Rahela Sidiqi (joining virtually from the UK) is the Founding Director of Rahela Trust for Afghan Women's Education. She is the former Senior Advisor of Afghanistan Civil Service Commission and Senior Social Development Advisor of UN-Habitat Afghanistan. Since 1993, she has worked as a women's rights activist at the grassroots and policy levels in Afghanistan.
Shannon Spann is a lawyer and former intelligence officer with extensive operational and analytical security and counter-terrorism experience both in the U.S. and overseas, and Edris Fana is an NMC graduate who fled Afghanistan as a child in 1994.
Together, they will all attempt to shine a light on history, both global and local, as it unfolds before us.
This special two-hour event starts at 5:30 pm ET with a presentation from Jack Segal on how we got to this point in Afghanistan, and then our panel discussion will kick off at 6:30 pm. Livestream tickets are available at the National Writers Series website while a limited number of in-person tickets can be purchased through the City Opera House.

Media Contacts
To request a copy of the re-release of Horse Soldiers or to schedule an interview with Doug Stanton or any of our panelists, members of the media are invited to connect directly with me directly to coordinate.
Jillian Manning
Executive Director, National Writers Series
[email protected]
---
About the National Writers Series

The National Writers Series is a nonprofit organization dedicated to engaging world-renowned authors in meaningful conversations. Founded in 2010 by reporter Anne Stanton, New York Times bestselling author Doug Stanton, and attorney Grant Parsons, NWS has hosted nearly 200 authors including luminaries like Margaret Atwood, Alice Walker, Mary Doria Russell, Scott Turow, and Gillian Flynn.

Over 70,000 people have attended our events throughout the years, and we've helped sell over 18,000 books through local bookstores. Our live events take place at the historic City Opera House in Traverse City, while our virtual events are available around the world via Zoom or YouTube live-streaming.

Our author events fuel our Raising Writers programs, which help students express themselves, explore the world through reading, develop their imaginations, and think critically. Learn more at nationalwritersseries.org.

Our Fall 2021 event lineup features the following amazing writers:
September 23: "Afghanistan Today" Panel, hosted by Doug Stanton (In-Person)
October 7: Mary Roach (Virtual)
October 14: Anthony Doerr (Virtual)
October 18: Alex Michaelides (Virtual with In-Person Watch Party)
November 4: Jason Reynolds (Virtual)
November 18: Omar El Akkad (Virtual) 
December 9: Angeline Boulley (In-Person)