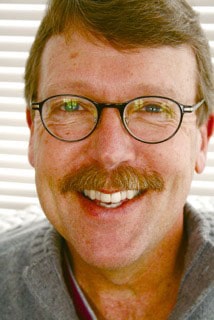 Paul Flower – a native Michigander, lifelong reader and writer with a warped sense of humor.
Paul Flower is a Michigan native, born in Sparrow Hospital in Lansing, which he says is "about a Michigander as you can get." Since then he has spent most his life "clinging to the southwest edge of the mitten."  The son of high school teachers, Flower attended Central Michigan University, earned a degree in Broadcasting with a Journalism minor, met a girl from Holland (the one near Grand Rapids not the one near Germany) and they married the summer after they graduated. The couple has four children. Flower has spent the past 33 years as an advertising copywriter and creative director. His dream was to write fiction, which he did in parallel to his advertising career.  He says he didn't reach the published-author 'promised land' until Scribe Publishing, Royal Oak, published The Redeeming Power of Brain Surgery in 2013. Today, he is a freelance writer/copywriter and working on his next book.

How did you become a writer?
I became a writer through osmosis or genetics or through some warped childhood experiences––really all three. I always had quite the (warped) sense of humor and imagination. My mother and father were both teachers, so reading was an important part of growing up; mom took us to the library and we checked out stacks of books. My love for the written word began then. In high school I read Steinbeck's The Grapes of Wrath for the first time and discovered the power of great writing. I did well in high school writing classes, and dove deeper into writing in college. My major was broadcasting––I was going to be a radio guy––but I minored in journalism and took a slew of creative writing classes. When radio didn't work out after graduation, I found work as an advertising copywriter. I think I was always destined to end up writing for a living. It's not necessarily that I became a writer. I think I always was one, and I had to find a way to make a living at it.
How do you write? What is your process?
When it comes to fiction, I write very haphazardly. I shoot before I point or aim. No outlining. I just start telling a story. I build the story around the characters. As I discover who they are, I let them drive the narrative. It's a process that isn't a process. My sense is that if I'm surprised by what happens, the reader will be.
Who are your favorite authors?
I read quite the range of authors. But Steinbeck and Hemingway are my fallback favorites. I also love the work of Tim O'Brien and really enjoy Erik Larson's ability to create nonfiction that reads like fiction. But it's tough to pick favorites.
What authors have inspired you?
Hemingway and Steinbeck, without a doubt. Their use of language and descriptive powers inspired me and they still do. Both showed me the art of saying something, of describing something, in a way that was new, fresh and revealing. They moved me. I always wanted to do that––move the reader.
David Foster Wallace also inspired me to believe that writing in a somewhat zany, chaotic, stream-of-consciousness way could actually work. His genius awed me. There are two types of people in the world: those who have read Infinite Jest and everyone else. I count it as a privilege to be among those who have read it.
What books are on your bedside table?
Steinbeck's East of Eden (yeah, I know that sounds cliché, but I decided it was high time to read it again), Carl Hiaasen's Bad Monkey, Jim Harrison's Off to the Side, and Dave Eggers' A Heartbreak Work of Staggering Genius (I've read that one before but want to re-read it because it is what it is.)
What writing projects do you have planned next?
In addition to keeping up with freelance work, I am hip deep in my next novel. It's the story of a fictional Michigan governor, his personal idolization of George W. Bush, and the mayhem that results.
What advice do you have for young writers?
Study. Study. Study. Watch people and their quirkiness. Listen to the way they talk and sound. Read. Read. Read. Feel the cadence of great writing. See the pictures good writing paints in your head. Then write something. And write it again. Believe in what you're doing. It's cliché but true that authors are writers who never quit. Oh yeah, and writing is rewriting. Never stop trying to get better, to make the story better.
What was your favorite book as a child?
When we were young, my brothers and I read all of The Hardy Boys series. Frank and Joe and Biff, ahhh the hours we spent with them.
His latest book information
The Redeeming Power of Brain Surgery (softcover) suspense novel from Scribe Publishing, Royal Oak. Published in June 2013, it is the story of twin brothers and the horrible secret they share from their childhood. Raised in rural southwest Michigan, they are now 50-something. One brother, a highly regarded brain surgeon from Chicago, is returning home to make sure his twin, a simple-minded factory worker, keeps the secret buried. It is available for $10 at scribe-publishing.com. You also can purchase it through most online book retailers, by order through most bookstores, and it is in stock at some Michigan Barnes & Noble Booksellers.