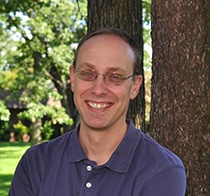 Jake Smith – dog lover, editor, and a committed writer who never let a rejection letter get him down.
In high school, Jake Smith gave up the dream to play Major League Baseball when he realized he wasn't fast enough. His new dream immediately became: published novelist. It took quite a long time, but that dream finally came true with Wish, Jake's debut novel – revolving, fittingly, around baseball.

Jake is the editor of three national magazines (about dogs), a non-fiction book author (about dogs), and he's published more than 150 articles in several national outdoor magazines (many of those articles about, what else, dogs). Although he can't train his own dog to stay off of the bed during the day. He holds B.S. and M.S. degrees not about dogs, but rather wildlife sciences and management. He lives in Traverse City, Michigan, with his wife, three kids, and, yes, two dogs, both Labrador retrievers.
How did you become a writer?
I inherited it from my dad – he's a well-known outdoor book and magazine author and editor. Mom and Dad nurtured our imaginations very early on; my sister explored her creativity with music, my brother with art, and I used words. And then I got my hands on, surprise, The Hobbit and The Lord of the Rings. That cinched it: I wanted to write something like that.
A newspaper column in high school turned into magazine articles that turned into non-fiction books that turned into magazine editing. Through it all, that high school dream of writing fiction remained, that desire to make people feel the way I felt after watching a powerful movie or reading an especially thrilling book. So I plotted and outlined and wrote one book after another – a novel a year for six years straight, from a sweeping medieval war epic, that I still really love, to a young adult science fiction saga, that I also still really love. Apparently, I was the only one who loved them, as they all met with great big piles of "no" from the literary world – 118 for one book, in fact. Yes, I kept track.
While stewing over Rejection Number 118, I forced myself to step back from the action-y stuff and think of something different. That something different was an image of a young father standing alone in the middle of a Major League Baseball field – in uniform, under the lights, the crowd going nuts – wondering how in the world he got there.
At my college graduation 17 years ago, my dad gave me a beautiful fountain pen, saying, "From one writer to another." I have to confess that I never really felt like I could call myself a writer until I sold a piece of fiction. I used that pen to sign the contract for Wish.
How do you write? What is your process?
The fountain pen my dad gave me plays a role. Before I start writing, I sort of just hold it, say a little prayer for an open mind and vivid imagination, and set it on my laptop. And I listen to a lot of movie soundtracks.
I have two college degrees in science, so I approach writing pretty systematically. It usually begins with a single image – the dad on a baseball field – and I'll do a short "rough plot" summary. This expands into a larger plot summary with chapter breaks. At the same time, I'm writing character sketches, thinking of names, jotting notes for scenes or settings and descriptions, and completing as much research as possible, and organizing everything. When I'm ready to write, I'll complete an individual chapter outline, write that chapter, and then edit that chapter the next day. I've found that a lot of writing takes place during this first edit, so many times I'll go back and update my longer plot summary. This continues until the story's done. Then, editing, editing, editing. I have a process for that, too. Yeah, I'm a nerd.
When I hit a plot problem, getting outdoors helps – in the woods, fishing, on a drive. One of the places I've cleared many plot obstacles is while sitting in church. The calmness, the peace… a lot of inspiration has struck me while in a pew. I don't think that's a coincidence.
Who are your favorite authors?
I wish I could mention some obscure writer to send everyone scrambling to the bookstore, but I have to go with the aforementioned Tolkien, of course; and I love the Harry Potter series (I told you I was a nerd). The imagination in Rowling's and Tolkien's works is simply astounding. Actually, the world of Young Adult adventure literature right now is amazingly rich with fabulous authors and stories – which I'm absorbing through my three kids. Dan Walsh's The Discovery (a novel within a novel) is a delight. And Traverse City's Doug Stanton: his novel-esque treatment of non-fiction events, with so much painstaking research… wow.
What authors have inspired you?
Other than above? Frankly, every writer inspires me, because all of them, to some degree or another, have faced rejection and kept on writing.
What books are on your bedside table?
With three kids, school events, writing another novel, and getting things ready for winter, the only thing on my bedside table is an alarm clock. I'm probably the worst example of the "to be a good writer, you have to be a good reader" adage. When I'm in the process of writing, I can't read – I'm afraid those outside stories will creep in, and I want to exist only in my story.
What writing projects do you have planned next?
I'm a handful of chapters in to my Sophomore Novel. This one has been more difficult to write than Wish, when I didn't have any expectations or looming deadlines. Now there are all these things looking over my shoulder. I hope to be finished before spring (by the calendar, not the weather). It's in the same genre of inspirational, family fiction.
What advice do you have for young writers?
Develop an editing process. Editing stinks, it's hard work, and sometimes that huge manuscript morphs into a beast ready to use your bones for toothpicks should you try to poke it with a red pen. So attack it systematically. I do a chapter edit after each chapter is written; then, once the full manuscript is done, a content edit; then a mechanical edit; then a "bad writing habit" edit (every writer has one, discover yours, admit it, and develop an editing process to tackle it); then an "out-loud" edit (great for dialogue, run-on sentences, and to find missing, incorrect, or repetitive words); then one more "story edit."
Fall in love with the process of creating; don't be overly snarky in your writing (really, everyone gets enough snark during the day; when your readers open your book, you want them to unplug and lose themselves for a little while); and tell the story you want to tell. When it comes down to it, you want people to remember your story.
Your latest book information
Here's the back cover copy from Wish: James McConnell's one wish is that his nine-year-old son will finally be healthy enough to play a game of catch. Then he and his wife, Emily, receive news they've dreaded: Aaron's cancer has relapsed. As the family steels themselves for a draining treatment regimen in yet another hospital, Aaron receives the gift of a lifetime—a personal visit from one of his favorite professional baseball players—and the chance to make a bold request, his wish: to see his dad play in one major league game. A former college standout, James fears he doesn't have the talent it takes, even for one game, and that he'll miss what could be Aaron's precious last weeks. Yet how can he refuse his dying son's wish? Poignant and triumphant, Wish is the story of a father's love, a family's perseverance, and the miracles that can happen when you believe in the impossible.
Research for Wish put me in touch with former Major League Baseball players; children's hospital administrators; pediatric oncologists; families who fought against childhood leukemia and other illnesses; and I took several tours of hospitals and baseball stadiums.
My publisher, Tyndale House, calls Wish "fiction with a mission," and we've been able to accomplish that mission already – using proceeds to support the care of patients and families in hospitals, and inspire people to join the bone marrow registry at www.BeTheMatch.org. I've received so many awesome letters from readers telling me that as soon as they finished Wish, they signed up on the registry and hope to be a bone marrow match for someone. Cancer is truly universal in that it touches all of us, one way or another, and to be able to help in any way possible… well, I'm a firm believer that I received those 118 rejections on my previous novel for a reason: I was being called to write Wish.
It's available everywhere and in a variety of formats (therefore, a variety of prices): hardcover, softcover, e-book, there's even an audio version. Links are available at www.jakesmithbooks.com. But really, people should visit one of their awesome local bookstores and pick it up there.