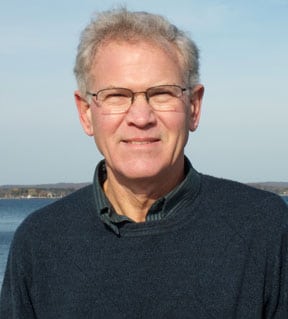 Daniel Hendrix – A commercial diver, geologist and avid reader who realized that the history of Beaver Island would make the perfect backdrop for a book of fiction.
Emerging local writer Daniel Hendrix has recently released his first book, The King's Daughter, a historical fiction set on Beaver Island during one of the strangest episodes in Michigan history, the rule of the Mormon King James J. Strang.
Hendrix was raised in Ann Arbor and after a couple of years of college he took a semester off to crew on a boat traveling from Beaver Island to Florida via the Mississippi River. Upon his return he enrolled at a commercial diving program at Santa Barbara City College in southern California. For the next twelve years he worked as a diving tender, life support technician, and commercial diver at locations in the Great Lakes, the Gulf of Mexico, and the North Sea. He completed his diving career with a two-year tour of duty as a support diver on an undersea research habitat deployed in the U.S. Virgin Islands.
Along the way Dan completed his college degree, graduating in Geological Sciences from the University of California at Santa Barbara in 1980. He then returned to Michigan and worked as a geologist, based mostly in Traverse City.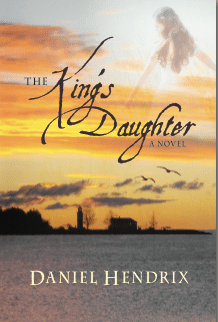 While vacationing on Beaver Island and eventually helping to build a family cottage, Dan became interested in the history of the island. He explored the island's historical sites and read many fine history books about Mormon and Irish settlements. Always an avid reader, he soon realized the true story of the island would make a perfect backdrop for a book of fiction, a historical novel. He began to take notes and create characters, and soon he embarked upon writing his first novel, The King's Daughter.
Dan's book tells the sweeping tale of four Irish fishermen who journey from Ireland to America in search of a new life. When they settle on a remote wilderness island in Lake Michigan, their peaceful and promising refuge suddenly becomes a battleground of religious conflict and social unrest. A colony of Mormon settlers takes control of the island and James Strang, their charismatic leader, declares himself to be "King of the Mormons."
Centered on a forbidden love affair between King Strang's daughter and Andy McGuire, a young Irish fisherman, the novel explores the tensions that existed between immigrant groups and the dramatic impact of the Mormon presence on Beaver Island. As escalating conflict consumes the island and Strang's kingdom crumbles, Sarah and Andy must fight for their love or leave their island home forever.
How did you become a writer?
I have been fortunate to be able to travel back and forth to Beaver Island for many years. When leaving the island I always felt a kind of unfulfilled nostalgia, a sadness to depart a special place. With other passengers I watched the island fade into the distance and then settled into a seat for the two hour ferry ride across Lake Michigan. It occurred to me that this would be a great time to read an entertaining book about Beaver Island, but no such book existed. Soon afterwards, somewhere in the middle of Lake Michigan, I began to write The King's Daughter.
How do you write? What is your process?
I have always had a full-time job out of necessity and I have adapted my writing habits around work and family. I write mostly late in the evening, sometimes just for a half-
hour or so. During the day I carry around a notepad and jot down a word or a phrase whenever one comes to me. Then in the evening I convert these notes into a paragraph. Eventually the paragraphs turned into scenes and the scenes into chapters. Really, The King's Daughter is a collection of snippets, assembled and forged into a historical novel over a long period of time.
It took nine years to complete The King's Daughter but there were many breaks along the way. I don't write much in the summer; there is too much to do in northern Michigan. I did most of my work in winter or inclement weather. There were times when I tired of writing and put my manuscript away for a few months, but I always picked it up again, refreshed and ready to write.
What are your favorite topics?
I enjoy books of exploration and travel, particularly those that involve sailing ships and discovery of new worlds. A recent favorite is Over the Edge of the World: Magellan's Terrifying Circumnavigation of the Globe by Laurence Bergreen. Others are Two Years Before the Mast by Richard Henry Dana and Endurance: Sir Ernest Shackleton's Incredible Voyage to Antarctica by Alfred Lansing. The best survival tale ever told is Mawson's Will by Lennard Bickel.
What are your favorite books?
I read many types of books, both for entertainment and to help with my writing. Some of my favorites are:
At Play in the Fields of the Lord by Peter Matheissen
The Sea Wolf by Jack London
Treasure Island by Robert Louis Stevenson
Mutiny on the Bounty trilogy by Charles Nordhoff and James Norman Hall
Life of Pi by Yann Martel
A Study in Scarlet by Arthur Conan Doyle
The Forty Fathom Bank, a novella by Les Galloway
What books are on your bedside table?
I am currently reading Pandora's Locks by Jeff Alexander. This book describes how the St. Lawrence Seaway opened the Great Lakes to waves of invasive species that have destroyed the ecology of the lakes forever. The author documents in great detail how the Coast Guard and Environmental Protection Agency have failed to stop this tragedy. Alexander describes this invasion as worse than any oil spill because the changes it causes to our freshwater ecosystem are irreversible. This book is the Silent Spring of the Great Lakes.
What writing projects do you have planned next?
I am working on an illustrated version of The King's Daughter. I would like to depict how people looked and lived in the 1850's on Beaver Island. I am particularly interested in pictures of folks at work. Most people worked outside, so I would like to show lumber camps, steam boats, fishing boats, and pioneer farms. The King's Daughter is a book with many action scenes, so I would also like to bring some of these scenes alive with illustrations.
What advice do you have for young writers?
During the writing process read your work aloud, especially dialogue. If your words sound awkward when read aloud, they will most assuredly appear awkward on the written page.
Hire a professional editor. It is expensive but well worth it. Try to find an editor who has special knowledge or interest in your topic.
Do not be intimidated by best-selling books, award-winning authors, or writers like myself who take nine years to complete a book. Start with something small with a well-defined focus or topic: an article, short story, or novella. Set small goals for yourself each day and take pleasure in your own creativity.
Don't take long breaks (like I did). You will forget things.
Whatever your interests, experience life to the fullest. It will make you a better writer.
I am marketing The King's Daughter through independent bookstores in northern Michigan. In Traverse City the book is available at Horizon Books and Brilliant Books. It is also available from the Beaver Island Historical Museum and Amazon.com.
The Kings Daughter (softcover, $16 published in June 2013 by CreateSpace, an on-
demand publishing platform and a division of Amazon.com). Cover photograph and interior drawings are all by the author.