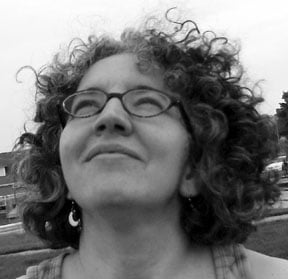 Amy Spitzley a writer, daydreamer and mom who loves to write for teens.
Amy Lynn Spitzley lives, writes, daydreams, and walks by the shores of a Great Lake in Traverse City, Michigan. She has two goofy children and one British husband. She finds writing for teens is where it's at because they tend to be informal, character-driven, and casual. (Plus the dialogue is really fun!) When not writing she can be found creating collages or making faces at formality until it gives up and hides under the kitchen table.
How did you become a writer?
I was good at the reading and writing stuff all through school, then went to college to major in art. I always had a sketchbook with me, and I knew I was good at it, so that seemed to make sense. Turned out studying art techniques wasn't quite my thing, though, and I wasn't really as good as I'd thought. I needed to write in order to express myself properly—I was rather infamous for writing notes to people—so I figured I'd major in that instead. I loved it. I dabbled in different sorts of writing for a while after college, and got to the novel-writing stage maybe ten years ago or so.
How do you write? What is your process?
Man, I wish I had a process! Avoidance, I suppose. I'm one of those writers who will have a list of things to do every day with "Write!" on the bottom of it, do everything else, and then figure the writing will happen the next day. Eventually I do make myself do it. I wish I could just get on with it, be more disciplined, but so far that hasn't been my way. I do find it much easier if I leave the house to write. The library is great for that, as is Horizon Books. I must admit, there's nothing like the sense of satisfaction that comes from writing a chapter! That reminds me, I should really get some writing done today…
Who are your favorite authors?
I tend to go more by favorite books than authors, but I've enjoyed Guy Gavriel Kay, Sharon Shinn, Tamora Pierce, Juliet Marillier, Mary Stewart (the old, almost cheesy mysteries) and sometimes Louisa May Alcott.
What authors have inspired you?
Pretty much the same ones I just mentioned. I went through a long period of reading a group of historical YA romances as a teenager called Sunfire Romances. I guess you could say they inspired me, because that's what I was reading when I started to realize that I was a good writer myself. In that sense, the Wizard of Oz books did the same thing, and probably impacted my love of fantasy, though those are a bit dated to me now. Jane Yolen's Pit Dragon trilogy was the first books I read and knew they were fantasy, and I loved them, so she's inspired me too. Plus, Jane Yolen is just damn cool.
What books are on your bedside table?
I must really sound like the strangest writer ever! I don't do this one either. I refuse to have a to-be-read pile because then I feel guilty. I tend to have a few library books stashed under the coffee table next to my daughter's never-ending manga supply. Currently I'm reading Fathomless by Jackson Pearce.
What writing projects do you have planned next?
I'm working on one tentatively called The Midnight Trees. It deals with a stratified society where the rich people live in giant trees, from which a lethal drug is extracted. Half the society is addicted to the drug. Working against this is the main character, Angel, the daughter of a brothel owner. You know, just your typical, light-hearted fantasy! No really, it's probably the edgiest thing I've done. I like it a lot so far.
What advice do you have for young writers?
Oh man. Everything sounds so trite! I like "Know the rules, then break them." Learn the ropes. Know what you're doing…and then tweak the hell out of those ropes! Keep them, but shape them. They're important rules. Nothing is worse than a writer who uses improper grammar or punctuation or spelling, but you can find your own voice and style and structure. And for the sake of all that's holy, have fun! If you don't ultimately LIKE writing, despite all the procrastination, then you're not doing it right.

Her latest book
Viola Doyle, or an Unconventional Gift (Curiosity Quills Press, softcover, $12). It's about a Victorian girl with a magic pin, an interesting grandmother, and a gift for social awkwardness. Oh, and there's a handsome historian, a smarmy nemesis, and a dragon too. Everything is better with dragons. Available at McLean and Eakin in Petoskey and Horizon Books in Traverse City as well as amazon.com, barnesandnoble.com, kobo.com, Goodreads and in e-reader version for about $5. Several Barnes and Noble stores are now carrying it, as well.