NWS Author Next Door
September 2017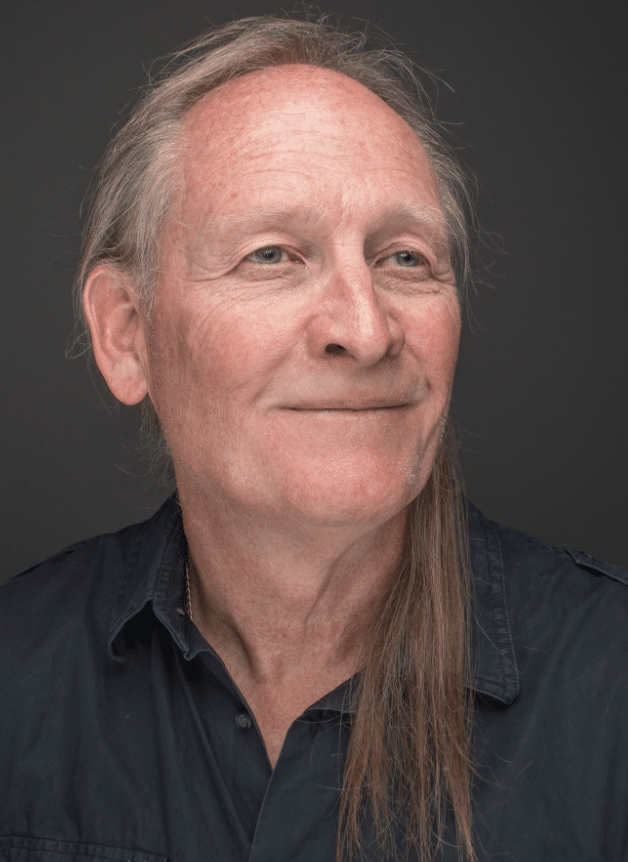 Robert "Bob" Downes is known to many readers in northern Michigan as the co-founder and former editor of Northern Express Weekly, which he and his partner, George Foster, established in 1991.
The partners sold the Express in 2013 and, with no plans for what to do with the rest of his life, Downes decided to try authoring books.
That quest produced Windigo Moon – A Novel of Native America, which is set 400 years ago among the Ojibwe of the Upper Great Lakes, with settings that include the Sleeping Bear dunes. Released this month, the book is from Blank Slate Press, a publisher of historical fiction of high literary merit.
Downes says Windigo Moon is based on a short story he wrote more than 30 years ago, which he never planned to publish. After selling the Express, he wrote two more stories about the same characters and submitted one to a Grand Rapids ArtPrize writing contest. To his great surprise, his entry, "The Raid," won first prize, becoming the first chapter in his resulting novel.
A world traveler and ardent cyclist who has visited more than 70 countries, Downes has also published three nonfiction travel books, Planet Backpacker, Travels With My Wife and Biking Northern Michigan.
Last year, he spearheaded the creation of the Traverse City Authors group, made up of some of the most notable authors in the region. He also serves as communications director for the Cherry Capital Cycling Club. He and his wife, Jeannette spend their time between homes in Traverse City and Benzie County, heading south to Mexico in the winter.
---
Tell us about Windigo Moon.
It's a love story spanning 31 years in the life of an Ojibwe couple living in the late 1500s many years before contact with European explorers. It involves a blood feud between rival warriors over the love of Ashagi (Blue Heron), a woman of great beauty and a spitfire who doesn't always play nice.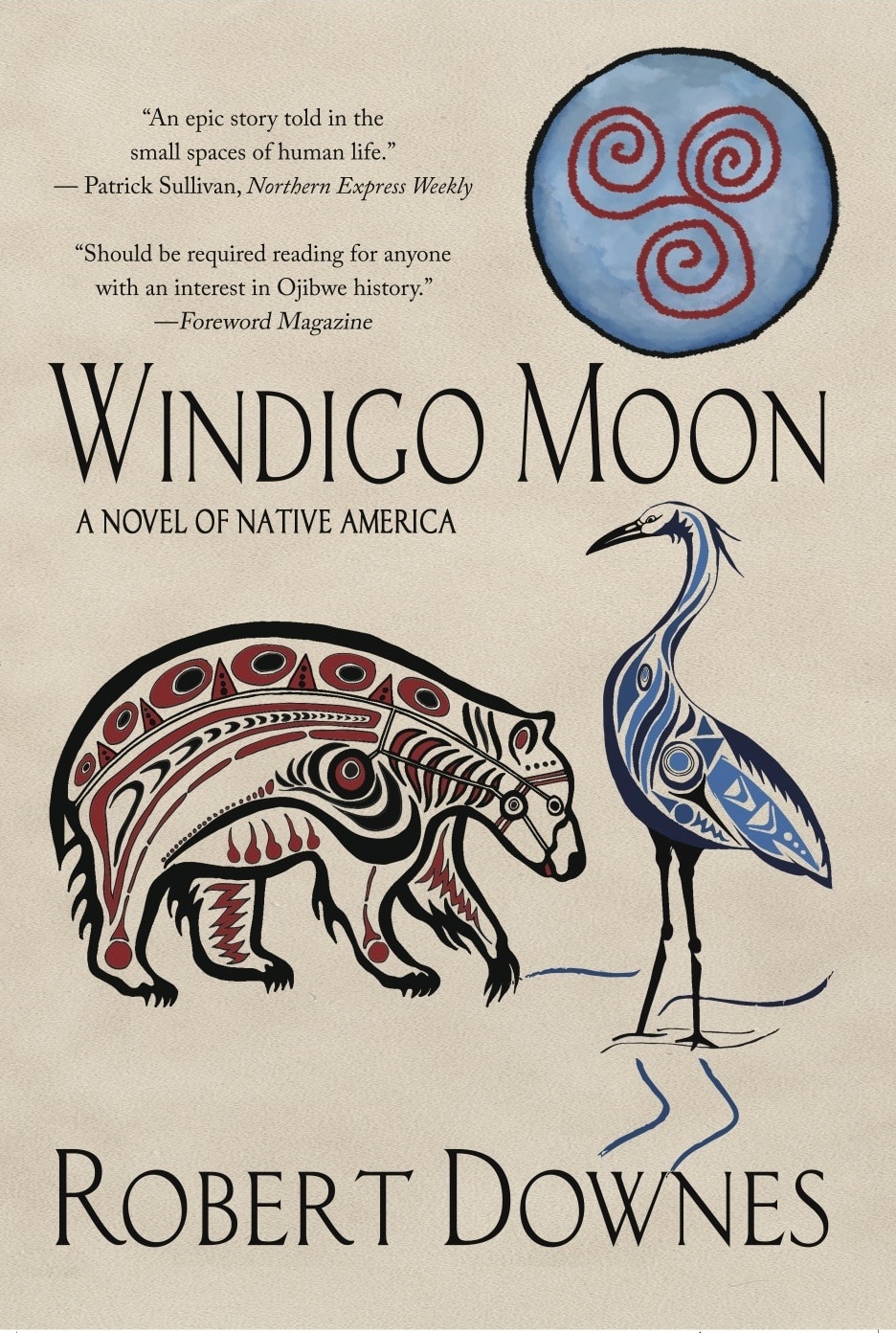 In the first chapter, Ashagi is abducted by her ancestral enemies and made a concubine of a slovenly chief. She is rescued by Misko, an Ojibwe youth, and the two fall in love. However, a rival, Nika, demands that Misko surrender Ashagi to replace his brother who was killed during a raid. Nika's pride and obsession with Ashagi gradually eats away at his sanity as the Ojibwe face challenges to their way of life.
Warfare, vengeance and supernatural beings lurk at the edges of this love triangle, but the theme is the power of the clan and the love of family during harrowing times. My characters face the challenge of warring tribes, the onset of the Little Ice Age of the 1600s, and diseases introduced by foreign explorers.
Have you had any feedback from Native peoples?
Yes, some have been very interested and excited at the prospect of my book, while others have reacted with understandable suspicion. As is the case with all Native Americans, the Ojibwe (also known as the Chippewa) have suffered many hurts at the hands of the whites since their encounter in the early 1600s. I've reached out to 11 tribal groups in Michigan, Minnesota and Wisconsin with news of my book and have offered them writing workshops as well as a digital-video presentation on life among the Ojibwe 400 years ago.
What is your writing process?
I read or researched more than 30 books on the Ojibwe and Native America for the background of Windigo Moon, and have also camped and hiked extensively in the wilderness areas where they lived in prehistory.
I do most of my writing during the winter months and never suffer from writer's block. I just sit down, open a vein, and let the words flow. The big thing for me is re-writing; I did six drafts of Windigo Moon, with input from critics, including my wife, who is merciless in her critiques.
What books are on your bedside table?
I'm currently re-reading The War, a history of World War II by Louis Snyder, which I spent much of my time with in high school. Also a book on the explorer, LaSalle, and Pontoon by Garrison Keillor. Rebel Yell, the life of Stonewall Jackson, is waiting in the wings.
What writers have influenced you?
I idolize travel writer Paul Theroux, who has lived a life of global adventure, writing both non-fiction and novels at a virtuoso level. I also love T.C. Boyle, a master of the short story and the author of several of my "Top 10" favorite novels, The Tortilla Curtain and Drop City. Shantaram by Gregory David Roberts, an adventure set in the slums of Mumbai, also grabbed me as a one-hit-wonder. Lord of the Rings by J.R.R. Tolkien taught me the value of friendship at an early age.
What advice do you have for young writers?
Go into video blogging! Seriously, blogs these days are more about video and images than the written word and young people have already zeroed in on that trend.
Otherwise, write every day, rewrite, rewrite, rewrite and never give up. You need to cultivate writing talent, but grit and persistence are the qualities which will get you published and help in marketing your work.
So, what's next for you?
I've written another novel, Bicycle Hobo, which is a retelling of Moby Dick from the perspective of a long-distance bicyclist seeking revenge for the death of his wife by a sociopathic motorist. That will come out next year. I'm also re-issuing Planet Backpacker on the 10th anniversary of my solo trip around the world. And, if Windigo Moon is a hit, I have a prequel in mind called He Who Outruns the Wolves, about the early life of one of my favorite characters in the book, a clubfoot shaman who serves as a spy for the Ojibwe.