February 9th, 2021
FOR IMMEDIATE RELEASE:
  The National Writers Series to Host
Three Amazing Authors for
a Black History Month Panel Discussion
on Thursday, February 24th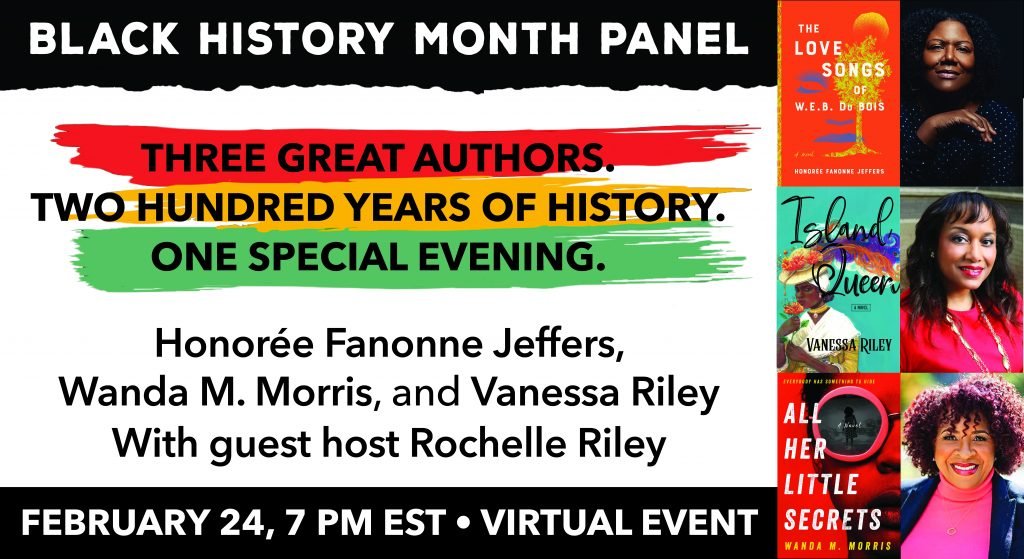 To celebrate Black History Month, the National Writers Series has assembled an all-star panel of authors for a discussion about how their work bridges generations of stories across multiple genres, and the joys and struggles of their Black heroines from the 1800s to today. We'll also dive into their writing processes, inspirations, and favorite stories.
Guest Authors:
Honorée Fanonne Jeffers is a poet, essayist, and author of The Love Songs of W.E.B. Du Bois, the instant bestseller that was named one of the Best Books of 2021 by the New York Times and was listed as one of Barack Obama's favorite books of the year. The book is an intimate yet sweeping novel that chronicles the journey of one American family, from the centuries of the colonial slave trade through the Civil War to our own tumultuous era. 

As a corporate attorney, Wanda M. Morris has worked in the legal departments of some of America's top Fortune 100 companies and is a member of Sisters in Crime, Mystery Writers of America, and Crime Writers of Color. Her debut novel, All Her Little Secrets, is a fast-paced thriller about a Black lawyer who gets caught in a dangerous conspiracy following the sudden death of her boss. It's "a brilliantly nuanced but powerhouse exploration of race [and] the legal system" (Karin Slaughter).

Vanessa Riley is an award-winning author of historical fiction and historical romance, showcasing the hidden histories of women of color and emphasizing strong sisterhoods and dazzling multicultural communities. Her novel Island Queen is a sweeping historical novel based on the true-life story of Dorothy Kirwan Thomas, a free woman of color who rose from slavery to become one of the wealthiest and most powerful landowners in the colonial West Indies. The New York Times hailed the book as "riveting and transformative, evocative and immersive…a singular pleasure."
Our Guest Host:
Our guest host for this event is Rochelle Riley, herself an accomplished author of books including The Burden: African Americans and the Enduring Impact of Slavery and That They Lived: African Americans Who Changed the World. She's also the Director of Arts and Culture for the City of Detroit.

Jeffers, Morris, and Riley join the National Writers Series for a virtual discussion on Thursday, Feb. 24 at 7 p.m. ET. Virtual/livestream tickets are available at the National Writers Series website. The event takes place over Zoom and attendees will be sent a link at registration.
---
About the National Writers Series
The National Writers Series is a nonprofit organization dedicated to engaging world-renowned authors in meaningful conversations. Founded in 2010 by reporter Anne Stanton, New York Times bestselling author Doug Stanton, and attorney Grant Parsons, NWS has hosted over 200 authors including luminaries like Margaret Atwood, Tom Brokaw, Alice Walker, Scott Turow, and Gillian Flynn.
Over 70,000 people have attended our events throughout the years, and we've helped sell over 20,000 books through local bookstores. Our live events take place at the historic City Opera House in Traverse City, while our virtual events are available around the world via Zoom or YouTube live-streaming.

Our author events fuel our Raising Writers programs, which help students express themselves, explore the world through reading, develop their imaginations, and think critically. Learn more at nationalwritersseries.org.

Our Winter/Spring 2022 event lineup features the following amazing writers:
February 24: Black History Month Panel featuring Honorée Fanonne Jeffers, Wanda M. Morris, and Vanessa Riley (Virtual)
March 13: Jack Cheng / Battle of the Books Championship (In-Person)
March 24: Ellen Airgood (In-Person)
April 7: Brad Meltzer (Virtual)
April 19: Joy Harjo, presented thanks to an NEA Big Read Grant secured by the Traverse Area District Library, the Dennos Museum Center, and the Grand Traverse Band of Ottawa & Chippewa Indians. The NEA Big Read is a program of the National Endowment for the Arts in partnership with Arts Midwest. If you would like to participate in group discussions and other NEA Big Read events prior to Ms. Harjo's visit, you can find them on tadl.org.
May 5: George Saunders (Virtual)
May 10: Paul Holes (In-Person)