Battle of the Books 2018 – Peter Brown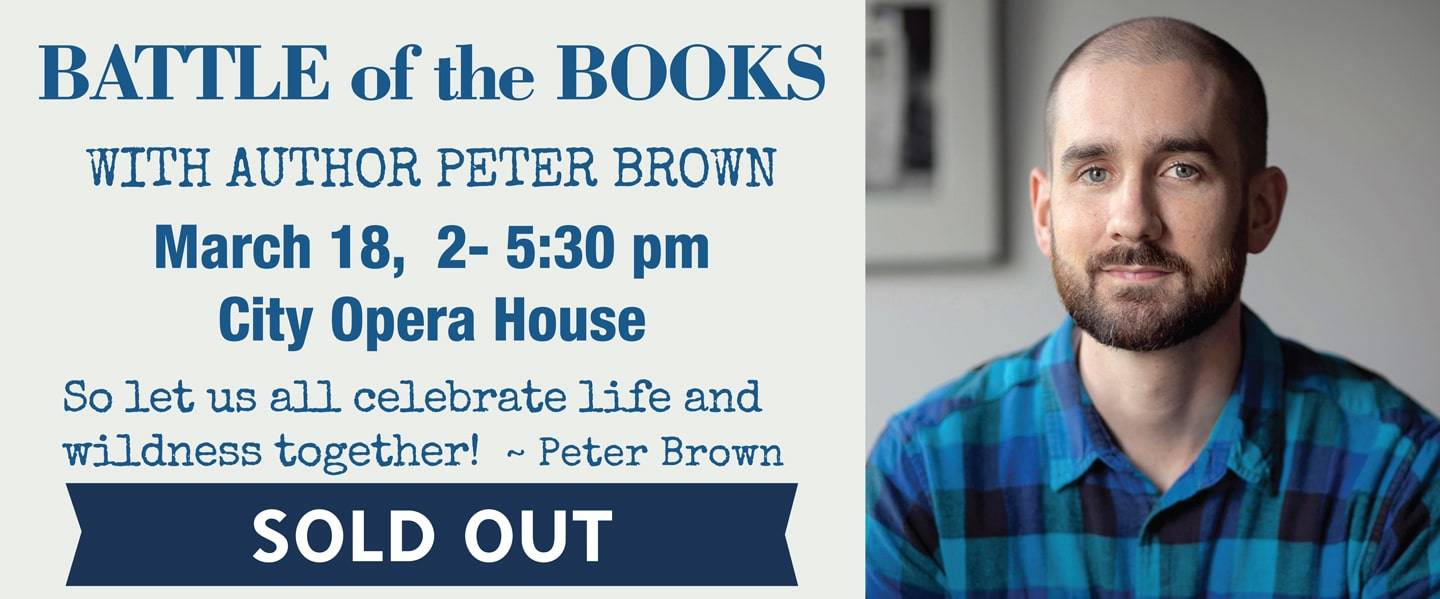 Battle of the Books 2018 – Peter Brown
March 18, 2018
Traverse City Opera House
Ticket Fees Explained
The City Opera House charges fees on each ticket,  which vary by the method in which they are purchased. Here's a detailed explanation:
Buying tickets in person at the Box Office
The Box Office is open Monday through Friday, 10 am to 5 pm, and one hour before the event. This option charges the lowest fees at $2.50 per ticket—this is a facility fee which funds maintenance of the Opera House, along with general upkeep and improvements. No matter how you buy a ticket, you'll always pay the $2.50 facility fee.
Buying tickets by phone
Each ticket is charged a $2.50 facility fee plus a $5 fee for the complete order (regardless of the number of tickets or number of performances purchased). This is an economical and convenient way to buy tickets. The friendly Opera House staff mans the phone lines Monday through Friday, 10 am to 5 pm. Call 231-941-8082, ext. 201.
Internet Service Fees
The City Opera House Box Office wants your ability to purchase tickets to be simple, easy and convenient. The Internet Service Fee covers costs that allow the City Opera House Box Office to provide the latest Internet ticketing technology, that allows you to select your own seat, 24 hours a day, 7 days a week from the comfort of your home or office. The Internet Service Fees are based on the face value of the ticket as follows and are on top of the $2.50 per ticket facility fee.
| | |
| --- | --- |
| Ticket Price | Internet Service Fee |
| $00.00-$19.99 | $2.00 |
| $20.00-$29.99 | $3.00 |
| $30.00-$39.99 | $4.00 |
| $40.00-$49.99 | $5.00 |
| $50.00-$59.99 | $6.00 |
| $60.00+ | $7.00 |
Group Sales Order Fee
There is a $7.00 per-order-fee for all group sales orders of 20 or more.
Two hundred young readers compete in Battle of the Books, hosted by Peter Brown, New York Times bestselling author and Caldecott Honor winner.
NWS Battle of the Books 2018!
Battle of the Books, northern Michigan's favorite reading tournament for area 4th and 5th grade students, is back for another round. In this year's showdown, two finalist teams will compete for an epic prize, presented to this year's winning team by the award-winning author and illustrator Peter Brown. We can't think of a better way to get hundreds of kids inspired about reading and writing their own books!
Battle of the Books brings 36 teams together in a quiz bowl of sorts, where the kids read ten books as a team and then show what they know about characters, plots and more. There's a glorious prize for the winning team and many more prizes for best costume, poster, team name and more.
Peter Brown's New York Times bestselling book, The Wild Robot, is one of the ten "battle" selections. Brown will take the stage at the final competition to award the winning team its grand prize trophy. He'll also share insights and stories about his writing career and his fabulous books, including his newest: The Wild Robot Escapes, the much-anticipated follow-up to The Wild Robot.  The Brown's beloved robot-hero, Roz, isn't just any old island castaway. For starters, her heart ticks in 1s and 0s. When ROZZUM 7134 was "activated" by a clan of sea otters, she found herself on a hostile island that would put her instincts for survival—and friendship—to the test. Now, Roz is back with a new set of challenges. This time, she must navigate the hazards of civilization as she tries to make her way home.
Brown is the author and illustrator of many bestselling books for young people and the young-at-heart, including My Teacher Is a Monster! (No, I Am Not), Children Make Terrible Pets, You Will Be My Friend!, The Curious Garden, and Creepy Carrots!, which received a 2013 Caldecott Honor. His work has been made into plays, adapted into short animated films, and translated into several languages. He has received not just one, but two E.B. White Read Aloud awards for his work, a New York Times Best Illustrated Children's Book award, and a Children's Choice Book Award for Illustrator of the Year.