Author Next Door Feature: October 13, 2018
By Anna Faller
Barbara Stark-Nemon is a textbook multitasker. Following her retirement as a speech and language therapist, Stark-Nemon decided it was finally time to tackle her bucket list. Item number one? You guessed it: start writing books. That was just over twelve years ago. Now, two works of fiction, numerous awards, and countless short stories, blog posts, and essays later, what began as a tick mark on a list of things "to do" has blossomed into a veritable second career. But as far as "seconds" are concerned, adding "novelist" to her already extensive resume was only the first. For starters, Barbara Stark-Nemon has already established herself as a National Writers Series veteran, having debuted as a featured author in September of 2015. She's also just released her second novel, Hard Cider, earlier this month. Though we know it's the third time that's supposedly the charm, for Barbara Stark-Nemon, it just might be the second.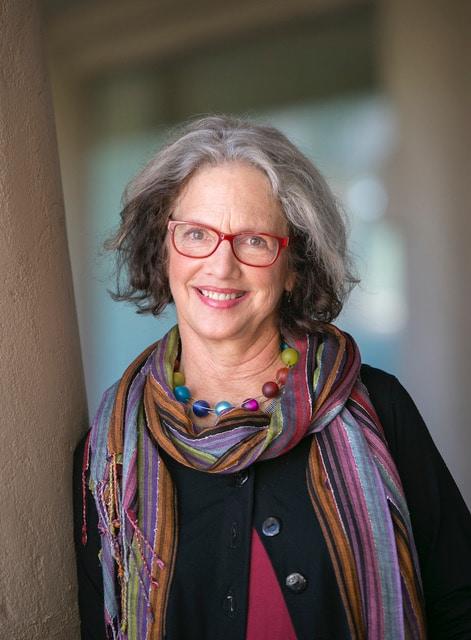 Stark-Nemon's contemporary Hard Cider follows steadfast protagonist, Abbie Rose Stone. Her life has been a battlefield, and Abbie, an iron-clad warrior, has so far deflected the life-bullets that accompany raising a family as complex as hers. So, the hard-won surrender of brewing spiked cider on the shores of Northern Michigan is especially sweet. But, when a stranger reveals a long-kept secret, Abbie is, once again, rendered defenseless. Now, she must wage a new war: one that will test her resilience, challenge her loyalties, and ultimately redefine her family forever. But why hard cider, of all things? Evidently, it was inevitable. According to Stark-Nemon, this was simply the "next [book] that demanded to be written." But for her, the cider itself tugs at a more personal thread: "Hard Cider is, in some ways, a love letter to the Leelanau Peninsula, which is my favorite place in the world to be. First of all, I like hard cider myself. Second of all, there's been a real renaissance in hard cider production locally. I was fascinated with apple growing, and that's the Leelanau Peninsula. There are tons of orchards! Everyone thinks about it as cherries, and I happen to live down the road from Kilcherman's orchard [in Northport], and they grow antique apples, which are being rediscovered as cider apples. I just got fascinated by that."
That there's a magic to Northern Michigan is certainly no secret. The locals know it; those who visit get to know it. And Barbara Stark-Nemon is no exception. After renting the same Lake Leelanau cottage for the better part of a decade, Stark-Nemon resolved to simply "be on that beach." Little did she know that the property she purchased solely for pleasure would eventually become her second career sanctuary: "For me, there's something about getting north of West Branch, and all of a sudden, I start breathing more deeply. I feel like I'm letting go; without putting too much of a hokey spin on it, there is a transition that just changes my headspace when I get into that corner of the world. I love it – it's my happy place. It's where I feel centered, and it's my favorite place to write."
But, don't let this decidedly "new" pursuit fool you: though she's only been a novelist for fifteen years, Barbara Stark-Nemon has always been a writer. Or rather, a storyteller. Her need to narrate, she says, began with her grandfather – a German refugee, celebrated appellate lawyer, and in her own words, 'man of occasion': "He was just a consummate storyteller, and he loved having his grandchildren – there were four of us – tell him stories about our lives in America. He would delay our getting dessert until we told him a good story, and if it wasn't adequate, he would challenge us with these questions. It was always fun and always interesting, and even as little children, he believed that we had an important something to tell him. We had his sole attention and sole support, and he cultivated in a really fun and interesting way, this storytelling capability. It was an early influence that had a profound effect on me. It was probably the earliest experience of feeling like I had something important to say."
It was precisely this storytelling sensibility that inspired Stark-Nemon's first career as an English teacher. "I've always been fascinated by stories and particularly, people's stories," she says. " To have been in the classroom of middle school students, of thirty per hour for five hours a day, and have found those kids who were smart, and who had lots to say, but couldn't – not because they didn't have those stories, but because they had glitches in their systems for reading, writing, both, or speaking, and then going back and finding what makes that glitch – that became the focus of my graduate work in Speech Pathology and the career that followed. Working in schools, I learned Sign Language, and [suddenly], there was this whole new method of communication in a visuospatial field. Really understanding that everyone does have a story to tell, and the notion of being that narrator – of cultivating that ability to narrate a story – is something that just resonated with me. What can I do as a facilitator to help that person communicate what they need to communicate? People are surprised and ask, 'How did you go from being a speech pathologist to a novelist?' For me it's a pretty seamless connection, and an essential human need to create stories is the tie that binds."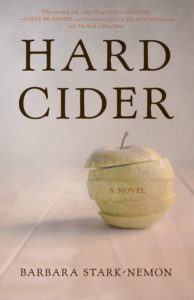 But the strongest tie of all is that of family, and Stark-Nemon was purposeful in Hard Cider's exploration of how we define it: "I want readers to think about how we form families," she says. "Who are automatically our family and whom do we make into family? One of the issues in the book is infertility. Surrogacy, which is a main plot point, has changed dramatically [over the last few decades]. Thirty years ago, people weren't even talking about it. It was the 'Wild West,' so to speak; there were no regulations. It is such a different world now. It's part of the point of the book, that we form families in different ways than we used to." Hard Cider also serves as an especially timely reminder that the human condition is the name of the game. She continues, "If we're fortunate enough to live long enough, most of us find that life presents us with twists and turns that are unexpected, and even unwelcome. I am always interested in exploring how people respond to that very human condition. I deeply value our capacity to choose reinvention rather than defeat, and what the struggle to do that looks like." From speech pathologist to scribe, Stark-Nemon herself is a model for reinvention; rather unsurprisingly, so are her protagonists. And if transformation is the name of the game, then hers is precisely the book – both literal and figurative – from which to take a page. After all, what good is the human condition if we don't recognize humanity? And we all certainly have a story to tell.
So what does Barbara Stark-Nemon have in store for us next? While she won't say much, we do know that there's already a third installment in motion. Her next novel returns to her historical roots; this time, sending readers to ancient Portugal. Think: a teenage artist, an international quest, and one very incongruous companion. But, far be it from us to spoil the ending. As Barbara Stark-Nemon so eloquently puts it, "there's some magic in the mixing."
About the Author: In addition to Hard Cider (2018), Barbara Stark-Nemon is the author of the award-winning historical novel, Even in Darkness (2015), as well as countless short stories, essays, and articles. She is a two-time graduate of the University of Michigan, holding undergraduate degrees in both English Literature and Art History, as well as a graduate degree in Speech-Language Pathology. Before becoming a writer, Barbara Stark-Nemon spent over two decades as an English Teacher and Language Therapist in public school classrooms in Ann Arbor. She is an avid bicyclist, swimmer, and gardner, and lives in both Ann Arbor and Northport, Michigan.
Editor's Note: Join Barbara Stark-Nemon for a Hard Cider book event at Horizon Books in Traverse City, Michigan on Saturday, October 13th! Please visit barbarastarknemon.com for more information.