By: Anna Faller*
Tom Carr is a man of mystery. Michigan mystery, that is. A Northville native, and former Detroit reporter, he's seen a thing or two. And he's certainly seen much of our beloved Mitten State. From Saline to The Sault, Carr knows Michigan's many nooks and crannies, rather ironically, like the back of his hand. He's also an avid historian with a penchant for the nitty and the gritty. We never learned Carr's kind of history in class, and he's on a mission to prove that our now-placid peninsula's past is as sordid as something out of The Wild, Wild West. In his most recent release, a compilation of novellas, entitled MI Bad: Robbers, Cutthroats, and Thieves in Michigan's Past and Present, Carr does just that. Published in August, the second installment in Carr's Michigan Mayhem series meticulously documents the Midwest's most notorious villains and the all-too-familiar locations they plundered, pillaged, and prostituted.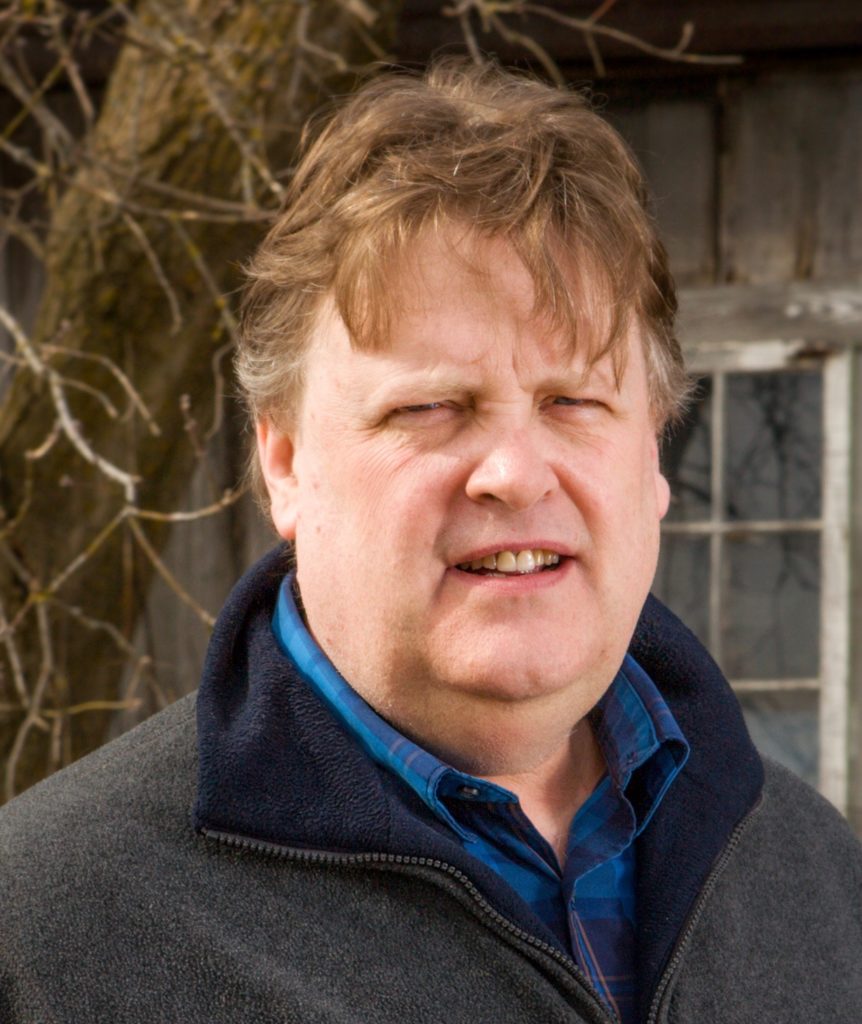 Tom Carr was born into the world of words. The son of a writer for the Detroit News, his future as an author was sealed from the get-go. But much like the gangsters and gunmen he follows, Carr has always been a bit of a rebel: "When I was a kid, I always enjoyed writing. [But], goofy things, and offbeat things; not so much what I was assigned to write in school." So, his preoccupation with the ne'er-do-wells of the news is hardly surprising. In the footsteps of his father, Carr completed an undergraduate degree in Journalism at Michigan State University and bounced around a litany of other Midwest-based publications before landing at the Record Eagle in Traverse City. From there, indulging his preference for the action-packed stuff was as easy as walking into work: "As a reporter, I was covering all sorts of fascinating things – it was a small newspaper, so you get to do a fair amount – I was covering the police force, schools, all the hot spots of local news. I [even] covered some murders while I was working at the newspapers. Then I decided I wanted to be a freelancer."
Carr did not, however, decide to be a historian. That chose him: "[History] is something I've always been fascinated with. It really transports you – you can see the remnants of a time gone by. I have always liked reading about history, but the lively parts; not the facts and figures, but what real people were doing in different times and places throughout the world." And as a native of NoMi, the great Mitten State is Carr's favorite subject. "I guess it's just a focus," he says. "Having lived here all my life and [having] lived in so many parts of it, I just feel a closeness. Ideally, [my stories transport] myself and the reader into a different time and place. I want to bring Michigan to life." But according to Carr, we haven't even scratched the surface of Michigan's historical underbelly. In comparison to the rest of the country, the reputation of our midwestern Mecca is a little anticlimactic in terms of criminal activity. Carr, however, doesn't see it that way: "There are things that happen in Michigan that are just as wild as the West. It's as seedy, as shady, as crooked as any of that stuff, and it [has] a fascinating kind of a lawlessness." And he's determined to expose every grimy, gory detail: "I try to write in the way that you could tell somebody if you were standing there talking to them, so that [the story] keeps the action and the sweat and the blood. In history books or newspapers, it's a little bit sanitary. I want to get closer to it. And I want to bring others closer to it, in my telling it. It's a different way of telling it, I think."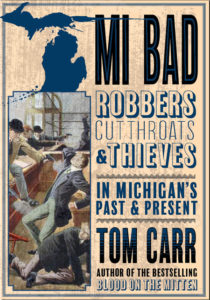 For Carr, the prospect of full-length publication was difference enough. Prior to his work with his current publisher, Mission Point Press, Carr's professional writing experience was limited almost exclusively to the newspapers and periodicals that defined his journalism career. The new title of "author," however, is one that he has come to enjoy: "Even though [my books] are made up of somewhat short stories, it's still one cohesive thing that you kind of have to immerse yourself in for the duration. It's a luxury that I didn't know I was looking for [when I was writing for] newspapers." MI Bad is a follow up to Carr's debut publication, Blood on the Mitten: Infamous Michigan Murders, 1700's to Present, which was released in 2016. While the first focused mostly on homicide, MI Bad takes on more of a True Crime theme, exposing some of the Great Lakes State's most prominent scandals. Highlights include a botched escape from the Jackson State Prison in the 1970's; a seemingly-untraceable pair of train-heisting brothers; and even an appearance by Baby Face Nelson. With the release of MI Bad, Tom Carr has managed to take Michigan's most shameful bits and turn them into a bestseller. If that that doesn't constitute a "different telling," we're not sure what does.
And a style as "different" as Carr's deserves an equally original method. Though he doesn't subscribe to a recurring writing process, Carr is unbendingly attached to a singular space: "I think my writing process has improved overtime. I have to say; the standing desk has been a godsend for me. When I sit, it's like something psychological happens. I'm a tall guy, and I sit down, and it's like, 'Okay, this is where I've gotta be now.' But, my mind can be more playful, can be more curious; I can have a book over here that I'm referring to, and it's sitting on this chair, and I can walk over, find a few lines, and walk back. And as my nervous feet are active, so is my brain." In contrast to his lively writing habits, Carr's actual composition is relatively direct. He's a man of few words, and he prides himself on it. "I think [journalism] taught me to make my words count," he says. "It's not for me to say how well I've achieved that, but I try to make things as active and colorful as possible. But I am a little bit freer in my style doing what I'm doing now than I ever was as a journalist, which is really fun because I can inject a little bit of editorializing into a story." Carr credits his distinctive angle to various influences, most notably Mike Royko, a "gritty city" reporter for the Chicago Tribune he followed as a journalist, the raw sardonicism of Kurt Vonnegut, and, earliest of all, the eternal stylings of Mad Magazine, which he "devoured" as a child. "Other things that have made an impact in the genre in which I write," he adds, "are [works] like Michigan Murders, by Edward Keyes and In Cold Blood by Truman Capote. I'm also a huge Sarah Vowell fan. She does a lot of historical essays and she wrote things like Assassination Vacation, which was about visiting cities in the U.S. where presidents have been assassinated, [which] was just fascinating."
So, what is Tom Carr up to next? He's still got a few tricks up his sleeve, and more than a few books already in play: "I'm working on a proposal for a next book that will also [revolve around] the dark side of Michigan's history. There's also a novel that I've been working on that I'm trying to move along. [For now], the novel has kind of been put on the backburner. I'm writing up a proposal for another book that would be complementary, but still take the themes from the first two [books] and take them further." From non-fiction to novels, and Manton to the Manitou, Thomas Carr is finally living his passion. And he's quick to remind other writers not to abandon theirs: "Find what it is that you're passionate about and write it," he says. "If you're writing about something you're not passionate about in order to make a living, don't lose sight of what started you writing in the first place." The rest, after all, is history.

Post note:  Tom Carr dedicated MI Bad to Michigan newspapers, past and present.

*Anna Faller is a freelance writer based in Traverse City, Michigan. She can be reached at [email protected].