By Anna Faller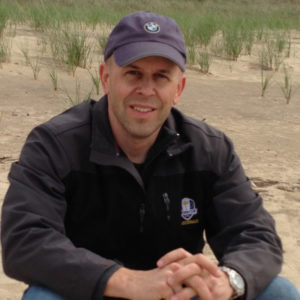 You might say that Roger Hardnock is a man of many talents. You might, and he is, but to leave it at that would be a substantial understatement. On the contrary, Hardnock is truly a jack-of-all-trades. As a bright and shiny college grad, he first entered the workforce through Detroit's infamous auto industry, and then spent the next several years bouncing between fields: Hardnock has, at one point or another, worn the hat of an automobile designer, an engineer of collectible model cars (for the esteemed Franklin Mint, no less), and a marketing design specialist. Within the last few years, however, Hardnock has done away with his corporate past entirely, eschewing the toils of the nine-to-five grind in pursuit of something a little loftier. These days, Roger's focused on what he considers his true "calling": using the uniquely specific skill-set of a practicing psychic medium to create a series of paranormal fantasy novels.
As such, it is not at all surprising that Hardnock's writing is far more the product of intuition than process. In his own words, his stories seem to almost "fall into" him, in contrast to the traditional tedium of outlines, rough drafts, and revisions. Rather appropriately, Hardnock stumbled upon his connection to the spiritual realm during, of all things, a Ouija board session more than twenty years ago. Since then, he has fully embraced the intricacies of this rather unusual talent, having studied with professional intuitives, and even publishing a few articles on the subject. Suffice to say, the results have been nothing short of extraordinary.
You dabbled in multiple career areas before publishing your first book. What sparked your interest in becoming a writer?
I guess I don't want to say that I became a writer by chance. When I go back to my school days, like elementary school and all that, English was my worst subject. I was awful in English. I never would have imagined in a million years that I could write anything, because I was so bad. But then, when I got into professional work and had to do business writing, I found out that I was actually really good at that style of writing. I eventually went to business school for my graduate degree, and still had to write technically, but I told myself I want to try to write something creative, because I'd never done it before. I'd never written a poem or a story or anything, so I told myself that I was going to try to write a story. When I started, I had the idea already. I think it dropped into me more than anything. I knew what the beginning would be, and I knew what the end was, but I had no idea what would happen in between. So, I just started writing. At first, I thought I could maybe write a nice little short story, ten or twenty pages or so, but it just kept going, the story just kept coming to me – I didn't even have to try. Love of the Game is literally the first creative thing I've ever written in my life. It went from zero to one hundred miles an hour.
What was your inspiration for Love of the Game?
With my first book, I didn't go looking for a story to write. The story came to me. Literally – and this was twenty- some years ago, so this is not new – I started hearing voices. Most people would probably think that's crazy. And I did too – I kept it to myself, I never told anybody. But, once I found people I was comfortable talking to, I realized that the voices were real. I could hear voices from dead people that other people knew. I could tell them everything about the person and I could hear that person talking to me. When I was writing my first book, I didn't sit down and say, "Here is this element of this story, and I need to fit these elements into the story, so let me think about how to do it." The way it actually worked was, I would sit down to write, and the story told itself to me. I would say I am more the scribe of the story rather than the creator of the story. I was surprised as I was writing. I did a lot of writing on my lunch breaks while I was working. I would sit there, and the ideas just popped into my head, so I would start plopping them in, and everything just fit together. It wasn't a conscious thing where I tried to do it, where I'm going to sit here and intuitively pick up the story. I sat down and it just started coming to me. When I was out walking, I'd see something on the side of a bus, for example, and I would say, "That tells me something about my story." And I would go and put that thing into the story, and it just fit. It's actually pretty extraordinary. It's the stuff that we don't see, the things that are out there that we don't see, that have so much to tell us.
 Does your work as a psychic medium consistently inform your writing?
A couple summers ago, I was outside mowing my lawn. I had my headphones in – I was just listening to music, not really paying attention to anything. All of a sudden, I felt like I walked into a cloud of an idea. Within minutes – ten minutes, maybe – an entire story downloaded into me. That's where my next story came from: literally out of the air. I was just amazed. I don't even know how to describe it. It was almost like walking into the presence of it, and then it went into my body. So, I told my friends about it, and they were like, "Have you written it all down on paper so you don't forget it?" But, it's not in a place I'll ever forget, because it's almost not even a brain thing. It's almost like I am a cosmic storehouse – like it went straight into permanent, long-term memory. The whole thing is just there. It was amazing. It really was. I was almost speechless, because I didn't even know what to think, where it was coming from. I just absorbed it. For me, I think mediumship is my calling, because I feel so strongly about it. But then in my case, my calling seems to be stuff that's out there. Most people think of psychic and mediumship as sort of weird and taboo. But, I don't have crystal balls and robes and stuff. I'm just a normal person who kind of got called into it. It's unbelievably amazing.
Do you have a writing process that you typically follow when you write?
I'm sure everybody who is an aspiring writer would want me to have a real process, and a technical approach, outlines, and all that. The truth is, I have absolutely nothing. I would probably offend every creative writing instructor in every college everywhere, because I have none of it. And honestly, at one point, I thought that making outlines and following a step-by-step process was what I was going to have to do, but I got so overwhelmed by even thinking about that, that I decided I wasn't going to do it at all. For me, what helps is visualizing my stories. I guess the story just came naturally to me. I just started writing. I just did a writing dump – I would just dump things on paper as they came to me. And after I finished, and I had ended up with hundreds of pages of writing, I just started going back and editing. But it's a chaotic process, because I ended up writing the same thing in more than one place, so it was a challenge to go back and edit it. Hopefully I've learned from this, and I can be more efficient in the future.
Which authors have been most influential to your own writing?
Stephen King has probably inspired me more than any other writer. I think it's his stories more than anything. Most people think of Stephen King, and they think horror, but I don't think he's a horror writer. He's really an extraordinary story teller. I like paranormal, magical stories that are beyond normal. My stuff is maybe not as beyond normal as his is, but that aspect of his writing inspired me: to look at or read stories that go beyond the normal world that we see. We live in the world that we live in – I don't want to read about that. I want to read about something more magical than that. I also like John Grisham a lot, and what I like about him is actually that he is almost the opposite of Stephen King. He is a very clean storyteller and the opposite of a literary writer. It's not about the words; it's all about the stories. On the literary end of the spectrum, I think Donna Tartt is amazing. I'll never be able to write like that. But I'm okay with it too, because that's not what I aspire to. If you want to be a writer, you've got to understand what kind of writer you are or what kind of writer you want to be. I think it's almost not a conscious choice. If you're drawn to whatever type of genre or writing, that sort of fits who you are.
Do you have any advice for aspiring writers?
If I was ever invited to a writers' workshop or to a class to share my writing experience, to me, the advice that I would give is to find your voice. So much of the teaching I see revolves around all the structural stuff, and making outlines, and all the stuff that you're supposed to do. But to me, writing is finding the story from within, or wherever it's coming from, and feeling it. Feeling it and bringing it to life that way. You can always get an editor to clean up the details. All that other technical stuff you can certainly learn, and if you learn it and have it, that's great, because you do need it; sentence structure and storylines, and all the stuff you're taught in school, you  need that. Whether you have it intuitively or you need to learn it, that's fine. So I would never say don't learn that stuff. But to me, the real story comes from a different place. And honestly, I didn't even plan it intentionally, but so much of my story is my own life. Many of the things that actually happen in my story are things that happened in my own life, in my own childhood. But, I didn't go into my childhood memories and extract those things; I just let them come to me as they fit into the story. Another thing I would say is read a lot. When you read, sometimes you're reading to read the story, and sometimes you're reading to read the writing. I'm not really a fan of literature, of that style of writing, because I don't have the mental patience for it, but I will go in and read a Pulitzer Prize – winning novel, because I want to experience that kind of writing and it helps expands my abilities.
So, what's coming up the pipeline next?
I've already finished the first draft of the next book, which is actually a follow up to this first book. So, that book is in the editing process right now, and I am getting ready to jump into writing the story from my lawn mowing experience. I've actually written the first chapter already, so I guess I would say that I've already started writing it.
About the Author: Roger Hardnock's debut novel, and first-ever creative feat,  Love of the Game, hit bookstore shelves in late May of last year. A healthy mix of suspenseful and heartwarming, this book is definitely a little "out there," but that's just how Hardnock likes it. Love of the Game follows an elderly Edgar Howard, who, in his old age, is resigned to little more than listening to baseball on his radio and quiet introspection. That is, until a ghostly trespasser invades Edgar's mind, taking sickening inventory of his most painful memories. The monotony of each passing day turns to torture as the old man is forced to relive everything he was never quite able to do – every missed opportunity, every failure – until he's forced to make a choice that will forever alter his life's direction. But don't get too comfy just yet! Hardnock's next novel, a follow-up to Love of the Game, is due to be released sometime next year.
Editor's note: Anna Faller is a freelance writer based in Traverse City.