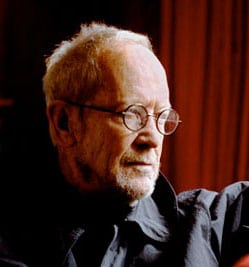 National Writers Series & National Cherry Festival Present: A " Pure Michigan" Picnic
Saturday, July 2 ~ 6:00 pm, Clinch Park Marina
Elmore Leonard is one of America's most gifted and prolifi c writers, credited with 45 books, multiple screenplays and a hit TV series "Justifi ed" on FX, based on his popular character U.S. Marshal Raylan Givens. Countless of his best-known works have been adapted into blockbuster films, including "Get Shorty," "Out of Sight" and "Rum Punch," which was filmed by Quentin Tarantino as "Jackie Brown." His short stories also became the basis for movies, including "3:10 to Yuma" and "The Tall T." On July 2, Leonard returns to Traverse City for a special partnership event between the National Writers Series and the National Cherry Festival. Event attendees will enjoy an on-stage conversation between NWS founder Doug Stanton and Leonard about Leonard's life and work, as well as a 'Pure Michigan' picnic in the park featuring dinner courtesy of the Boathouse Restaurant and wine from Bowers Harbor Vineyard. Every attendee will receive a complimentary book authored by Leonard. Local musician Ron Getz will provide opening entertainment. The evening will conclude with a book signing with the author. Don't miss this special celebration of Michigan writing, food, wine and music!