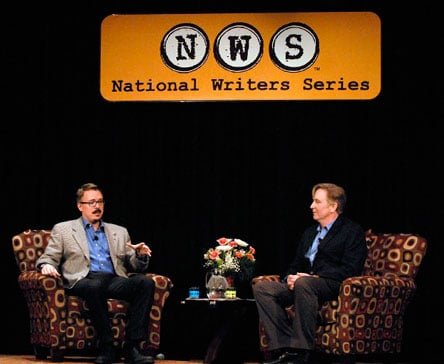 February 4, 2012 at 7:00 pm
City Opera House
AN UPDATE FROM VINCE GILLIGAN
Writing for TV is rarely seen as a literary endeavor. That's what I so appreciate about the inclusivity of the National Writers Series—to rub shoulders with great writers of all stripes. Also, Northern Michigan is beautiful and the people couldn't have been more warm and welcoming. It was a wonderful weekend I'll always remember!
—Vince Gilligan, creator of "Breaking Bad"
"NWS-An Evening with Vince Gilligan"
Watch: From  UpNorth TV
Listen:
[audio:https://nationalwritersseries.org/wp-content/audio/Vince_Gilligan_NWS.mp3]
Who would've thought that a show about a desperate chemistry teacher, an RV and a town named Albuquerque would be a recipe for one of television's most critically acclaimed hits? "Breaking Bad" is must-see television, garnering consecutive Emmy nominations in 2009 and 2010. Now entering its fifth and final season, the provocative series follows a chemistry teacher, who "breaks bad" after being diagnosed with terminal cancer. To secure his family's financial future before he dies, he leaves his teaching job and begins a surreal criminal career. Entertainment Weekly, NPR and Paste magazine all named the show #1 on their lists of 2011 Best TV Shows, with Stephen King naming the program #1 on his list of 2011 Pop Culture Favorites, hailing it as "an American classic."
If you admire Raymond Carver's short stories, or John Updike's Rabbit Run novels, or the seat-of-your-pants adventure found in the best mysteries, you'll love this evening. Vince Gilligan is no stranger to northern Michigan, having attended Interlochen Center for the Arts as a teenager. NWS founder Doug Stanton will interview Vince in an exclusive behind-the-scenes discussion about the show's memorable scenes and how they move from the writer's room to the screen. Vince will also discuss his diverse career, including a long-running stint as writer and executive producer of
The X-Files," co-creator of "The Lone Gunmen," and screenwriter of such popular films as "Hancock" and "Home Fries." Don't miss this rare opportunity to ask questions of one of TV's hottest writers.
'Breaking Bad' Kills It!
Oct 9, 2011 11:08 PM EDT
Spoiler alert! Giancarlo Esposito tells Maria Elena Fernandez about the electrifying 'Breaking Bad' season finale, playing a psychopath, and why it's difficult to 'kill' your fellow actors.
TV's Most Dangerous Show
Jun 26, 2011 1:00 AM EDT
'Breaking Bad' is as addictive as the meth cooked by its cancer-stricken lead character, and just as insidious. It's also TV's finest hour.