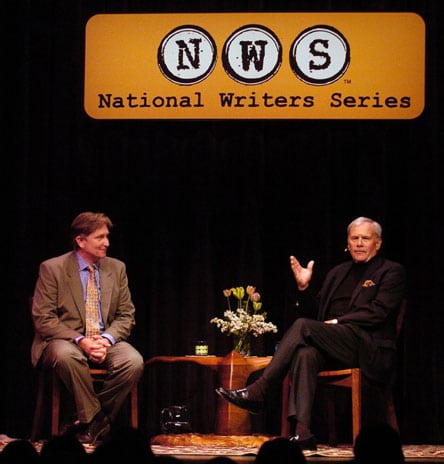 Listen: An Evening with Tom Brokaw [audio:https://nationalwritersseries.org/wp-content/audio/Tom_Brokaw_NWS.mp3]
Legendary news anchor and television journalist Tom Brokaw visited Traverse City on Wednesday, May 12 as part of the 2010 TC National Writers Series.
By Beth Milligan
This event will featured an intimate and revealing Q&A with Brokaw hosted by National Writers Series founder and best-selling author Doug Stanton, covering the anchor's life, work and decades-long experience reporting on some of the world's most famous individuals and events. Tickets for this event were sold out in advance—and portions of the evening were rebroadcast to the public on Interlochen Public Radio and on UpNorth TV.
During his visit to Traverse City, Tom appeared at three unique National Writers Series events, all designed to engage different generations and audiences with the author, as well as raise funds for the National Writers Series Scholarship Fund, benefiting high school students in the five-county area with scholarships to attend college for writing.
Tom met with students grades 9-12 from the Traverse Bay Area Intermediate School District at 1:00 p.m. on May 12 at TC West Senior High School for a presentation entitled "Tweet is a Verb. Writing is Forever." The session gave students interested in pursuing writing as a career a once-in-a-lifetime opportunity to hear from Tom personally about his life's work and experience, as well as a chance to ask questions of the anchor.
During his visit, Tom also announced the launch of the National Writers Series Scholarship Program.
Tom Brokaw was joined by 100 lucky guests for a private gourmet dinner in the Peninsula Room at Bowers Harbor Inn on Old Mission Peninsula on May 12 to meet and have dinner with during a two-hour event, which featured an intimate cocktail hour and four-course meal. Proceeds will benefitted the National Writers Series and its Scholarship Fund.