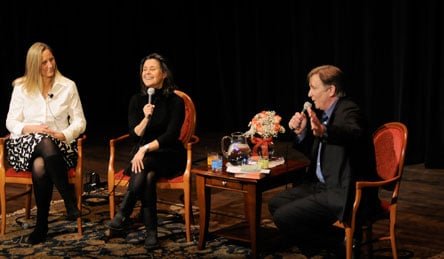 February 3, 2011 
City Opera House
Listen:
[audio:https://nationalwritersseries.org/wp-content/audio/Writers_of_Madmen_NWS.mp3]
Writer-producers Janet Leahy and Lisa Albert kicked off the 2011 National Writers Series with an inside look at the writing and production of some of television's most popular shows. National Writers Series founder Doug Stanton hosted this entertaining discussion about adventures in writing for the screen, along with an audience Q&A. The evening concluded with a DVD and book signing with the writers.
AMC's hit series "Mad Men" has become one of the most critically acclaimed
shows on television, winning three consecutive Golden Globes and back-to-back Emmys for Outstanding Drama Series. Now entering its fi fth season, the provocative drama follows the lives of the ruthlessly competitive men and women of Madison Avenue advertising during 1960s New York.