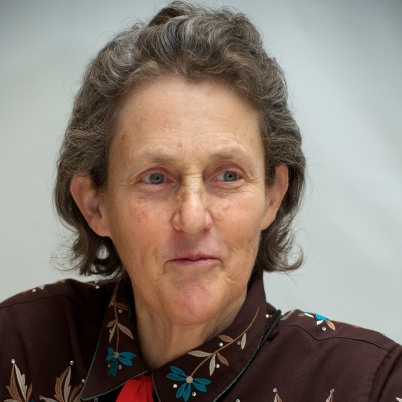 Temple Grandin with guest host Laura Hohnhold

June 24, 2013 | City Opera House, Traverse City
---
Listen to Temple's program here:
[audio:https://nationalwritersseries.org/wp-content/audio/Temple_Grandin.mp3]
Event Recap
by Cymbre Foster
"No one seems to like my daughter," said the woman as she slid her book across the table for Temple Grandin to sign.
Grandin asked the worried mom several clarifying questions and learned that her autistic daughter had a litany of social issues, including a lack of table manners.
"There's no excuse for that," Grandin told her and she should know. Minutes earlier Grandin told a sold-out audience at the City Opera House in downtown Traverse City that she was asked to wear deodorant at her first job. "I also didn't know that there were secret eye signals that people exchanged," shared Grandin, who is probably the most accomplished and best-known adult with autism in the world. After further conversation the mother thanked Grandin profusely and left holding her latest book The Autistic Brain. Grandin, a pioneering advocate for autism, has since written several books on the topic.
The author spoke with Byliner executive editor Laura Hohnhold June 24 at the National Writers Series last regular event of the Winter-Spring 2013 season.
Photos from the event:
[nggallery id=15]
Grandin was funny, charming and insightful. She told the audience how she began her career at a feed yard and quickly learned to focus on her work rather than herself.
"When you're a real geek you sell your work rather than yourself. I learned that very, very early on."
She talked about the HBO movie about her life and the accuracy of the scenes. She admitted that like the movie version she didn't pick up on subtle social cues and likened herself to an "anthropologist on Mars."
Temple, a passionate animal activist also talked about animals and how her work in animal behavior revolutionized the cattle industry. "You've got to give those animals a life worth living. I feel very strongly about that," she said.
Her research continues today where she is looking at creating "decent apartment living for chickens" where they can be more comfortable and still produce eggs.
She is also an animal sciences professor at Colorado State University and appears as a guest speaker around the country.
---
About Temple Grandin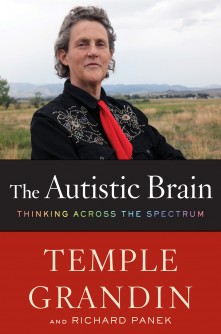 One of Time magazine's "100 Most Heroic and Influencial People in the World"
— A rare chance to meet bestselling author and activist Temple Grandin.
You've heard her speak on NPR and seen her life depicted in HBO's 2010 movie, Temple Grandin, starring Claire Danes in the role that won her an Emmy and a Golden Globe. Since her ground-breaking book, Emergence: Labeled Autistic, was published in 1986, Temple Grandin, has been a philosophical leader of autism advocacy.
Oliver Sacks called Emergence, "a quite extraordinary, unprecedented and, in a way, unthinkable book." Extreme and strange in its directness and clarity, Emergence elevated Grandin to the equivalent of a champion explorer returned with news from an otherwise unknown land called autism.
Grandin is as well known for her work in "well-being" as she is for her autism advocacy. She has earned critical acclaim for her books Animals in Translation and Animals Make Us Human, and is regarded as one of the nation's most respected advocates of animal welfare.
In her remarkable new book, The Autistic Brain: Thinking Across the Spectrum, Grandin shares remarkable new discoveries and introduces readers to innovative theories of what causes, how we diagnose, and how to best treat autism.
As the most sought-after speaker in the autism community, Grandin is known for appearances that mix laughter with revelation, and audience members cannot help but be changed after an evening in her presence. Unafraid and, at times, intensely personal, Grandin delivers insights into the deepest uncharted regions of the human and animal experience.
---
About Guest Host Laura Hohnhold
Laura Hohnhold is executive editor at Byliner. The leading publisher of short digital books, Byliner specializes in fiction and nonfiction stories that can be read in a single sitting. Bestselling Byliner authors include Margaret Atwood, Amy Tan, Jon Krakauer, Ann Patchett, Buzz Bissinger, Jess Walter, and Richard Russo. Prior to Byliner, Laura worked at Outside Magazine, Time Inc., and The New York Times.