City Opera House, Traverse City
Presented in partnership with the Michigan Humanities Council
With guest host Mardi Link
Listen:
[audio:https://nationalwritersseries.org/wp-content/audio/NWS_SteveLuxenberg.mp3]
About Annie's Ghost:
Great Michigan Read 2013-14
Michigan Notable Book 2010
Washington Post's Best Book List 2009
Event Recap
By Jacob Wheeler
Washington Post editor Steve Luxenberg set out to write a memoir about why his mother withheld from her children the existence of her sister, Annie, who was institutionalized for 31 years in an asylum near Detroit. But Annie's Ghosts: A Journey into a Family Secret (2010, Hyperion) surpasses his mother's story. The book is ultimately an examination of secrets, why we keep them, and how they transform us.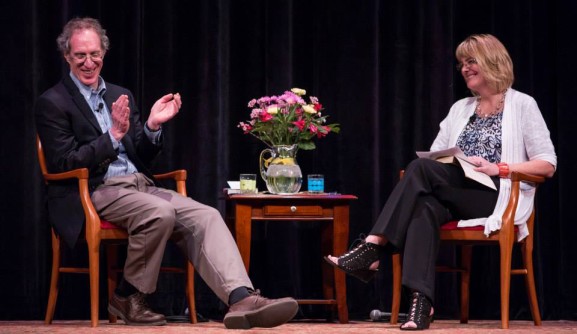 April 8, 2014
Luxenberg spoke at the National Writers Series in Traverse City, on April 8, appearing on stage opposite local writer Mardi Link, the evening's guest host. Despite the heavy story behind Annie's Ghosts, Luxenberg's mood at the City Opera House was light and jovial. He played a friendly game of cat and mouse with Link, attempting to interview her while congratulating her on recent accolades: Link's latest book, Bootstrapper, was recently optioned for film by Hollywood stars Rachel Weisz and husband Daniel Craig.
Luxenberg and Link joked about college basketball and concluded the event by taking turns reading from each others work. The lighthearted banter was appropriate. Outside, spring had finally come to northern Michigan, after a long and frigid winter.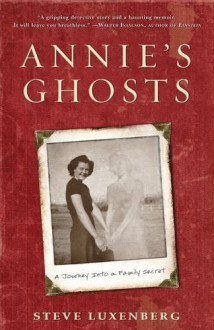 Researching and writing Annie's Ghosts similarly allowed Luxenberg to pull back the dark layers of mystery surrounding his late mother Beth's secret (after Annie was placed in the Eloise psychiatric hospital in Wayne County in 1940, at age 21, Beth reinvented herself as an only child). In so doing, the author hoped to apply a journalistic objectivity and avoid judgment. He hoped to understand how the secret controlled her, and ultimately make peace with his family's dark secret.
The degree to which Beth's secret imprisoned her became apparent to Luxenberg when his mother spent two weeks in a psychiatric ward in a hospital outside Detroit for anxiety. The 78-year-old woman fell to her knees and implored her son to remove her from the clinic. "She became a kid and begged me to take her away from there," said Luxenberg. "I thought it was because of the people screaming nearby. I didn't know that Annie was also checked into Eloise 'for two weeks' (and then kept there indefinitely). Even on her knees, begging me, she couldn't tell me. The secret controlled her, she didn't control the secret."
Luxenberg found a convincing, yet haunting, juxtaposition to his mother's secret in the secret held by her cousin Anna, a Ukrainian Jew who survived the Holocaust by hiding her faith from the Nazis and voluntarily serving as a translator for the German army on the Eastern Front. Hers was a secret of necessity, to stay alive. "Lying was the root to survival, the root to safety," the author concluded. Anna, who immigrated to New York after the Second World War, found no parallel between the secrets. She told Luxenberg she condemned Beth for the secret she kept.
"Part of what I'm doing is exploring the nature of secrets and why we keep them," said Luxenberg, who didn't want Annie's Ghosts to be a Holocaust book, but found cousin Anna's story too prescient not to use. "Anna used (her secrets) to survive. No one should have to tell anyone, 'here's a reason to kill me'."
"What's my reason for telling this story?" Luxenberg rhetorically asked himself. "I came to the conclusion that my mother was damaged by her secret. She would have been better off had she found the courage to reveal the secret. But after a while, you're stuck with what you've done and it's hard to re-open it."
Most of us keep our own secrets, concluded Luxenberg. Some are big, some are small – few secrets are as big as the ones kept by Beth or Anna. Nevertheless, all secrets have the potential to grow, and consume us. Luxenberg interviewed a British historian writing her own book on secrets, and she concluded that secrets should not survive those who kept them – other shouldn't reveal them. On the other hand, readers of Annie's Ghosts have thanked Luxenberg for helping them prompt family discussions around the Thanksgiving dinner table, which helped heal their own family secrets.
"My mom was a kind, loving and generous person," said Luxenberg. "She was an astute observer of other people, and she had great stamina. But she also lied. She's not two different people, she's the same one. We all lie, my mom just did it to a greater magnitude."
Annie's Ghosts resonated with the National Writer Series audience in part because this community has its own psychiatric institution, the Traverse City State Hospital, which was an asylum through the first half of the 20th century and has since been converted into the Village at Grand Traverse Commons, an eclectic and thriving network of shops, restaurants, private residences and farmers markets.
Luxenberg concluded that the days when family or community members could be cast off and institutionalized, as his aunt was, represented a different time, a different era. Link expressed amazement at how easy it was in 1940 to have someone committed. Anyone could petition the court to have a family member considered insane. A judge, sheriff or others in positions of authority could also do so. "That's stunning to me," she said.
"How do you reconstruct the past, and put yourself in my mom's shoes, or in Annie's shoes?" Luxenberg asked. "Don't see the world how I saw it, but how they saw it? I'm not judging my mom. I'm trying to walk in her shoes."
"That compassion for the characters is the engine of the book," Link complemented him.
The guest host concluded the evening by asking Luxenberg, "If you could ask your mother one thing today, what would it be?"
He paused and thought about the question, before answering.
"I would say, 'Mom, why are you so afraid that I'll think badly of you if you tell me the secret?' I don't judge her…. Once the safety valve was open, I don't think she'd have trouble talking."
About Steve Luxenberg
"The secret emerged, without warning or provocation, on an ordinary April afternoon in 1995."
Beth Luxenberg was an only child. Or so everyone thought. Six months after Beth's death, her secret emerged. It had a name: Annie. Beth's son Steve set out to find out the reasons that his mother would hide her sister and his pursuit resulted in Annie's Ghosts: A Journey Into a Family Secret – a book that is part memoir, part detective story, and part history. Through personal letters and photographs, official records and archival documents, as well as dozens of interviews, readers will revisit his mother's world in the 1930s and 1940s in search of how and why the secret was born.
Employing his skills as a journalist while struggling to maintain his empathy as a son, Luxenberg pieces together the story of his mother's motivations, his aunt's unknown life, and the times in which they lived. His search takes him to imperial Russia and Depression-era Detroit, through the Holocaust in Ukraine and the Philippine war zone, and back to the hospitals where Annie and many others were lost to memory.
Annie's Ghosts was chosen as the 2013-14 Great Michigan Read book and was named to The Washington Post's Best Books of 2009 list. It was also honored as a Michigan Notable Book for 2010 by the Library of Michigan. Luxenberg has worked for more than 30 years as a newspaper editor and reporter and is currently an associate editor at the Washington Post and a graduate of Harvard College.
Guest Host Mardi Link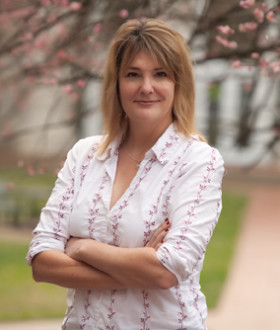 Mardi Link was born in Detroit and grew up in the state's southeastern suburbs, spending summers up north on Lake Michigan. The only daughter of educators, she attended Michigan State University's school of journalism, and has worked as a police and general assignment reporter, magazine editor, and freelance writer. Her first book, When Evil Came to Good Hart, was published in 2008 by the University of Michigan Press and spent four months on the Heartland Bestseller List. Her second book, Isadore's Secret, was published in 2009 also by the University of Michigan Press, and chronicles the mysterious disappearance of a Felician nun from her convent in 1907. It was named a Michigan Notable Book, a Great Lakes Great Read, and also spent several months on the Heartland Bestseller List. Mardi's latest work, Bootstrapper is a memoir from Knopf. She lives on a hobby farm near Traverse City.
The Great Michigan Read is a biennial program of the Michigan Humanities Council in which they partner with schools, libraries, museums, religious organizations and other organizations in Michigan for a statewide reading discussion. Each program focuses on a new title – written by a Michigan author or based in Michigan, selected by a statewide committee. This reading initiative aims to connect us as Michiganians by exploring our history, our present and our future as discussed in a single literary title.

Premium Reserved Seating: $35 (ticket only) $46 (ticket plus book – trade paper)
Reserved Seating: $25 (ticket only) $36 (ticket plus book – trade paper)
General Admission: $20 (ticket only) $31 (ticket plus book – trade paper)
Educator Discount: $5 off ticket price with valid ID
Student Discount:  $10 off ticket price with valid ID
Tickets go on sale to "Friends of NWS" on February 6, 2014 (box office only).
Tickets go on sale to the general public on February 13, 2014.