October 22, 2014
Listen:
[audio:https://nationalwritersseries.org/wp-content/audio/nws_sophiekinsella_mixdown.mp3]
In partnership with RELISH.

READING, WRITING & SHOPPING: A gift for comic writing and A flare for everything fashionable, international bestselling author Sophie Kinsella makes her first trip to the U.S. in more than four years.
Kinsella is the #1 internationally bestselling author of the Shopaholic series as well as the novels Can You Keep a Secret?, The Undomestic Goddess, Remember Me?, Twenties Girl, and I've Got Your Number and Wedding Night.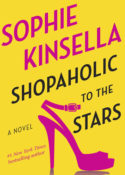 It has been several years since Sophie Kinsella published a book in the Shopaholic series. This October meet Kinsella in person as she launchs another fabulous installment to the beloved Shopaholic series, Shopaholic to the Stars. It will leave you—and your credit cards—wanting to visit Rodeo Drive.
Sophie Kinsella wrote her first novel under her given name, Madeleine Wickham at the tender age of 24 while working as a financial journalist. The Tennis Party was immediately hailed as a success by critics and public alike and became a top ten bestseller. She went on to publish six more novels as Madeleine Wickham: A Desirable Residence, Swimming Pool Sunday, The Gatecrasher, The Wedding Girl, Cocktails for Three and Sleeping Arrangements.

She submitted her first 'Sophie Kinsella' novel anonymously to her existing publishers and it was snapped up without her editors knowing that she was already one of their authors. It wasn't until the appropriately titled, Can You Keep a Secret? was published that Sophie revealed her true identity.

SHOPPING SPREE!
Local retailer Relish and NWS  teamed up to offer a Shopaholic Giveaway. Relish, located in the warehouse district downtown Traverse City, offers clothing and accessories that are cool, hip, and inspired, with something for everyone. They are well known for their mascot, Simon, a 1-year-old black pug.