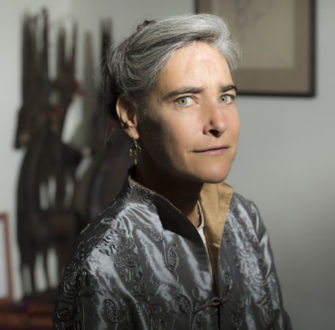 Onetime NPR reporter in Afghanistan and Algeria, senior associate at the Carnegie Endowment for International Peace, and author of Thieves of State
Thursday, October 15, 2015
City Opera House, Traverse City
With guest host and former diplomat Jack Segal

Presented in partnership with the International Affairs Forum
---
ABOUT SARAH CHAYES
Advising four-star generals comes naturally when you've stared down warlords, defied death threats from drug cartels and told a U.S. president he was being duped. And that's just the beginning. Sarah Chayes' journey from fearless journalist to being the smartest person in a room full of four-star generals and policy makers will blow you away.
As a renowned NPR correspondent, Sarah Chayes made the gutsy decision in 2002 to settle in war-ravaged Kandahar, Afghanistan – heartland of the just-deposed Taliban regime. There she founded a start-up business producing skin care products, providing employment for 50 men and women while fighting a dysfunctional US bureaucracy and world-class corruption.
Chayes' exceptional knowledge of Afghan society led a succession of US generals to seek her guidance as they struggled to get the US/NATO effort on track (eventually even bumping into Traverse City's own Jack Segal along the way). Her unique expertise caught the eye of Joint Chiefs of Staff Chairman, Admiral Mike Mullen, who brought her onto his personal staff as an advisor on Afghanistan, Pakistan, and the Arab Spring.
In Thieves of State: Why Corruption Threatens Global Security, Chayes  connects the dots from Syria to Ukraine to Nigeria to Afghanistan, showing how kleptocratic regimes – tolerated or even facilitated by the United States – can drive fed-up citizens into the arms of extreme fundamentalist groups.
This conversation will surely open your eyes to the workings of international politics like none ever before.
ABOUT GUEST HOST JACK SEGAL
Jack Segal is co-chair of Traverse City's International Affairs Forum. He is a former senior US diplomat who worked with Sarah Chayes in Afghanistan, served in Israel during the Gulf War, worked on the National Security Council and negotiated arms control agreements with the Soviet Union. Click here to find out more about the International Affairs Forum.