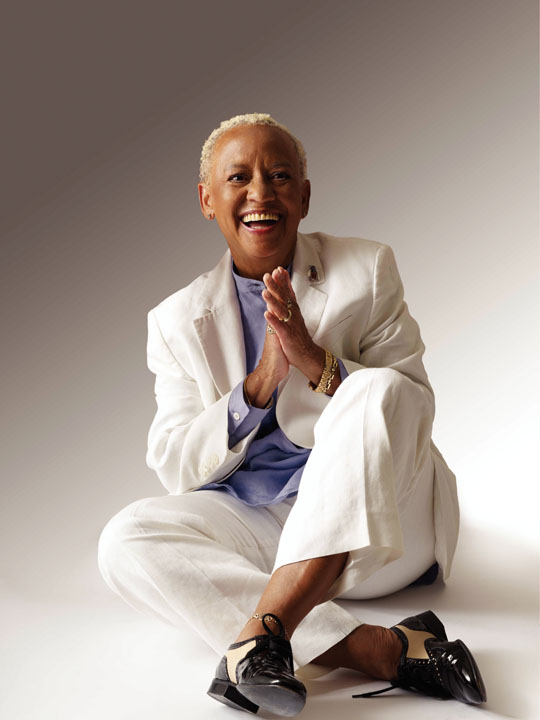 An Evening with Nikki Giovanni with Guest Host Leigh Haber
October 30, 2013  |  City Opera House, Traverse City

Listen:
[audio:https://nationalwritersseries.org/wp-content/audio/nws_nikkigiovanni_2.mp3]
---
Poet, activist, mother and professor.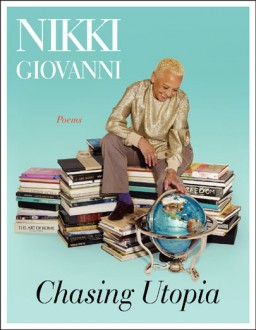 An American icon and an Oprah "Living Legend" Nikki Giovanni's poetry has spurred movements and inspired songs, turned hearts and informed generations. Frequently anthologized, Giovanni's poetry expresses strong racial pride and respect for family. Her informal style makes her work accessible to both adults and children. "I come from a long line of storytellers," said Giovanni in an interview who said she gained her appreciation for her African-American heritage from her outspoken grandmother. Her early exposure to the power of spoken language has influenced Giovanni's career as a poet, particularly in her propensity towards colloquial speech.
Giovanni is the author of 27 books and the recipient of seemingly countless honors and awards including a Grammy nominee for The Nikki Giovanni Poetry Collection. Several magazines have named her Woman of the Year, including Essence, Mademoiselle, Ebony, and Ladies Home Journal.
In addition to collections such as Re: Creation (1970), Love Poems (1997), and The Collected Poems of Nikki Giovanni (2003), Giovanni has published several works of nonfiction, children's literature and recordings.
Her new collection Chasing Utopia: The Hybrid is her first in four years.
Between 1970 and 2003, she received nearly one hundred awards and honors, as well as nineteen honorary degrees. She has been given keys to more than a dozen cities, including New York, Los Angeles, Dallas, Miami, and New Orleans. Since 1987, she has been on the faculty at Virginia Tech, where she is a University Distinguished Professor.
Honors and Recognitions
Black Caucus of the ALA Honor Award for Nonfiction
An Oprah "Living Legend" Seven NAACP Awards
Governor's Awards from both Tennessee and Virginia. National Book Award nominee (1973)
Reverend Martin Luther King Jr. Award for Dedication and Commitment to
Service (2009)
2001 First recipient of the Rosa Parks Woman of Courage Award (again in
2002)
1999 she was one of fourteen living writers inducted into The Literary Hall of Fame for Writers of African Descent
Langston Hughes award for Distinguished Contributions to Arts and Letters
(1996)
Named "Woman of the Year" by Ebony Magazine (1971), Mademoiselle
Magazine (1972), and Ladies Home Journal (1973) Caldecott Honor Book for Rosa (2006)
The National Council of Negro Women Appreciation Award (2007) American Book Award honoring outstanding literary achievement from the diverse spectrum of the American literary community. (2008)
Poetry by Nikki Giovanni
Black Feeling, Black Talk
The American Vision of Abraham Lincoln AT THIS MOMENT Black Judgement
Black Feeling, Black Talk/Black Judgement
Re: Creation
Poem of Angela Yvonne Davis
My House
The Women and The Men Cotton Candy On A Rainy Day Those Who Ride The Night Winds Selected Poems of Nikki Giovanni Love Poems
Blues: For All the Changes
Quilting the Black-Eyed Pea: Poems and Not Quite Poems
The Collected Poetry of Nikki Giovanni
Acolytes
Bicycles: Love Poems
Children's Poetry by Nikki Giovanni
Rosa
Spin a Soft Black Song
Ego-Tripping and Other Poems For Young People
Vacation Time: Poems for Children
Knoxville, Tennessee The Genie in The Jar The Sun Is So Quiet
The Girls in the Circle (Just for You!) Rosa
The Grasshopper's Song
Lincoln and Douglass: An American Friendship
Hip Hop Speaks to Children
About Guest Host Leigh Haber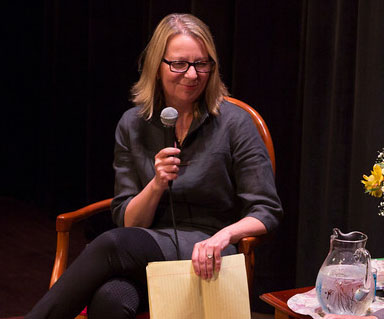 Leigh Haber is the books editor at O, The Oprah Magazine. Prior to that position she was editor-at-large at Chronicle Books and consultant to the publishing-on-demand platform Blurb. She has held editorial roles at Scribner, Hyperion, and Rodale.