Thursday, June 21, 2012 at 7:00 pm
City Opera House, Traverse City
With moderator Doug Stanton, NWS Founder
and New York Times Best-Selling Author
Listen: An Evening with Natalie Bakopoulos and Elizabeth Kosova
Natalie Bakopoulos, award-winning author of The Green Shore, a debut novel appears with special guest host Elizabeth Kostova, author of the international best-selling novel, The Historian.
Photos from the 2012 NWS Event:
[nggallery id=6]

"This is why I write: To make sense of the world, to create characters who say and do things I can't, or won't, and to live the life for which I was too scared or too poor or too in love or too fortunate or simply too different." – Natalie Bakopoulos, on winning 2010 PEN/O. Henry Award.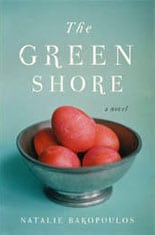 Natalie Bakopoulos's debut novel, The Green Shore, portrays a rich family drama set during the 1960s Greek military dictatorship as each person wrestles with the legacy of the government and life's meaning. An early draft of this work won the Avery and Julie Hopwood Award and the Platsis Prize for Work on the Greek Legacy. Natalie is a professor at her alma mater, the University of Michigan, and a contributing editor to the prestigious Fiction Writers Review. She won the 2010 PEN/O. Henry Prize, and her work has appeared in Tin House, Ninth Letter and Granta Online.
Natalie will appear on stage with her friend and international best-selling author Elizabeth Kostova for a discussion of their lives and works. Elizabeth's worldwide blockbuster, The Historian, is a tale of three generations of historians on the track of the original Dracula. After a bidding war for the publishing rights, Elizabeth accepted a $2 million contract, and the book went on to become the fastest-selling hardcover debut novel in American publishing history and the first debut novel to ever premiere at number one on the New York Times best-seller list. NWS founder and New York Times best-selling author, Doug Stanton, will moderate.
The Historian sold over three million copies worldwide in 40 languages. SONY/Columbia Pictures is currently producing a film adaptation. Elizabeth's second novel, The Swan Thieves, was another international bestseller. Expect moments of magic between this literary star and a wonderful debut novelist launching her own career.
---