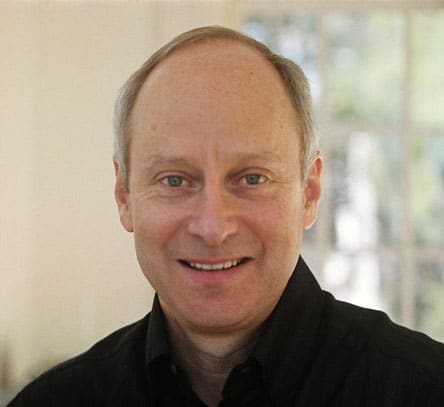 Wednesday, May 2, 2012 at 7:00 pm
City Opera House
Listen: An Evening with Michael Sandel [audio:https://nationalwritersseries.org/wp-content/audio/Michael_Sandel_NWS.mp3]
The Last Word: Michael Sandel
By Beth Milligan
With additional reporting by Allison Peters
Is there something wrong with a society in which everything is for sale? That is the provocative question Harvard professor, internationally renowned lecturer and best-selling author Michael Sandel tackles in his acclaimed new book, What Money Can't Buy: The Moral Limits of Markets. It's also the question Michael posed to a sold-out Traverse City audience at the City Opera House during his highly anticipated May 2nd NWS appearance.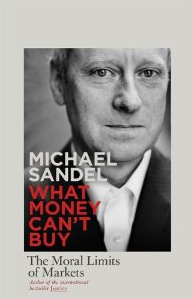 Michael's lecture represented a new format for NWS. Rather than our normal stage interview, Michael engaged the audience in a lively and interactive lecture and discussion, modeling his presentation on his wildly popular Harvard classroom format. Fresh off appearances on The Colbert Report and The Today Show, Michael took the NWS stage to put forth an intriguing premise: that America has gone from "having a market economy" to "being a market society." He explained that markets have crept into almost every aspect of our lives, including areas traditionally not driven by money: education, personal relationships, reproduction, citizenship, etc.
One example Michael gave: Some economists have proposed auctioning off U.S. citizenship to illegal immigrants, with an allotted number of green cards up for sale each year to the highest bidders. He asked the audience to raise their hands to indicate whether or not they supported the idea; the crowd mostly opposed selling citizenship. One audience member, Jason, did favor the idea; Michael had him stand and engage in a good-humored debate with another audience member in the balcony who opposed the idea, with each presenting their arguments (when Jason joked about being put on the spot, Michael quipped: "If you want to sit down, Jason, you're welcome to bid for the privilege.") Michael's ultimate conclusion, summarizing the audience's opposition to auctioning citizenship, was that "citizenship would be degraded or demeaned somehow if we put a price tag on it."
Michael shared other examples of how putting a price tag on otherwise invaluable goods has potentially cheapened or demeaned them. He cited a Texas school system that pays elementary school students $2 for every book they read; other school districts have offered financial rewards to students for good grades or high test scores. Once again audience members had a chance to weigh in; a high school student in the crowd opposed the incentives, saying students should be reading or learning for the love of those practices, not for financial gain; a middle-aged male, on the other hand, movingly argued in favor of the incentives, saying some students lacked parents or teachers who cared about their education and that at least monetary rewards provided some form of encouragement to keep reading and learning.
The disparate audience views reflected the competing interests and thorny moral questions involved in these issues. Michael explained that finding simple solutions to these and other complex ethical dilemmas isn't necessarily the primary goal, but rather bringing them to the forefront of public discussion so we can thoughtfully debate them as a society. He said that "we've made a mistake in recent decades," which is that we've convinced ourselves we had to leave our moral convictions and spiritual beliefs at the door when debating politics or public policy. This has resulted in the "hollowing out of our public life," leading to "ideological food fights on the floor of Congress" and partisan catfights without addressing any of the big or meaningful questions every society must wrestle with if it wants to sustain a just democracy. Judging by the rapt silence in the City Opera House during his remarks, and the enthusiastic standing ovation he received at the conclusion of his lecture, Michael left Traverse City audiences with questions and ideas they'll be pondering long after his inspirational presentation.
---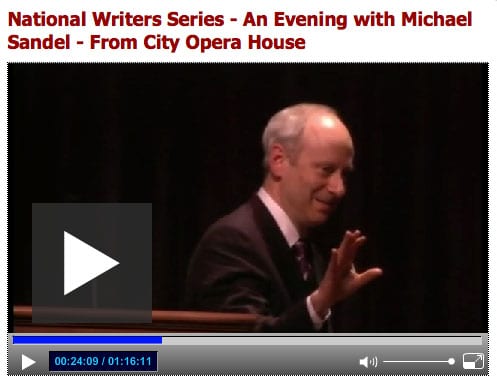 Did you miss An Evening with Michael Sandel at the City Opera House? Stream the complete program for free
online here.
---
Photos from the 2012 NWS Event:
[nggallery id=2]
---
Michael Sandel, Harvard's wildly popular professor and internationally renowned lecturer and author, confronts today's looming political and ethical questions. His latest book, What Money Can't Buy: The Moral Limits of Markets (published April 24, 2011), asks, perhaps, the most pressing ethical question of our time: Is there something wrong with a society in which everything is for sale?
Michael's "Justice" class is one of the highest attended in Harvard history. He's also the star of his own PBS series, "Justice: What's the Right Thing to Do?" He has contributed to The New York Times and The Atlantic Monthly, and appeared on The Colbert Report, PBS, BBC and more. Michael brings his popular Socratic lecture style to the stage for a thought-provoking discussion on the role of money and markets. This moral philosopher may very well make you look at life in new and surprising ways.
Michael Sandel: Lectures on Justice
Sandel has long been known as an original and insightful philosopher, but his lectures are genuinely world class.