Beauty and brains?!  (GASP!)The story of an unsung  "star" inventor
By day, Hedy Lamarr was one of the most glamorous actresses of the 1940s; but the legendary Hollywood star indulged in her true passion by night. From bestselling author Marie Benedict comes an engrossing new novel, The Only Woman In the Room, in which she captures the life and work of the science world's best-kept secret.
Having fled her wealthy arms-manufacturer husband and the anti-Semitic tide in Europe, Lamarr eventually landed in Hollywood. Between starring in big-budget films and maintaining the vamp persona bestowed upon her by Hollywood execs, Lamarr tinkered away in her home laboratory to gain the kind of intellectual fulfillment that life as a professional bombshell couldn't offer.
With her co-inventor, George Anthiel, she engineered a revolutionary frequency-jumping technology—a precursor to GPS, Wifi, and Bluetooth. But Lamarr's passion for science didn't pair with the era's prescribed role for women—least of all one of such extraordinary beauty. Owing in equal parts to her gender and stunning good looks, Lamarr was not taken seriously.
The development could have ended the war much sooner and spared countless lives; instead, the Navy rejected it, literally sealing its fate with a classified designation for decades to come.
Now a USA Today national bestselling author, Benedict spent her early career as a litigator at two of the country's premier law firms. She decided to leave the practice of law to  pursue her dream: unearthing and writing the hidden historical stories of women. Her narratively connected series of historical novels include The Other Einstein which tells the tale of Albert Einstein's first wife, a physicist herself, and Carnegie's Maid. She also published The Chrysalis, The Map Thief and Brigid of Kildare, all historical novels.
ABOUT OUR GUEST HOST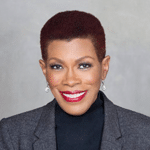 Guest host Rochelle Riley is an award-winning columns for the Detroit Free Press and USA Today Network.  She also makes occasional television appearances on MSNBC as well as local stations WDIV-TV 4 and Fox 2.
Rochelle is the author of four books: The Burden: African Americans and the Enduring Impact of Slavery; Raising A Parent: Lessons My Daughter Taught Me While We Grew Up Together; Life Lessons; and From The Heart. 
Rochelle has spent 23 years crusading for better lives for children, government accountability and improved race relations. She also has spent 16 years promoting the need to increase adult literacy, helping to raise nearly $2 million for literacy causes in Michigan. She has worked at The Washington Post, The Dallas Morning News and The Courier-Journal in Louisville, Ky.
Rochelle's honors include a Pulitzer Prize Prize, a National Headliner Award, a National Scripps Howard Award and numerous first-place honors from Associated Press-Managing Editors, the Michigan Press Association, the Society of Professional Journalists and NABJ. She was a 2016 finalist for the ASNE Mike Royko Award for Commentary/Column Writing. 
She is the 2017 winner of the NABJ Ida B. Wells Award, an annual honor given to an individual who has made outstanding efforts to make newsrooms and news coverage more accurately reflect the diversity of the communities they serve. 
Event Sponsor
Click to Visit Sponsor Site