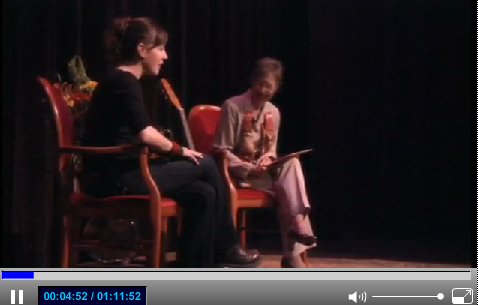 Maggie Stiefvater with guest host Lynn Rutan
September 2012 | City Opera House, Traverse City
Listen to the program here
Event Recap
New York Times bestselling Author Maggie Stiefvater brought a new audience to the National Writers Series as the first young adult author to appear on the City Opera House stage on September 27, 2012. Bookends blogger and young adult reviewer Lynn Rutan guest hosted the conversation with Stiefvater, who offered an energetic and entertaining look into her career as a young adult novelist.
"As soon as I stopped writing crappy novels, I got published. That's the secret," Stiefvater boldly stated to an audience of equal parts students and adults. It was also her status as a "small and resentful child" that led her imagination to dream up the topics of her fantasy novels, which feature everything from homicidal faeries to a Romeo and Juliet story…with werewolves.
Photos from the 2012 NWS Event
[nggallery id=11]
Stiefvater's newest book, The Raven Boys, is part of a planned four book series and details the search of a group of prep school boys for the dead Welsh king, Glendower, with psychics and ley lines involved in the mix. As Stiefvater says herself: "It's better than it sounds."
Stiefvater told of her research process for her books, including a trip to a ley line in England, but said she generally finds inspiration in the fact that she is an artist and musician as well as an author. "My family and I were an instant band in a box, like a Celtic Von Trapp family." It is with the help of music that Stiefvater said she finds her inspiration, generally lying on floor with music blaring.
Just as music was a key component to Stiefvater's writing, it was a key component to the night as well. Prior to coming to Traverse City, Stiefvater decorated a guitar using only Sharpie markers, which she then presented to one lucky winner following a random drawing.
Earlier in the day, Stiefvater taught a master class to the twenty-five eleventh and twelth grade students from area high schools who are participating in the Front Street Writers program. Stiefvater began by offering her ten rules for writing, the most important being to write what you want to write. "Your job is to write a story that first you would want to pull off the shelf but also something that only you could write." She then offered particular advice to the near half of the students who were currently writing fantasy stories.
Thank you, Maggie Stiefvater, for your enthusiasm and generosity with the students, and for a fascinating National Writers Series conversation.
---
More about Maggie Stiefvater
Read more in the NWS Author Archives
---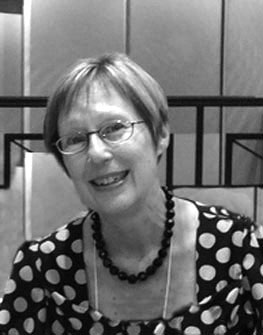 More About Guest Host Lynn Rutan

NWS loves bookstores and librarians— what is more essential to a great city than smart, passionate people who guide you to great books! Which is why we're thrilled to welcome one of America's premier reviewers of the best Young Adult (YA) and children's literature being written today, the irrepressible Lynn Rutan. A retired middle-school librarian, Lynn – with  her close friend and fellow librarian Cindy Dobrez – launched Bookends, a wildly popular and influential blog on Booklist Online. These clever, heartfelt and wise reviews have earned Lynn and Cindy a nation of devoted readers. Lynn has chaired the American Library Association's "Best Books for Young Adults" and the "Michael L. Printz Award for YA Literature," and she claims that her passion for teen lit is "almost older than the genre itself!"