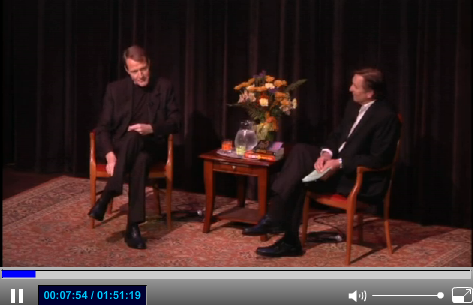 Lee Child with guest host Doug Stanton
September 2012 | City Opera House, Traverse City
Listen to the program here:
[audio:https://nationalwritersseries.org/wp-content/audio/Lee_Child.mp3]
Event Recap: Lee Child Thrills Packed Opera House
International bestselling author and thriller writer Lee Child thrilled a sold out audience of nearly 700 people at his National Writers Series appearance in Traverse City on September 18, 2012. Doug Stanton hosted the onstage conversation with Child, who offered his honest and entertaining sentiments about things like baseball, being an international best-seller, and Tom Cruise as Jack Reacher.
Photos from the 2012 NWS Event
[nggallery id=7]
A Yankee fan, Child boldly stated that "baseball starts to get boring in the fourth inning." He also shared a heartfelt explanation of what it was like to be a New Yorker following the attacks on the World Trade Center. He suggested that a World Series win for the Yankees in 2001 would have made things a little bit easier. "It was perfect fiction," he said. But the Yankees didn't win. Child told the audience that with that loss he temporarily lost his faith in fiction. "It was almost the end of Jack Reacher."
The Opera House was filled with equal parts men and women, and Child explained that while Reacher has many male fans, the character has an essential trait that women connect with: "They both can't stand injustice."
During the audience Q&A, Child did not hold back. When asked about the ending to his book 61 Hours" he admitted "that [it] might have been a mistake." And when one person finally posed the question that the entire room wanted to ask — what he thought about Tom Cruise playing Jack Reacher — Child was unabashed in his reply: "It was a great choice."
Earlier in the day, he visited the newly-opened Front Street Writers Studio, teaching a master class to twenty-five eleventh and twelfth grade students from area high schools. He took the room by surprise when asked about revision. "Don't do it, he said. "Do it once and do it right." Child shared that the first sentences of his debut novel Killing Floor were unchanged from his first draft and were the first sentences of fiction he ever wrote.
Thank you, Lee Child, for your generosity with these students, and for a fascinating National Writers Series conversation.
---
More About Lee Child
Read more in the NWS Author Archive
---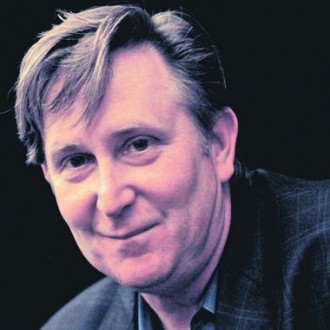 More about Guest Host Doug Stanton
At this special National Writers Series event, Lee will take the City Opera House stage with New York Times best-selling author and host Doug Stanton.
Doug Stanton is the author of the New York Times best-sellers In Harm's Way and Horse Soldiers. His writing has appeared in Esquire, The New York Times, TIME, the Washington Post, and other national publications where he has been a contributing editor. In Harm's Way spent more than six months on the New York Times best-seller list. Horse Soldiers was featured on the front page of the Sunday New York Times Book Review, which compared the book to Stephen Ambrose's Band Of Brothers.
Stanton's recent book Horse Soldiers spent over 3 months on the New York Times best-seller list, reaching #2. Horse Soldiers was also a best-seller on best-seller lists in USA Today, Wall Street Journal, Los Angeles Times, Chicago Tribune, Entertainment Weekly Publisher's Weekly, and IndieBound. Horse Soldiers is in development as a movie by Jerry Bruckheimer Films. Stanton has appeared multiple times on the Today Show, Morning Joe, and other major TV and radio outlets to talk about his work.
Horse Soldiers was named a 2009 "Notable Book" by the New York Times, and it was chosen as a "Best Book Of 2009" by Publishers Weekly, Christian Science Monitor, Barnes & Noble, and Amazon.com. Stanton attended Interlochen Arts Academy, Hampshire College, and received an MFA from the Writers' Workshop at the University of Iowa. He lives in Michigan with his wife, Anne Stanton, and their children.