February 27, 2013
City Opera House, Traverse City
Listen:
[audio:https://nationalwritersseries.org/wp-content/audio/nws_kellycorrigan_mixdown.mp3]
Event Recap
Glitter and Glue, Dad and Mom
By Jacob Wheeler
Kelly Corrigan has reached the pinnacle of the writing world. The Middle Place, a 2008 memoir about her father's battle with cancer and her own triumph over the disease, reached the second spot on the New York Times bestseller list. Her new book, Glitter and Glue, which was released in February, is also garnering critical acclaim.
And yet, Corrigan isn't even sure her mother reads and absorbs her books, she told a Traverse City audience during her appearance at the National Writers Series on Feb. 27. The guest host opposite Corrigan was Richard Fahle. They were preceded by musician Robert Abate on a frigid night that has defined this long winter in the north country.
"There are things that I can't say to my Mom. I can only communicate by writing them and hoping she reads my book," said Corrigan. On a recent visit to her childhood home in Philadelphia, she happily discovered a dog-eared copy of one of her books in her mother's bedroom. And yet, at emotionally climactic scenes, her mother had scribbled math equations in the page's margins. "Mom told me, 'it's very well-written. I didn't see single grammatical errors'," Corrigan joked.
"She thinks it's funny that anyone would read what I write. She came to one reading on my tour and she was ready to leave half an hour before the show ended…I'm signing books and she's like c'mon, let's wrap things up'!"
Glitter and Glue explores the relationship between her father's easygoing joviality and her mother's rigid, yet stoic parenting style. Embarrassed and repelled by her mother initially, Corrigan's bout with cancer and relationship to her own daughters, ages 12 and 10, has helped her reconnect to her mother, who turns 75 this year.
"When we leave Philadelphia with the kids in the car now, she stands in the driveway and cries tears," said Corrigan. "I didn't even know she had tear ducts."
At Traverse City's City Opera House, Corrigan drew a devoted, multi-generational crowd of parents, grandparents and children. During the Q&A after her 65-minute on-stage discussion with host Richard Fahle, audience members offered the names and attributes of their own mothers and asked Corrigan for updates about her characters, her family members and whether she'll continue writing memoir.
She'll probably take a break from memoir, was Corrigan's answer. "I can't write about life without writing about my kids." And the 12-and 10-year-old daughters don't want her to write about them.
"There's lots of heartbreak in parenthood," Corrigan offered. "If you do it right, you're always saying goodbye, watching them float off into their own lives, over and over again, until they're gone."
But Corrigan still has plenty of material about her mom, which may surface someday in a subsequent book. "Why not wait until I'm not around?" before publishing that, her mother suggested. "The minute my mom croaks, I've got a memoir coming out!"
On stage, Corrigan adeptly transitioned between serious topics and knee slapping humor that revealed deep truths about motherhood. She told the audience that she recently had "the Lulu Lemon" fight of 2014 with her older daughter, Georgia, who wants to buy $75 women's yoga pants that appeal to middle-aged women because they shape the bottom, even though "she's 12, and her booty is perfect!"
Corrigan concluded that, as a parent, she alternates between the glitter (her father) and the glue (her mother). In some ways, she's turning into her mom, the woman who she compares to Maggie Smith on the hit show Downton Abbey.
"I used to say that my Mom was so cheap," admitted Corrigan. "Now I say that Mom's really smart with money. She was the CFO of our family."
That wasn't the nature of her father, who comes from a family of boisterous Irish-Catholics, liberal with their emotions and able to hold a room with a toast or a story. "His feet have been up on the table since the day he was born. We wouldn't have been taken Dad seriously if he tried to the heavy (discipline)."
Appealing to the expression "opposites attract", Corrigan concedes that her parents fit well together. They make it work. Her exploration of her mother's true identity may have begun when she asked, "Why did Dad pick you? Who are you other than my mother? And who were you before motherhood did what it did to you?"
Corrigan's mother doesn't want a big party this fall when she turns 75. "She wants a party for one. She'll take off her bra and get out her library book."
About Kelly Corrigan
Cancer survivor
YouTube sensation
New York Times bestselling author
Founder of "Circus of Cancer"
Creator of "Notes and Words"
Corrigan is the author of The Middle Place and Lift, both bestsellers. She is a YouTube sensation whose beloved "Transcending" video has been seen by more than 5 million viewers. She is also a contributor to O: The Oprah Magazine and Good Housekeeping.
If you had asked Kelly Corrigan, after she graduated from college, whose voice she would hear in her head for the rest of her life it certainly wasn't her mother's. But now, her mother is the only one who can "lift the anvils that sit heaviest" on her. This shift began when Corrigan unexpectedly found herself a nanny of two young children after she arrived in Australia in a quest to "Become Interesting."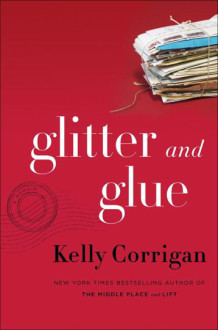 Corrigan chronicled her time as a nanny in suburban Sydney in her latest book Glitter and Glue — a compelling memoir about stepping out and stepping up, mothers and daughters, love and loss. Corrigan's explorations of family life and parenthood have brought her to the forefront of new American writers. Her first book, a memoir called The Middle Place, recounts her father's and her own battle with cancer.
Shortly after her own battle with breast cancer, Corrigan launched "Circus Of Cancer," a how-to website for friends and family of women with the disease.
Corrigan also created the philanthropy "Notes and Words" in 2010, and has since raised over $2 million for Children's Hospital & Research Center Oakland in California. Corrigan is, more than anything else, the mother of two young girls. While they're at school she writes a newspaper column, the occasional magazine article, and possible chapters of a novel.
About Guest Host Rich Fahle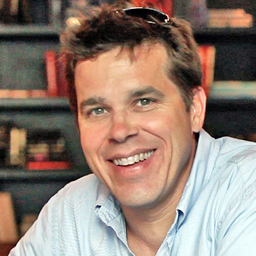 Rich Fahle is the Founder and CEO of Astral Road Author Media and Bibliostar.TV– entertainment for readers, including interviews, discussions, live events, and other special features about books, authors, and the reading life. Fahle draws on his extensive background as a marketing agent for authors, publishers, and book retailers in the emerging digital marketplace.
Before launching Astral Road in 2010, Fahle served as Vice President, Digital Content, E-Commerce and Entertainment at Borders. In that role, he was a key driver of dynamic brand extensions into new media fields, broadening the scope and reach of customer relationships within the book, music and movie retail space. Examples include the development and launch of Borders' social media platform on Facebook, Twitter, YouTube and other sites, as well as creating the Borders Media online video entertainment network, one of the first major branded content initiatives on the Web. Other roles included leadership of the creative and production teams, the in-store national events program, national advertising & brand development, and e-commerce operations.
Prior to Borders, Fahle was Chief Spokesperson and Communications Director for C-SPAN, the national public affairs cable television network based in Washington, D.C. He is a graduate of Miami University in Oxford, Ohio. He currently blogs for www.video-commerce.org and www.digitalbookworld.com.