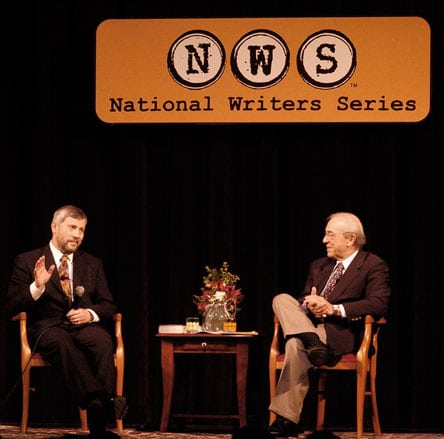 November 12, 2010 
City Opera House
Listen:
[audio:https://nationalwritersseries.org/wp-content/audio/Philip_Caputo_NWS.mp3]
Karl Marlantes was joined onstage by acclaimed writer and special guest host Phil Caputo for a riveting and intimate conversation about writing, war, and the works and lives of both authors, as well as an interactive audience Q&A. The evening concluded with a reception and book signing with the authors.
A graduate of Yale University and a Rhodes Scholar at Oxford University, Karl Marlantes served as a Marine in Vietnam, where he was awarded the Navy Cross, the Bronze Star, two Navy Commendation Medals for valor, two Purple Hearts, and ten air medals. Upon returning home from service, Marlantes began work on an epic war novel that would capture his combat experiences. Thirty years later, in 2010—after decades of discouraging setbacks, criticism and agent rejection notes—Matterhorn finally exploded onto the publishing scene. Hailed by The New York Times as "one of the most profound and devastating novels to come out of Vietnam, or any war," Marlantes' debut novel has earned rave critical praise and debuted at #7 on The New York Times bestseller list this year. Marlantes currently resides in Western Washington.
Philip Caputo's writing career first took off in 1973 when he shared in the Pulitzer Prize for reporting on election fraud at the Chicago Tribune. Four years later, A Rumor of War—a memoir of his service during the Vietnam War as a marine lieutenant—became a national best-seller. The book has since been hailed as a classic of modern literature, with several million copies sold since its publication in 1977. Caputo's most recent novel is Crossers. He is also the author of more than 10 other books, including Acts of Faith, Horn of Africa, DelCorso's Gallery, Indian Country, Means of Escape, Equation for Evil, Exiles, The Voyage, In the Shadows of the Morning, and Ghosts of Tsavo. Caputo lives in Connecticut.