Thursday, June 26 at 7 pm
City Opera House, Traverse City
With guest host Elizabeth Kane Buzzelli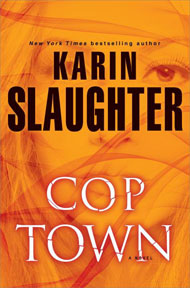 EVENT RECAP
"Cops and Women"
An Evening in Conversation with Karin Slaughter
By Jacob Wheeler
Georgia native Karin Slaughter is regarded as one of the best crime novelists in America today. Her 14 novels have sold over 30 million copies worldwide and have topped bestseller lists in the United Kingdom, Ireland, Australia, the Netherlands and Germany.
But, as she told guest author Elizabeth Buzzelli during a National Writers Series appearance in Traverse City on June 26, Slaughter's books explore more than bloody murders and harrowing mysteries, they examine gender stereotypes and sometimes shatter glass ceilings.
Her newest book, Cop Town, features Kate and Maggie, two women from different backgrounds who try to wear the badge and carry the gun for Atlanta's macho police department as the city faces a seismic upheaval. It's 1974, and a brutal killing and furious manhunt have rocked the divided police force.
Cop Town is inspired by true history: in the 1970s, 12 officers were murdered in the southern city; in '74 Atlanta went from majority white to majority black, and elected its first African-American mayor. The book has already garnered rave reviews: "Cop Town shows the author at the top of her game," writes the New York Times. "Relentless pacing, complex characters, and gritty realism, all set against the backdrop of a city on the edge."
"People ask why I write about strong women," Slaughter told the National Writers Series audience. "They say, as a compliment, 'you write like a man'. Mostly, men are shocked, and a little concerned, that we buy these books," she laughed with Buzzelli, herself an accomplished crime novelist.
"It bothers me when men get revved up about strong women in literature. We've been doing it for a long time." Slaughter named fellow Georgia writer Flannery O'Connor, and referenced the scene in Gone With the Wind when Scarlett shoots the Yankee deserter.
Before writing Cop Town, she interviewed female officers on the Atlanta police department whose bosses had thrown phones at them and tried to rape them. In the 1970s, many women couldn't get credit cards or home loans. And those who did make the force had to work harder. Slaughter described an officer who wasn't able to relieve herself during an entire shift (the men could just pull off the road and go), so she "developed bladder muscles like a bison."
"Why are women interested in crime novels?" Buzzelli asked.
"I think some woman are judgmental and think, 'those awful things will never happen to me'," answered Slaughter. "For so many years women couldn't go play touch football, but we could read or do other social work. Women also aren't wired to take time for themselves, because they have to raise families. But reading is our own time."
Crime novels are enjoying an epoch in popularity, to Slaughter's benefit but also to her credit.
"People are reading again, and they're very bloodthirsty, which is good for us," she joked.
Slaughter's interest in crime novels, and the inspiration for her popular Grant County and Will Trent series, stems from real murders that happened in rural Georgia during her childhood and changed her life. She couldn't bike down certain streets, she remembered.
"I wanted to write about that. Not just crime, but how it changes people – for example the doctors and detectives who work on a case. They say 'write what you know'. But I also think you should 'write what you want to know'."
How does Slaughter seamlessly weave each book together so they fit neatly into a series? Buzzelli asked.
"The first chapter is important," offered Slaughter. "Usually when I finish one book I immediately start the first chapter of the next book. I want the tone to be similar. … Even while writing Cop Town, I was thinking about the one that comes after that."
Slaughter is always looking for clues or imagery.
"I was at restaurant recently and saw someone open a bottle with their shirt, and I thought, 'I'll bet Sarah (a frequent character in her books) could find a clue in that!"
Slaughter also touched on the importance of genuine character development and warned the audience against treating a crime novel like a who-done-it.
"I make sure every character has some sort of story. You don't bring out the butler with the knife in the last scene. You have to hide the killer in plain site. If you have great plot, but nobody cares about the characters, then nobody's gonna read it."
More about Karin Slaughter
Critically acclaimed "Master of suspense"
Widely regarded as a literary force
Multi New York Times bestselling author
More than 30 million books sold worldwide
Bestselling author Karin Slaughter is one of crime fiction's most celebrated award-winning writers, widely regarded as a literary force who consistently delivers character driven, nail biting suspense novels with psychological intensity.
This summer the critically acclaimed and New York Times bestselling master of suspense delivers her first stand alone novel, Cop Town, a thrilling tale of crime and struggle set in Atlanta in the mid-1970s.
Cop Town is an atmospheric nail-biter from the author that the Huffington Post called "an exemplary storyteller" and "one of the great talents of the 21st century."
"Much more than a thriller . . . Karin Slaughter's unforgettable female characters, and stunning evocation of time and place, make Cop Town one of the most powerful and moving reads of recent memory. . . . A masterpi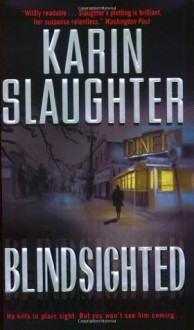 ece."Kathryn Stockett
Slaughter's first novel Blindsighted became an international success, was published in almost 30 languages, and made the Crime Writers' Association's Dagger Award shortlist for "Best Thriller Debut" of 2001.  She is the author of the Will Trent series that takes place in Atlanta and features GBI special agent Will Trent, his partner Faith Mitchell, and Angie Polaski.  She also pens the Grant County series set in rural Georgia, which stars Dr. Sara Linton, the town's pediatrician and coroner, Jeffrey Tolliver, her wayward ex-husband and chief of police, and Lena Adams, the county's only female detective.
The Huffington Post said that Slaughter's most recent thriller, Unseen, is her "most powerful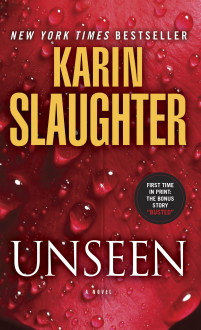 book to date. No one writes like Slaughter. Make sure you read it."
Karin Slaughter is a native Georgian and when not promoting her books domestically and abroad, always returns home to Atlanta, Georgia where she splits her time between the kitchen and the living room. Her books have sold 30 million worldwide to date and she is the only author in the history of the Dutch bestseller list to have eight titles on the list, including the number one spot.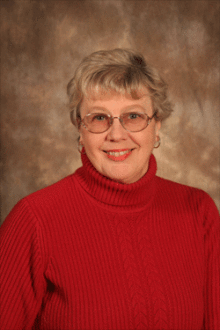 Guest host Elizabeth Kane Buzzelli resides on the shores of a little lake in northwest northern Michigan. With degrees from Macomb County Community College, Oakland University, and the University of Michigan, she now teaches creative writing at Northwestern Michigan College and at writers' conferences around the country. Her novels include: Gift of Evil (Bantam), Dead Dancing Women, Dead Floating Lovers, Dead Sleeping Shaman, and Dead Dogs and Englishmen (Midnight Ink). Her fascination with all things murderous began with a love for puzzles of all sorts, which was handed down to her by a mother who devoured mysteries. Sometimes playful, sometimes deadly serious, her books reflect a wide interest in women's lives and futures.