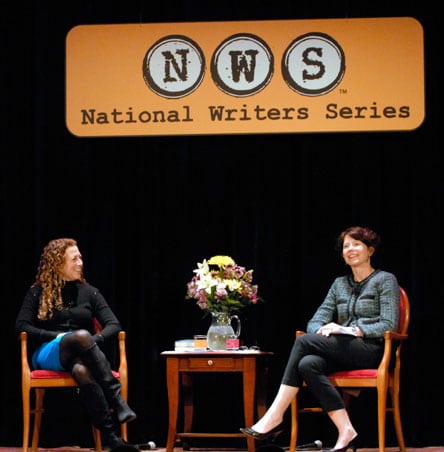 Monday, March 12, 2012 at 7:00 pm
City Opera House
The Last Word: Jodi Picoult & Paula McLain
By Beth Milligan
With additional reporting by Allison Peters
Watch: An Evening with Jodi Picoult and Paula McLain from UpNorth TV
Listen: An Evening with Jodi Picoult  and Paula McLain [audio:https://nationalwritersseries.org/wp-content/audio/Jodie_Picoult_NWS.mp3]
Nearly 700 people gathered at the City Opera House on Monday to revel in the wit, charm, and spontaneous storytelling of best-selling novelists Jodi Picoult and Paula McLain. On stage, Jodi and Paula discussed their writing pasts, presents, and futures and offered advice to young and emerging writers.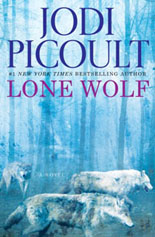 Cursed, she jokes, with having had a pleasant childhood (and, as Paula noted throughout the evening, fabulous hair), Jodi admitted that she has long countered the adage write what you know with, instead, "write what you are willing to learn." And while many writer-hopefuls claim they can't find the time to write, Jodi revealed her secret strategy to fighting that common issue. "I write constantly," said Jodi. "I'd write in every fifteen-minute block I could, so I didn't have any time."
While many of her books may touch upon controversial subjects (vengeance for school violence, the right to live freely in one's own body, etc.), Jodi revealed how important it is that she never tells her readers what they should think. Instead, Jodi engages her readers with compelling themes and complex characters, and she stays cognizant — if not protectively wary — of her own subjectivity as an author by constantly questioning her own motives. While writing, Jodi often asks herself, "Why is my opinion what it is?" Even the thought process behind her choice of narrative strategies is significant to maintaining objectivity; writing multiple first-person narratives, Jodi revealed, (as opposed to third-person omniscient narratives, for example) means that "everyone gets a voice."
But this moral conviction for equality runs far beyond Jodi's fiction. When asked what her experience has been like as a woman in the world of writing and publishing, Jodi said, "Let's be real. There's a double standard." While female writers are often asked about how they balance work and family, Jodi stressed the nonsense of the fact that a male writer would never be asked the same question. She's even been quoted in TIME magazine having quipped, "What — you can't have a heart and a penis?"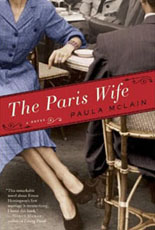 A regular on the New York Times best-sellers List, Jodi discussed how, in the early stages of her rise to fame, she had been accused of being an "overnight success." But if Jodi's success happened overnight, then, as she quipped, "That was the longest night ever." With 18 boomingly successful novels in Jodi's repertoire (and counting), it's no surprise that she and Paula — whose novel The Paris Wife is holding court on the New York Times Best-Sellers List as well — could wield a crowd of 700 (on a Monday night, in a bustling town by the bay) to talk about books and writing.
---
About the event: A child takes revenge for years of school bullying. An autistic boy is accused of murder. Siblings debate whether to remove their father from life support. Portraits of heart-wrenching family drama that fill the pages of one of America's most successful novelists, Jodi Picoult.
Jodi is the best-selling author of eighteen novels: her last five all debuted at number one on the New York Times best-sellers list. Her books have sold more than 14 million copies worldwide and have been translated into 34 languages. Entertainment Weekly called Picoult the "rare writer who delivers book after book, a winning combination of the literary and the commercial." In 2009, her novel, My Sister's Keeper, was adapted into a hit film starring Cameron Diaz and Alec Baldwin.
On March 12, Jodi will take the stage with special guest host Paula McLain, a previous NWS guest and New York Times best-selling author of critically acclaimed The Paris Wife. The two writers will discuss their individual lives and works, the world of writing and the stories behind Jodi's popular novels, including her latest book, The Lone Wolf (published February 28, 2011), about the impossible struggle between siblings over whether to remove their father from life support. Be ready for a super-charged evening that stirs your heart and challenges your convictions about the right thing to do.
Review of Lone Wolf   |  USA Today, February 27, 2012
Review of Lone Wolf   |  Newsday, March 11, 2012
Interview with Jodi Picoult   |  The Independent, March 3, 2012
10 Questions for Jodi Picoult  |  Star Tribune, March 7, 2012