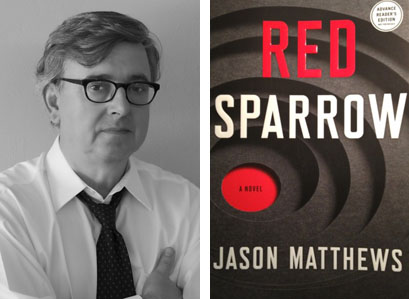 With guest host Doug Stanton

May 22, 2013 | City Opera House, Traverse City
---
Listen to Jason's program here:
[audio:https://nationalwritersseries.org/wp-content/audio/Jason_Matthews.mp3]
---
Recruiting Russian spies and managing covert actions against weapons of mass destruction in the world's rogue states — Hear CIA veteran and debut novelist Jason Matthews talk about his life undercover and turning that experience into publishing gold. Red Sparrow is the espionage novel everyone's going to be talking about.
Every once in a while, a novel comes along that totally lives up to its pre-publication raves. Jason Matthew's debut thriller, Red Sparrow is a fast paced, up-to-the-minute spy novel written by a man who lived the life of an intelligence officer for 33 years. "Write what you know" is common advice for new writers—and Jason Matthews has taken this advice to new heights.
In Red Sparrow, the United States and Putin's Russia are still very much at deadly odds. State intelligence officer Dominika Egorova struggles to survive in the cast-iron bureaucracy of post-Soviet intelligence. Drafted against her will to become a "Sparrow," a trained seductress in the service, Dominika is assigned to operate against Nathaniel Nash, a first-tour CIA officer. The two young intelligence officers, trained in their respective spy schools, collide in a charged atmosphere of tradecraft, deception, and the inevitable forbidden spiral of carnal attraction that threatens their careers and the security of America's most valuable mole in Moscow. Dominika and Nathaniel's impossible love affair comes to a deadly conclusion in the shocking climax of this electrifying spy thriller.
Jason Matthews will be joined on stage and interviewed by National Writers Series co-founder and New York Times bestselling author, Doug Stanton. The author of In Harm's Way and Horse Soldiers, Stanton's writing has appeared in Esquire, The New York Times, TIME, Men's Journal, the Washington Post, Newsweek/Daily Beast, and other national publications. Stanton's travels have taken him around the world, most recently to Afghanistan.
This conversation with debut author Jason Matthews promises to be filled with intrigue, both serious and humorous, and revelations about the process of writing, the lines between fact and fiction, the real-life nature of modern spy craft, and the alchemy of turning life into art.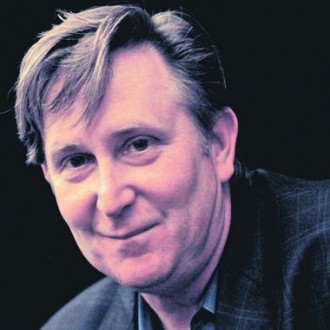 Guest Host Doug Stanton
Doug Stanton is the author of the New York Times bestsellers In Harm's Way and Horse Soldiers. His writing has appeared in Esquire, The New York Times, TIME, the Washington Post, and other national publications where he has been a contributing editor. In Harm's Way spent more than six months on the New York Times bestseller list. Horse Soldiers was featured on the front page of the Sunday New York Times Book Review, which compared the book to Stephen Ambrose's Band Of Brothers.
Stanton's recent book Horse Soldiers spent over 3 months on the New York Times bestseller list, reaching #2. Horse Soldiers was also a bestseller on bestseller lists in USA Today, Wall Street Journal, Los Angeles Times, Chicago Tribune, Entertainment Weekly Publisher's Weekly, and IndieBound. Horse Soldiers is in development as a movie by Jerry Bruckheimer Films. Stanton has appeared multiple times on the Today Show, Morning Joe, and other major TV and radio outlets to talk about his work.
Horse Soldiers was named a 2009 "Notable Book" by the New York Times, and it was chosen as a "Best Book Of 2009" by Publishers Weekly, Christian Science Monitor, Barnes & Noble, and Amazon.com. Stanton attended Interlochen Arts Academy, Hampshire College, and received an MFA from the Writers' Workshop at the University of Iowa. He lives in Michigan with his wife, Anne Stanton, and their children.