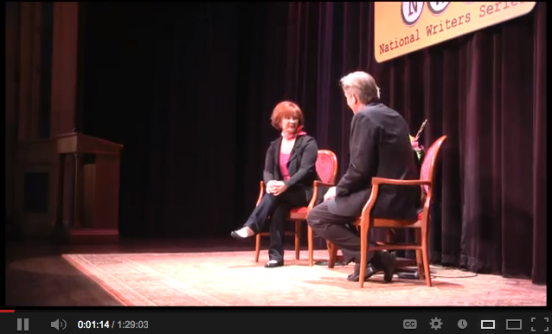 Janet Evanovich with Guest Host Doug Stanton
Monday, July 9, 2012 | City Opera House, Traverse City
Listen to the program here
Event Recap
As readers and fans of #1 New York Times best-selling author Janet Evanovich know from her novels, the writer is equipped with two consistently sharp weapons: a keen sense of humor and a refreshingly optimistic worldview. As Janet noted to a sold-out audience at her July 9, National Writers Series appearance in Traverse City, "We don't have enough things that make us smile or laugh anymore." She describes her ability to give readers that small shot of happiness through her writing her "calling." It was evident in her stage conversation with NWS founder Doug Stanton – and the audience's rapturous response to her remarks – that Janet truly does possess a remarkable talent for laughter.
Photos from the 2012 NWS Event:
[nggallery id=5]
Janet's appearance in Traverse City – her first ever – was one of only a handful of national appearances the author made in support of her new book Wicked Business, the second in the Lizzy and Diesel supernatural mystery series. She came to the Series fresh off an appearance on The Today Show and a #1 debut on the New York Times best-seller list. The event was produced in partnership with the National Cherry Festival as a special fundraiser for the NWS Scholarship Fund. At a VIP reception before the event, Janet graciously mingled with guests over cocktails and appetizers, signing books and cheerily snapping photos with awed fans. Attendees who got a glimpse of Janet's mischievous sense of humor at the reception knew they were in for a treat when she took the stage later that evening with Doug. They weren't disappointed.
The story of Janet's career is an inspiring one, especially for any aspiring writers. After trying for over a decade to break into the publishing world, Janet piled all her rejection letters into a box, took them out to the curb and set them on fire. Then she had a good sob, picked herself up and decided to start over in a new genre: romance. Her determination and savvy restructuring paid off. Janet became teary-eyed on the NWS stage recalling the moment her family told her that her editor had called with good news: "Mom, you sold your book." That book, Janet's first romance novel, sold for just $2,000. But it was the beginning of an extraordinary journey: a career that would eventually result in over 75 million books sold, one of the most popular fiction series in the country (the Stephanie Plum bounty hunter series), Hollywood movie deals and international acclaim. This year, Forbes ranked Janet #79 on their list of the 100 Most Powerful Celebrities. Janet responded to the recognition with trademark wit: "I'd like to be #3. I'd like to kick Justin Bieber off that thing!"
Janet had plenty of advice for writers, gleaned from her years of struggle and anonymity. She noted, interestingly, that she doesn't believe in writer's block (in her endearingly blunt manner, she called it "bull****). She admitted that sometimes she writes "a little more slowly than others," but added: "That's what the wine is for." The key is to put the time in, Janet said, and her routine backs her up: She writes seven days a week, getting up at 5 a.m. and working through most of the morning and afternoon. She aims to write 5-10 pages every day. Though many authors have achieved success focusing on dark subject matter or material, Janet believes that "we learn more from positive experiences than negative experiences. I go to the good side of people, the positive side. My characters are vulnerable and flawed, but they're ultimately good people."
Janet's characters and books may focus on the positive, but like the author herself, that doesn't mean they're short on attitude. Janet admitted there was a lot of her in her heroine Stephanie Plum, and it doesn't take much convincing to believe her. "I refuse to be politically correct," she told the Traverse City audience. "We can use humor to say things that may be too painful to say any other way." Throughout the evening, Janet got big laughs for her self-deprecating candor, admitting to a past Cheetos obsession, slyly referring to her husband as her "boy toy," joking about the challenges of writing romance novels ("by book seven, I had run out of 'positions'") and even taking on one of publishing's current golden calves, Fifty Shades of Grey. "It's great," she said, "that women can carry around a sexy book and not be embarrassed. But this book deals with abusive situations. It's not OK being in the romance section; abuse is not romance."
Bold, honest, funny, empathetic: Janet is an author perfectly comfortable in her own skin. What's more, she's perfectly attuned to her audience and what they expect from her and her books. "I don't write for myself. That's called a diary. I'm an entertainer. I write for other people." At Janet's NWS appearance, audiences had the opportunity to witness exactly that: an entertainer, at the top of her game.
---
More about Janet Evanovich
Read more in the NWS Author Archive