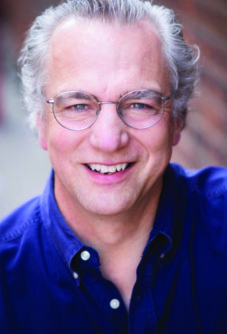 Saturday, February 6, 2016
City Opera House, Traverse City
With Guest Host Former Detroit News editor Bob Giles
Award-winning author and historian James Tobin spoke about how polio tragically transformed the life of FDR at the age of 39 but was met in equal force by his unfathomable courage and grit—qualities he would need to reach the White House ten years later.
---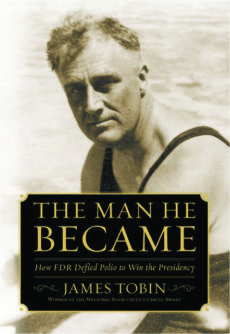 The Greatest Comeback in American Political History
James Tobin—award-winning journalist, historian, biographer, and professor—reveals the true essence of a great American leader in his newest and highly acclaimed book, The Man He Became: How FDR Defied Polio to Win the Presidency. 
Tobin, a former journalist, is a two-time Pulitzer Prize nominee for his reporting for the Detroit News, a winner of the National Book Critics Circle Award for his first book, Ernie Pyle's War, and a recipient of the J. Anthony Lukas Work-in-Progress Award for To Conquer the Air: The Wright Brothers and the Great Race for Flight. He also received a National Endowment for the Humanities fellowship.
In this thoroughly researched history, Tobin does more than just revisit the seemingly well-known story of Franklin D. Roosevelt's struggle with polio. He intimately draws the reader inside FDR's life from the tragic day in 1921 when he suddenly couldn't stand up to his ultimate journey to the White House.
Tobin's examination of this part of Roosevelt's life is impressive in scope and breaks new ground. He asserts that FDR's disability was actually common knowledge at the time, not a well-kept secret as we generally believe today. He also argues that FDR's illness galvanized the man's true strength of character, and that he became our 32nd president not in spite of polio but rather because of it.
Beyond Roosevelt's private life, Tobin details the dynamics of the Democratic Party in the 1920s and 30s, the general mood of the nation, the vagaries of the polio virus, and Americans' negative attitudes toward the disabled during the early part of the last century.
"This powerful book offers a vivid account of how Roosevelt's fight for personal recovery lit his path to the White House. I could hardly put it down," wrote James M. McPherson, author of Battle Cry of Freedom.

---
Guest host Bob Giles worked as a newspaper editor for 40 years, including The Detroit News and the Akron Beacon Journal, where he shared a Pulitzer Prize for his role in directing its coverage of the Kent State University campus shootings in 1970. He later served as curator of the Nieman Foundation for Journalism at Harvard University from 2000 until 2011. Since moving to Traverse City two years ago, he has taken on several community roles, including the International Affairs Forum and the Traverse Symphony Orchestra.