Wednesday, January 27, 2016 at 7 pm
City Opera House, Traverse City
With Guest Host Michael Dow
It was exciting to have James Rollins, one of the country's hottest thriller writers with a total of 6.7 million copies in print in the United States and translated into 40 languages, on the NWS mainstage in January.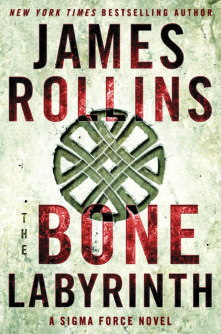 An Evil Twist on Human Evolution
James Rollins, whose real name is James Czajkowski, worked as a veterinarian for 20 years before becoming one of the country's most popular techno-thriller writers—and it shows! He creates spellbinding reads by plucking little known facts from history and science, using his own heady imagination, and (often) dropping in key animal characters. And as a favor to readers, he puts a "What's true, what's not" section at the end of every novel to answer all the readers' lingering questions.
For Bone Labyrinth, he starts with the fact that we share Neanderthal DNA and what he learned as a veterinarian: the healthie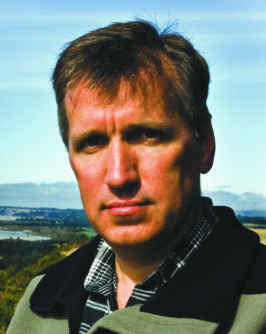 st and best adapting breed is often a mutt. And why did human intelligence suddenly surge 50,000 years ago? And then there's the secret he came across in a three-week trip to China: there's a vast underground city underneath the streets of Beijing. Voila! The Bone Labyrinth, which #1 New York Times bestselling Brad Thor said is "James Rollins's best thriller ever! [It] will remind you why you fell in love with reading. This book is that good!"
Bone Laybyrinth "begins when twin sisters, both geneticists, are attacked on two different continents: one is assaulted at a research dig in Croatia; the other is abducted from a primate research center outside of Atlanta—along with a very special research animal," Rollins writes. "The heroes of Sigma (an elite military research group that solves scientific mysteries and occasionally thwarts plots to destroy the world) are called in to rescue and protect the two women, while exposing a plot by the Chinese government to genetically engineer a hybrid species of human. But the story is so much more. Besides a continent-hopping adventure, the novel examines the roots of human intelligence, exploring who we are and where we're headed next."
As a boy, Rollins was immersed in the scientific adventures of Doc Savage, the wonders of Jules Verne and H.G. Wells, and pulps such as The Shadow and The Spider. He honed his storytelling skills early by terrorizing his younger six siblings with stories—"the more outlandish the better. If tears were involved even better," he told a Parade reporter.
Rollins' dad worked for the Libby's canning plant and his mom was a housewife. "People say The Brady Bunch wasn't realistic," he says dryly, "but that pretty much was our life." Rollins graduated from the University of Missouri and established a successful veterinary practice in Sacramento, California. He continues to volunteer his time and veterinary skills in support of the local SPCA.
The exotic locales of James Rollins' novels have emerged, in part, from his extensive travels throughout the United States and Europe, as well as New Zealand, the South Pacific, China, Southeast Asia, Africa, Australia, and South America. Recent jaunts include book tours and stops across the country and several European nations to give talks, seminars, and media interviews.
In recent years, much of Rollins' travel has involved meeting readers in small and large groups, at writing and fan conferences, and even aboard seagoing "seminars." His mentoring and coaching skills have made him a sought-after writing instructor and guest speaker for workshops, symposia, conventions, and other forums throughout the country.
---
Guest Host: Michael Dow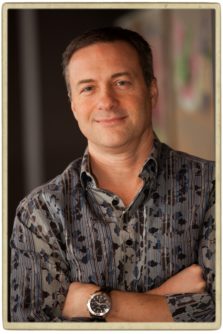 Michael Dow spent more than 25 years in corporate America in roles ranging from software developer to CEO. He worked at start-ups to companies with more than one billion dollars in revenue, and in locations across the globe. His novel, DARK MATTERS, is his first work of fiction (though truth be told, his competitors have been accusing him of writing fiction for decades). In 2012, he sold his share of a management consulting firm and turned full-time to writing. Mike graduated from the University of Virginia with an engineering degree, and from the Harvard Business School General Manager Program. He lives in Traverse City with his wife and two teen-age daughters.