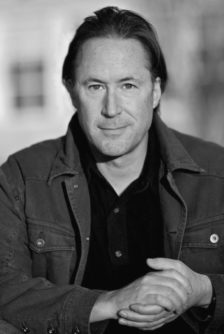 Thursday, September 17, 2015
City Opera House, Traverse City, MI
With Guest Host Doug Stanton

---
What would you do if your nineteenth century media business needed a boost? Why, you'd launch an audacious polar expedition. And if you were New York Times bestselling author Hampton Sides, you'd turn this audacity into a gripping tale of survival, perseverance and invention.
Sides, a master of narrative nonfiction, is also author of Ghost Soldiers, a page-turning account of how 121 U.S. soldiers slipped behind enemy lines in the Philippines to save hundreds of POWs barely surviving the hellish conditions of a Japanese prison camp.
In his newest book, Hampton recounts how James Gorden Bennett Jr. — the wealthy owner of the New York Herald— wanted a thrilling story for his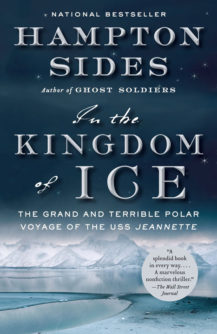 readers so he bankrolled a journey to the frigid North Pole, the word's most unforgiving wilderness. Hampton brings the epic journey to life in In the Kingdom of Ice: The Grand and Terrible Polar Voyage of the USS Jeannette.
Interviewed by guest host Doug Stanton, Hampton will share how he recreated the crew's harrowing battle for survival using not only journal entries and letters, but also by taking his own journey to the North Pole region. It's "the most dramatic journey you've never heard of," says Mark Bowden, author of Black Hawk Down.
Hampton Sides tells his tales with an epic sweep. The Times of London called this latest exploration thriller a "brilliant explosion of narrative non-fiction: detailed, moving, harrowing, as gripping as any well-paced thriller but a lot more interesting because it is also true… Too often American heroism is presented at one-dimensional success against the odds… This is a much more subtle and rewarding book, an account of magnificent disaster, of courage devoted to attempting something that could not be done."
Sides first gained national acclaim with critics and readers alike with Ghost Soldiers. Esquire magazine called the book "the best World War II story never told." Hampton went on to write about the little-known aspects of Martin Luther King Jr.'s death and the hunt for his assassin in Hellhound on His Trail. In Blood and Thunder, Hampton writes about Kit Carson and the battle between the U.S. and the Navajos. It was named one of the 10 Best Books of 2006 by Time magazine.
He's currently working on a book about 1950, the early days of the Cold War and the Korean War Battle of Chosin Reservoir.
A native of Memphis and a Yale graduate, Sides divides his time between Santa Fe, N.M., and Colorado College, where he teaches and serves as journalist in residence. He writes for The New Yorker, among many other national magazines and appears regularly on national television and radio, including NPR.
ABOUT GUEST HOST DOUG STANTON
Doug Stanton is a co-founder of the National Writers Series and the author of the New York Times bestsellers In Harm's Way and Horse Soldiers, which have been optioned by film producers Mark Gordon and Jerry Bruckheimer. His writing has appeared in Esquire, Men's Journal, Outside, the New York Times, TIME, Newsweek, the Washington Post, and other national publications where he has been a contributing editor.
Stanton has reported from Afghanistan, Mexico, Vietnam, the Caribbean, South America, and around the U.S, and he's appeared multiple times on The Today Show, Morning Joe, CNN, FOX, Imus, and other national media. He received an MFA from the Writers Workshop at the University of Iowa, and lives in his hometown of Traverse City with his wife, NWS Executive Director Anne Stanton, and their children, John, Katherine, and Will.