March 17, 2014
City Opera House, Traverse City
With guest host Benjamin Busch,
author of the award-winning memoir Dust to Dust
---
Listen:
[audio:https://nationalwritersseries.org/wp-content/audio/nws_georgepacker_mixdown.mp3]
---
EVENT RECAP
America's Demise Foretold?
by Jacob Wheeler
To hear author George Packer pine for the great American institutions that guided us through the 20th century is to mourn that our best days may be behind us. Good government, strong public schools and labor unions have been replaced by wealthy tycoons and celebrities, Packer concluded while writing The Unwinding: An Inner History of the New America, which won the National Book Award for nonfiction last November. While speaking to a National Writers Series audience in Traverse City, MI, on March 17, Packer invoked George Orwell, perhaps the most famous of the previous century's dark prophets. "Orwell was my MFA program. I'd read all his books," said Packer. "During breaks while working construction, I'd read Animal Farm. I read Homage to Catalonia on my way back from [a Peace Corps stint in the African nation of Togo]."
Packer, a frequent contributor to the The New Yorker magazine, returned from reporting on the Iraq war in 2008 to find an America in the midst of profound change. Institutions were crumbling, the middle class was taking it on the chin, and the nation was about to elect an African-American president. He set out to tell the story of this brave new world by writing about a North Carolina evangelist, an Ohio factory worker, a Washington lobbyist and a Silicon Valley entrepreneur. Amidst the stories of these strangers he mixed familiar voices, including those of Newt Gingrich, Colin Powell, Sam Walton and Jay-Z. "Celebrities have taken the place of institutions," Packer offered. "If we're gonna have science in this country, we'll have to rely on billionaires. If we want good schools we'll have to rely on (Facebook founder Mark) Zuckerberg to pony up."
Packer's previous book, The Assassins' Gate: America in Iraq also used a darkly prophetic voice to retrace the Bush administration's blunders in Iraq, from an invasion built around false premises to a fundamental misunderstanding of the tribal Middle East, and how the hangover would shape future U.S. foreign policy.
Packer was hosted on stage by Benjamin Busch, an Iraq war veteran, author of Dust to Dust and previous National Writers Series guest. While dining at the Traverse City restaurant Red Ginger following their appearance, Packer and Busch swapped stories from their experiences on the ground in Iraq, and lamented how the U.S. military's misadventure in Mesopotamia has shaped Washington's current stance toward contemporary Iraq, Afghanistan and Syria, where the Shiite takeover following the fall of Saddam Hussein has enabled Bashar al-Assad's government and ability to wage civil war.
Packer's coverage of the Iraq war for The New Yorker also told tales of woe that appear to be repeating themselves. In order to tell his 2007 magazine story, "Betrayed: the Iraqis who trusted America the most", Packer returned to Baghdad and unturned many stones to tell the stories of the translators who worked for the U.S. military and then found their lives at risk for doing so. This month, the New York Times ominously reported that interpreters who worked with the U.S. military in Afghanistan face the same threat. "I had heard stories about these interpreters – Iraqis there to facilitate indispensable dialogue between Iraqis and Americans – who had gone underground or were fleeing the country or were getting killed," Packer told the National Writers Series audience. "I went and found them at a time when Iraq had hit rock bottom in January 2007. By then, no one would trust anyone."
Packer shared that he once met a source in the lobby of the Palestine Hotel in Baghdad but had to rent a private room in order to talk. He met another source in the airport but had to catch a flight to Kurdistan (the semi-autonomous region in northern Iraq) to conduct an interview. Packer returned to America with many stories of translators afraid for their lives. Before the U.S. invasion, some had been doctors, some engineers. "They all were seizing something by working for the Americans. To them, this was hope."
The fallout from the Iraq war has profoundly changed Barack Obama's America, offered Packer, who gave the audience as much political-cultural analysis as he discussed the art of writing.
Speaking of writing, Packer opined that President Obama would perhaps have been a better writer than a President. He shared the anecdote told to him by a friend who once covered Obama when he was an Illinois state senator. The up-and-coming politician expressed envy at the journalist who had the right not to seize the spotlight but to stand back and watch things.
"We are in a period of profound retrenchment," he said. "Libertarianism is very powerful. You see it in tech world, you see it in Tea Party. There's a disbelief in collective action.
"Though a surface read of The Unwinding could come across as defeatist, guest host Busch reminded listeners that Packer's characters persevere against many odds. "They don't give up," said Busch.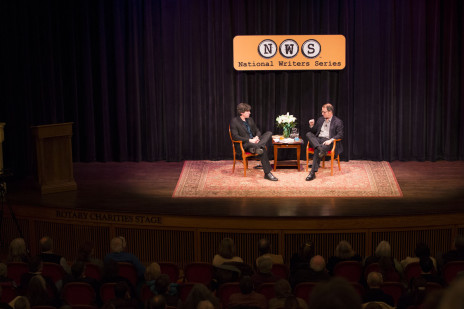 ---
2013 National Book Award winner, nonfiction
American journalist, novelist, and playwright
The New Yorker staff writer
Packer became a staff writer for The New Yorker in 2003 and has covered the Iraq War for the magazine. His book The Assassins' Gate: America in Iraq, was named one of the ten best books of 2005 by the New York Times and won the New York Public Library's Helen Bernstein Book Award. He has also written about the atrocities committed in Sierra Leone, civil unrest in the Ivory Coast, the megacity of Lagos, and global counterinsurgency. In 2003, Packer was awarded two Overseas Press Club awards, one for his twenty-thousand-word examination of the difficulties faced during the occupation and reconstruction of Iraq, which appeared in November, 2003, and the other for his coverage of the civil war in Sierra Leone, which appeared in January, 2003.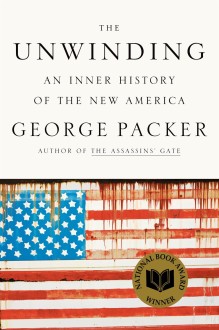 Packer's latest book The Unwinding: An Inner History of the New America, which won the 2013 National Book Award for nonfiction, is a novelistic and kaleidoscopic history of the new America.
Whatever bound America together he argues, has slowly been unwound. He supports his argument through the stories of four main characters. "What will stay with you," writes the Christian Science Monitor, "are the book's people, people Packer never turns into ideological mascots, people who struggle to survive, to create, to improve, even as the systems of support erode around them." He deftly delineates how quickly political idealism can disappear when one becomes exposed to a world of easy money.
Packer has served in the Peace Corps, in Togo, West Africa, and was a 2001-02 Guggenheim Fellow. He has contributed numerous articles, essays, and reviews on foreign affairs, American politics, and literature to the New York Times Magazine, Dissent, Mother Jones, Harper's, and other publications. He has taught writing at Harvard, Bennington, and Columbia. Packer lives in Brooklyn, New York.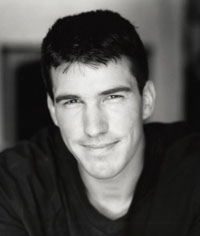 Guest host Benjamin Busch is the author of the award-winning memoir, Dust to Dust. The son of acclaimed novelist Frederick Busch—Ben's work has been compared to Annie Dillard's Tinker at Pilgrim Creek. A former U.S. Marine Corps officer who served two combat tours in Iraq, Ben Busch returned to the U.S. to play a Marine in HBO's Generation Kill. As an actor, he is best known for his appearances in Homicide, The Wire, Generation Kill, and The Beast. Busch was nominated for a Pushcart Prize for his essay, Growth Rings, printed in the Michigan Quarterly Review, and for his poem, You Know Who You Are, printed in the Dunes Review. Busch received a Purple Heart medal in 2005 for combat wounds sustained in Ramadi, Iraq. Ben lives in Reed City, Michigan, with his wife, historian Tracy Busch, and two young daughters.
Premium Reserved Seating: $35 (ticket only) $46 (ticket plus book – trade paper)
Reserved Seating: $25 (ticket only) $36 (ticket plus book – trade paper)
General Admission: $20 (ticket only) $31 (ticket plus book – trade paper)
Educator Discount: $5 off ticket price with valid ID
Student Discount:  $10 off ticket price with valid ID
Tickets go on sale to "Friends of NWS" on February 6, 2014 (box office only).
Tickets go on sale to the general public on February 13, 2014.