Tuesday, April 21, 2015  |  City Opera House, Traverse City
Guest host: Sarah Bearup-Neal
Event Sponsor: Carpet Galleria
Listen to the program:
[audio:https://nationalwritersseries.org/wp-content/audio/nws_garthstein_mixdown_0.mp3]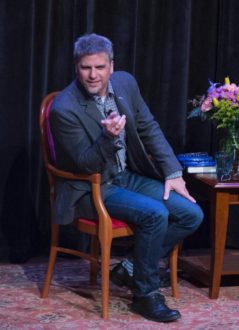 EVENT RECAP
There was a moment during Garth Stein's April 21 appearance at the National Writers Series when the bestselling author described climbing a redwood tree and reaching the canopy. Stein paused just enough to let the packed audience at the City Opera House in Traverse City catch up to him in the treetops and sway along with him in the Pacific breeze.
"You can't see the forest floor anymore," said Stein, who climbed an 800-year-old redwood tree as part of his research for his new novel A Sudden Light. "That's when your relationship with the tree begins. You're held by the tree."
The adventurous author captivated the audience for the rest of the evening. While fielding questions from the evening's guest host, Sarah Bearup-Neal (host of "Talk About Art," an artist interview series at the Glen Arbor Art Associaton), Stein occasionally stood and faced the ticket holders, as if consulting the chorus.
A Sudden Light interweaves the story of a rich, but dysfunctional, Seattle lumber-baron family and the Pacific Northwest timber industry during the 19th and early 20th centuries. The book features mystery, history, forbidden love and redemption, and characters so flawed that Bearup-Neal joked that she wanted them to have a southern accent. "These characters are right out of the Tennessee Williams' guide to family dynamics," she said.
Dysfunctions aside, Stein's characters, and their relationship with the outdoors, prompted the National Writers Series to name A Sudden Light its "Find Your Park…in a great book" selection for April. "Find Your Park" is a collaborative effort of the National Park Service, the National Park Foundation, and local community nonprofits, to celebrate the 100th anniversary of the National Park Service. The National Writers Series teamed up with Sleeping Bear Dunes to identify creative ways "…to discover a personal connection to a place or a story that provides inspiration or enjoyment, and to then join us in our second century of stewardship of America's most treasured places," National Park Service Director Jonathan B. Jarvis.
John Muir, a naturalist and early advocate for preserving the wilderness that became America's first National Parks, influenced characters in Stein's A Sudden Light with his transcendental ideas and the spiritual understanding that we are all connected.
Stein, too, climbed to mystical heights during his evening in Traverse City. He told Bearup-Neal that, shortly after dying, his father came to him in four dreams. In each dream they engaged in conversations, sometimes about banal things like recycling or taking out the trash, sometimes about more profound topics. "At the end of the fourth night, he got up and left," said Stein. "I interpreted it as this: he died prematurely. He came to me because he had things to say to me."
Magical realism figures prominently in Stein's writing. His 2008 novel, The Art of Racing in the Rain, which sold more than four million copies and spent more than three years on the New York Times bestseller list, features Enzo, a lab-terrier mix who yearns for the day when his life as a dog will be over so he can be reborn as a man. "The magical realism I put in the book is about seeing beyond the obvious. We live in a scientific world where we try to deny mysticism. We shouldn't deny it; we should celebrate it."
Asked by Bearup-Neal why he chose a canine as the books' narrator, Stein replied that the messages Enzo conveys are ridiculous because they're put out there by a dog. However, "Enzo connects with people, not because he's a dog, but because he's a brother from another planet."
When Stein pens a novel, he refuses to tightly control the story as some author's do. "I liken writing a book to pushing a rock up a hill," said Stein. "When you get to the top it starts to roll on its own, and you, as writer, need to be wary and respectful. It's no longer about the writer, but about the rock. The book is telling me what it wants to be."
Sometimes the boulder rolls in a direction the author didn't expect. The Art of Racing in the Rain, for example, was banned by a school district in Dallas, Texas.
Stein wondered aloud what prompted the school board officials to protest. "My wife told me it's because of the scene of two people making love. Enzo is watching them, thus suggesting bestiality…. But, Enzo also questions a President of compromised intellectual fortitude, which is clearly George W. Bush."
When Bearup-Neal asked if the book banning caused Stein to grind his teeth, the author stood and shot the audience a mock cheer. "I'm banned in Texas!" he boasted. Stein then sat down and returned to a serious critique of administrators who pull the rug out from under their teachers. "We are putting students in schools that are led by paid professionals working on our behalf," said Stein. "The fact is that we want our kids to be guided through social discussions by paid professionals who we trust with the education of our children." Stein's defense of public education drew applause all the way from the treetops.
More about the National Writers Series "Find Your Park" upcoming book discussion groups
MORE ABOUT GARTH STEIN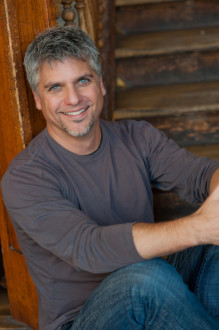 BESTSELLING AUTHOR & ACADEMY AWARD-WINNING FILMMAKER: Stein's The Art of Racing in the Rain has sold more than 4 million copies and spent more than THREE years on the New York Times bestseller list. He won an academy award in 1990 for his live action short film, The Last Party.
Before turning to writing full-time, Garth Stein was a documentary filmmaker, directing, editing, and/or producing several award-winning films, including The Lunch Date, winner of the Academy award for live action short in 1990, and The Last Party, starring Robert Downey, Jr.
Garth is co-founder of Seattle7Writ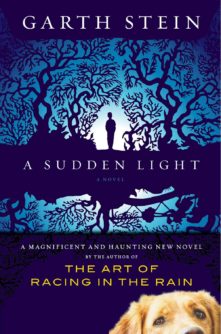 ers, a non-profit organization dedicated to "energizing readers and writers and their communities by providing funding, programming, donations of free books to those in need, and generally inspiring enthusiasm for reading."
Stein's new novel, A Sudden Light, is spellbinding and atmospheric.  Rich with unconventional characters, scenes of transcendent natural beauty, and unforgettable moments of emotional truth, A Sudden Light, reflects Stein's outsized capacity for empathy and keen understanding of human motivation. It is a triumphant work of a master storyteller at the height of his power.