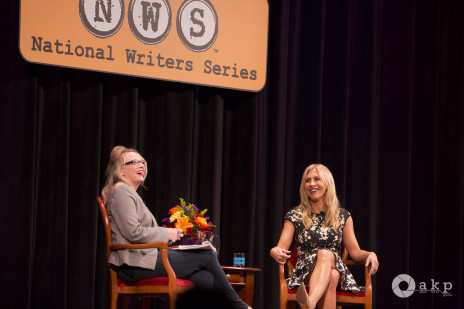 Thursday, May 29, 2014
With guest host Stefanie Murray, vice president for content and engagement for The Tennessean and tn Media in Nashville, Tenn.

Listen:
[audio:https://nationalwritersseries.org/wp-content/audio/nws_emilygiffin.mp3]
EVENT RECAP

Relationship Lit by Jacob Wheeler
When you Google "Emily Giffin" the term "Chick lit" screams from the search page. It's a term that describes the genre of fiction, which addresses issues of modern womanhood, often with a humorous or lighthearted tone.
Giffin accepts "Chick lit" as a marketing label to sell pages. Indeed, her seven novels (five of which were New York Times bestsellers) considered "Chick lit" have won the adoration of a huge and loyal following. The last three sold more than 400,000 copies. And Giffin's latest, The One and Only, recently hit number 1 on theTimes' bestseller list.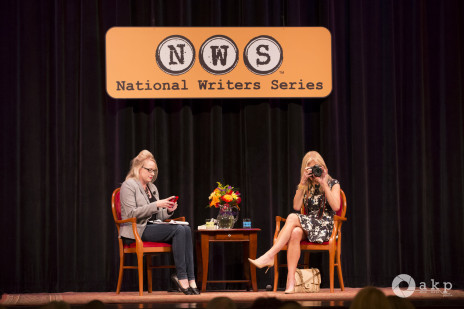 But Giffin has mixed feelings about the term. "I write women's fiction," she told an audience at the National Writers Series in Traverse City, Mich., on May 29. "My characters aren't shoe shopping or drinking martinis. That's not really what I do…sometimes it's difficult to constantly hear those labels. Someone might not pick up my book because of a sparkly ring on the cover."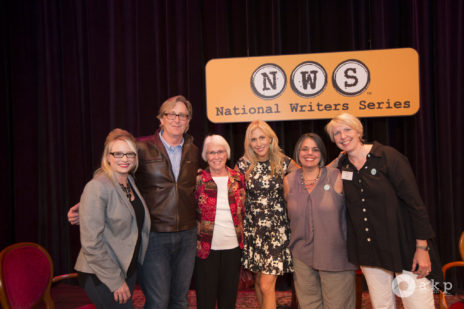 The evening's guest host Stefanie Murray, a Traverse City native who is currently vice president for content and engagement at The Tennessean in Nashville, jokingly offered to edit "Chick lit" out of Giffin's Wikipedia entry. "These are really interesting, relationship-driven, substantive romantic comedies," said Murray. The classic film "When Harry Met Sally" arose in their on-stage conversation as a story cherished by both women and men.
Giffin writes about relationships, and in particular, women dealing with relationships–the relationships between friends, between siblings, between lovers, between parents and children. (Giffin and her husband, Hartley "Buddy" Blaha, have 11-year-old identical twin boys, Edward and George, and a daughter, Harriet, who just turned 7.) Her first-draft readers, she told Traverse City, are her mother, her sister and her best friend–three women with whom she has different relationships.
After she signed books at the National Writers Series appearance, Giffin joined a small party for dinner at the restaurant Amical on Front Street. It was evident by the warm but personal questions she asked strangers seated around the table that she was examining relationships–perhaps fodder for a future novel.
At the City Opera House, Giffin also exhibited her talent for connecting with her audience. Young women, and middle-aged women alike, swooned over her and approached the stage following the show for personal interaction. Giffin's fan base is anywhere from 20 to age 50, she told Murray. When the lights come on for the question-and-answer session, Giffin pulled a camera from her purse and began taking photos of the crowd. One audience question came from "Wanda", who Giffin immediately recognized from their interactions on Facebook.
Giffin's fans so adored her that personal questions emanated from the audience as though they were in a one-on-one conversation with the popular author. One pregnant woman asked Giffin to suggest names for her future children.
But Giffin also connects with American males in important ways. She loves sports, and isn't afraid to use gridiron or basketball court metaphors on stage. Giffin was a manager of the basketball team while getting her undergraduate degree from Wake Forest. She counts college basketball legend Ralph Sampson and Syracuse coach Jim Boeheim among her good friends.
"My first books were all number 2 (on the Times' bestseller list). My husband said 'I'm the Buffalo Bills of writers'!" (the NFL team reached, but lost, four straight Superbowls in the early 1990s).
Asked by an audience member in Traverse City whether a time would ever come when she had nothing more to write, Giffin replied, "One of the great things about being a writer is that I can be a little old lady in a rocking chair and still writing. I won't be like Tim Duncan." (The star San Antonio Spurs hoopster may retire after this season, at age 38 and still at the top of his game).
Giffin figures to write about relationships for years to come–whether the book world calls them "Chick lit" or comes up with a new marketing moniker.
---
More About Emily Giffin
A modern day Jane Austen
Author of five New York Times bestsellers
A lawyer turned novelist
Her debut novel Something Borrowed was made into a film starring Kate Hudson
After just six novels Emily Giffin has garnered a huge and loyal following. Her last three books have sold more than 400,000 copies each in hardcover and eBook alone, and she has debuted as high as #2 on the New York Times hardcover bestseller list. Vanity Fair likened her to a modern day Jane Austen "who has deftly traversed the topics of love, lost love, marriage, motherhood, betrayal, forgiveness and redemption."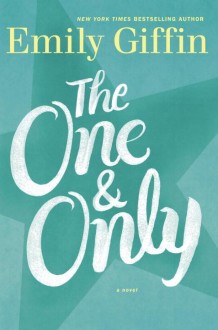 Her debut novel Something Borrowed, was made into a movie starring Kate Hudson and John Krasinski. That novel has sold more than 2.2 million copies. Her latest novel The One and Only is written with intelligence, warmth, and wit. It's a luminous novel about the choices we make in life and love, for better or worse.
Giffin, a Chicago native, graduated summa cum laude from Wake Forest University and the University of Virginia School of Law. After law school, she moved to Manhattan and practiced litigation at a large firm for several years while she paid back her school loans, wrote a novel in her very limited spare time, and dreamed of becoming a writer. She quit her job, moved to London to write fulltime and her dream became a reality when Something Borrowed hailed as a "heartbreakingly honest debut" with "dead-on dialogue, real-life complexity and genuine warmth," became a surprise sensation, and Giffin vowed never to practice law again. Her first five novels, all filled with her endearingly flawed characters and emotional complexity, have been translated into twenty-nine languages, with five million copies in print worldwide.
Giffin now resides with her husband and three young children in Atlanta, where she received the Georgia Debut Author of the Year Award.
---
Guest House Stefanie Murray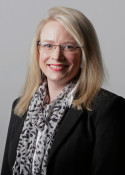 Guest host Stefanie Murray is the vice president for content and engagement for The Tennessean and tn Media in Nashville, Tenn., where she oversees a newsroom of more than 80 journalists and Nashville's Gannett Design Studio.
Murray previously worked as Assistant Managing Editor/Digital Media at the Detroit Free Press.  Prior to the Free Press, Murray worked as Community Director at AnnArbor.com and was a business reporter and editor for the Ann Arbor News and Lansing State Journal. Murray won Associated Press honors for public service and breaking news coverage during her time in Ann Arbor and Lansing, and played an integral part in the digital planning and content production for several award-winning projects at the Free Press.
Murray holds a master's degree in journalism from the Medill School of Journalism at Northwestern University, and a bachelor's degree in journalism and broadcasting from Central Michigan University. For the past decade, she has also been active volunteer with Alpha Chi Omega, a national women's organization, serving as a chapter and financial advisor and supervisor for the local sorority chapter at Michigan State University.
Murray grew up in Traverse City and is a graduate of Traverse City Central High School. Her family still lives in Interlochen and she visits frequently, especially in the summer to go boating on Green Lake, Long Lake and West Grand Traverse City. She says that North Peak Brewing Co. is her favorite restaurant to visit when she comes home to Traverse City.