Thursday, May 7, 2015
City Opera House, Traverse City
Guest host Ron Hogan, acquiring editor for the Regan Arts publishing house and founder of Beatrice.com
Event Sponsor: Carpet Galleria
Listen to the Event:
[audio:https://nationalwritersseries.org/wp-content/audio/nws_debbiemacomber_mixdown.mp3]
EVENT RECAP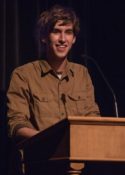 Before Debbie Macomber took the NWS stage on May 7, Charlie VanderKlipp, a Traverse City West high school student who participated in the National Writers Series' Front Street Writers program, read an excerpt from his nonfiction work, Ode to the Horror Film, in which he defends and professes his love for scary movies and horror cinema.
Perhaps Macomber's near-capacity crowd at the National Writers Series event wasn't sure what kind of a ride they were in for that night. Just a block away, another performance was rollicking at the City Opera House – NBC was hosting a free concert featuring Joshua Davis, a semifinalist in the televised, singer-competition show, "The Voice." In his introduction, Doug Stanton, National Writers Series co-founder, urged the crowd to "vote for Debbie Macomber – she's trending on iTunes!"
Macomber is definitely trending – in the publishing world – her popular work includes fiction, nonfiction, children's books, knitting and cookbooks, and inspirational books. Macomber has more than 170 million copies of books in print; she's published 14 series encompassing close to 80 books; 70 other stand-alone books; plus several anthologies and collaborations. Since 1986, she has also released a yearly Christmas-themed book. This writer works hard to be so prolific.
A typical day begins at 4:30 a.m. She spends two hours reading the Bible and writing in her journal. Then she swims a half-mile, eats breakfast and goes to her office. She reads "every single piece of mail that comes in," and cited several hilarious ones at the National Writers Series event.
I love your books so much I'm willing to pay for them.
When's your next book coming out? I'm 85. Hurry!
You put me to sleep every night.
I've read every one of your books and I haven't liked a single one.
Macomber explained that when she starts to write a book, she sits down with a calendar and records how many pages a day she'll have to write in order to make her deadline. It's usually between 15 and 20. She has multiple people check her "atrocious" spelling and other errors that come from being dyslexic. "'Such' and 'just' are the same word to me," she said.
In her downtime – she swears she has some – she enjoys her children (three) and grandchildren (nine), and she and husband Wayne always try to make time to watch "Jeopardy!"
"People ask what the pinnacle of my career was," she said. "And I tell them, 'When I was an answer on Jeopardy'"
The author is known for her happy endings – at least where everything works out in the end – despite the sometimes rollercoaster of struggle in her characters' lives. This vacillation between conflict and resolution seemed to play itself out on her path as a beginning writer.
Macomber grew up in Yakima, Wash., and, when she was four or five years old, a librarian – turns out it was Beverly Cleary – gave her a book to read. But Macomber didn't learn to read for another five years; eventually she was diagnosed with dyslexia. Wanting to be a writer, she kept her dream a secret. Macomber remembers when she burst into tears as she finally told her high school principal her desire to write. The principal said, "Think about something you CAN do."
Once Macomber had spoken her dream out loud, she was determined to defy the odds and become a writer. She knew that through steady work she would make it a reality. Finally she was able to rent a typewriter for $100/month, and began writing while raising four small children. She felt guilty about not contributing to the household income, but she kept at it for over two years. When her husband, after struggling with the monthly bills, told her she needed to get a job, Macomber tossed and turned all night. She asked God to take away the dream. But then, in the morning darkness, Wayne told her to keep on trying. With his support, she continued writing for a few more years, this time selling "little articles" for $5 or so.
Her first break came when she sold a story to Woman's Day for $350. She used the money to register for a writer's conference that offered to have editors critique the manuscripts of 10 writers. Hers was chosen, but the editor had "the whole room laughing" about the infeasibility of the plot. "I asked if I could rewrite it and the editor said, 'Throw it away.'"
This was just another twist on the ride. Macomber reworked the story and sent a proposal to a publishing house, asking if they would look at the manuscript. She waited and waited for a reply, but got antsy and sent the package off anyway. Incredibly, the publishers' reply came that afternoon: "Do NOT send us a manuscript." Macomber went into a funk, having spent $10 on postage to send a manuscript to a publisher that did not want to see it.
Three weeks later, her writing rollercoaster took another turn. She received another notification from the same publisher; they wanted to publish Macomber's book.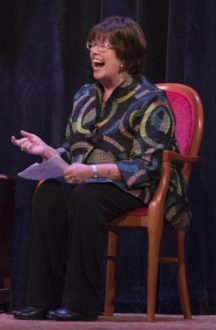 Many of the 400-plus people at the National Writers Series event – 95 percent women and 5 percent supportive men – share Macomber's love of knitting, which is one of the key parts of her "Blossom Street" series. A yarn shop is integral in the characters' lives; Macomber owns her own yarn shop in Port Orchard, Washington, which shares a name with the fictional one – A Good Yarn.
"Knitting saved me as a child," she said. Because her teachers were disdainful of her academic skills, it was extra-special when one teacher held up her knitting project in front of the class. "It gave me self-esteem. I learned how to concentrate. I learned comprehension, math. The sense of accomplishment was huge."
Macomber fan Kathy Doelker, of Traverse City, can relate. "When I was a little girl, I had low self-esteem," Doelker said. "I learned to knit in 4-H and then formed relationships with the other girls." She knitted a baby blanket from a pattern in a "Blossom Street" book that promised to be easy, which wasn't quite the case. But again, life imitated art, and friends and strangers helped Doelker with the blanket, just as the women in the fictional knitting group help each other. Macomber noted that her career took off when she combined her "passions of writing and knitting.
Her latest published book, Last One Home, was released in March. Macomber said the idea for Last One Home was born at a hoedown-themed charity event she attended with Wayne. The hostess was wearing a shirt that said, "Future Homeowner." The woman explained how she was putting in 500 hours of work to qualify for a Habitat for Humanity home-an opportunity that shows up in Last One Home.
There is some romance in the book – although it's not the centerpiece of the story – which is what Macomber says is the difference between the romance novels she wrote at the beginning of her career and the women's fiction she writes now. "Romance concentrates on the man/woman relationship," she said. "Women's fiction has romance, but it isn't central to the story. A lot more is going on."
The protagonist's daughter in Last One Home is also based in Macomber's reality. "I have two 15-year-old granddaughters and they have smart mouths," she said Macomber, 66, comes up with ideas for new books every day. "I have an idea now and I'll write the book in March," she told the audience. "Why wait?" asked guest host Ron Hagan, acquisitions editor at Regan Books. "Because," she said, "there's a line of books before that, waiting to be written."
Macomber's writing standards are based on her own system of a five-point list. Her stories strive to be
relevant
provocative
entertaining
truthful and honest
told in the most creative way possible
Musing on her recently finished book, The Girl's Guide to Moving On, Macomber proclaimed, "It's really good." With this writer, it's another trending bestseller, coming out just around the bend.
---
ABOUT DEBBIE MACOMBER
Debbie Macomber is a #1 New York Times bestselling author and one of today's most popular writers with more than 170 million copies of her books in print worldwide. Macomber's novels have spent over 750 weeks on the New York Times bestseller list, eight of which have hit the #1 spot.
In addition to fiction, Macomber has published two bestselling cookbooks; numerous inspirational and nonfiction works; and two acclaimed children's books.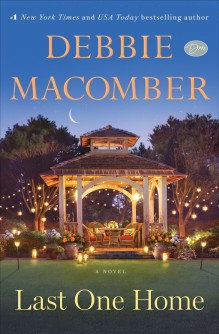 In 2013 her beloved, bestselling Cedar Cove series became Hallmark Channel's first dramatic scripted television series, which ranked as the top program on cable when it debuted.
Macomber's Christmas novel, Mr. Miracle, was made into an original movie, which premiered on the Hallmark Channel in fall 2014. Previously, Hallmark Channel has produced three successful Christmas movies based on Macomber's other bestselling Christmas novels, Mrs. Miracle, Call Me Mrs. Miracle and Trading Christmas.
Macomber owns her own tea room, Victorian Rose Tea Room, and a yarn store, A Good Yarn, named after the shop featured in her popular Blossom Street novels. She and her husband, Wayne, serve on the Guideposts National Advisory Cabinet, and she is World Vision's international spokesperson for their Knit for Kids charity initiative.