Colum McCann with guest host Leigh Haber
Thursday, June 6, 2013 | City Opera House, Traverse City
Listen to Colum's program here:
[audio:https://nationalwritersseries.org/wp-content/audio/Colum_McCann.mp3]
Event Recap
by Cymbre Foster
"Don't necessarily write about what you know, write about what you want to know," author Colum McCann told the Front Street Writers students during a Master Class earlier this month.
McCann spent more than an hour talking to the high schoolers, giving them the G-rated version of his life, a discussion of fact versus fiction, and the writing and research process.
"Sometime you're just corralled by something," he told them, adding that Frederick Douglass's visit to Ireland in 1845 was something he thought about and researched long before he put pen to paper and included the story in his latest novel TransAtlantic.
Writers have a duty to entertain and just tell a good story, he also told the students.
Later that evening he sat on the stage of the historic City Opera House in Traverse City with guest host Leigh Haber, books editor for O, The Oprah Magazine, to talk about his TransAtlantic, the writing process and more.
Photos from the event:
[nggallery id=16]
TransAtlantic is a poetic tale of Irish-American relationships told in three separate narratives. McCann deftly weaves fact into fiction and vice versa. It's also a narrative of women and family that ties the narratives together.
McCann told the audience that it takes him three or four years to write a novel.
"That's what the process is about, failing better every time," McCann told the audience about the writing/publishing process.
Adding, "Often a writer doesn't even know what he or she has written until afterwards."
McCann also talked about his latest endeavor, the launch of Narrative 4 last month. It's a new literary charity – a Global Forum for Young Storytellers — founded along with Lisa Consiglio and Luis Urrea.
The object, he said, is for young people to share and exchange their stories on a global level. As the website reads: "The key to transformation lies in the sharing: when you hear someone else's story deeply enough to inhabit it and re-tell it as if you have lived it, you become "the other" and see the world through her eyes. The power is in the active act of receiving and caring for another's story. It is Radical Empathy."
For more information about Narrative 4 check out the website at www.narrative4.com.
---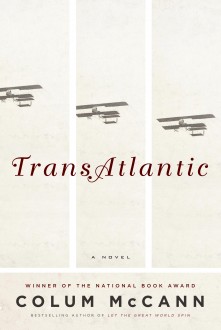 About Colum McCann
One of the most acclaimed and essential authors working today — Colum McCann, comes to Traverse City to talk about his life, his art, finding the magic in the mundane, and why it took an Irishman to capture the heart of New York after 9/11.
When Colum McCann came to the United States from Ireland in the early 1980s, he set out on a cross-country bicycle trip to get to know his new country and its stories. He's spent the years since telling those tales through fearless, award-winning prose.
The author of five acclaimed novels and two collections of short stories, McCann's book Let the Great World Spin centers around the glorious Twin Towers tightrope walk of Philippe Petit in 1974. The novel became a bestseller on four continents, won the 2009 National Book Award, and firmly established McCann as one of the most talented fiction writers in the world.
---
LIsten to McCann reading from Transatlantic as part of a 2012 New Yorker Fiction Podcast.
---
The territory of McCann's work is international in scope and geography. His topics have ranged from homeless people in the subway tunnels of New York, to the troubles in Northern Ireland, to the effects of 9/11, to a poetic examination of the life and culture of the Roma in Europe.McCann's fiction has been published in over 30 languages and has appeared in The New Yorker, Esquire, Paris Review, Granta, The Atlantic Monthly, GQ, and many others, and McCann himself has appeared on NPR and Oprah.
A "poetic realist" known for his style and boundless creativity, Esquire's 2003 "Writer of the Year" is currently working with producer J.J. Abrams on a screen adaptation of Let the Great World Spin. His newest novel, Transatlantic, uses the real life narratives of Frederick Douglass, Alcock and Brown, and Senator George Mitchell, spanning a historical period of 150 years, as a "profound meditation on identity and history in a wide world that grows somehow smaller and more wondrous with each passing year."
---
About Guest Host Leigh Haber
Leigh Haber is the books editor at O, The OprahMagazine. Prior to that position she was editor-at-large at Chronicle Books and consultant to the publishing-on-demand platform Blurb. She has held editorial roles at Scribner, Hyperion, and Rodale.