With guest host Neal Rubin
March 5, 2013 | City Opera House, Traverse City
---
Listen:
[audio:https://nationalwritersseries.org/wp-content/audio/Buzz Bissinger – Edited .mp3]
Event Recap
by Chloe Foster, Front Street Writers Program
For the first time, the NWS opened the event with a reading from a fellow student of mine, and I must say, it was phenomenal. Brian Czyzyk took the stage and captivated the audience from the very first word of his original poem, Wolf Pup, to the very last. I look forward to more readings like this in the future. I think it was a great way for the community to have a sneak peek into what we are doing in the Front Street Writers class.
The event continued with more familiarity as guest, Buzz Bissinger, and interviewer, Neal Rubin, took the stage. Rubin sat on the left in his argyle sweater, faded jeans and loafers, Buzz on the right in a black t-shirt, black blazer, the skinniest black jeans I have ever seen on someone who was not a Jonas Brother, and pirate boots. They couldn't have looked more different, yet the subsequent conversation proved that looks can be deceiving.
The audience got a taste of Bissinger's sense of humor with Rubin's first question, an inquiry into Buzz's heroes. Bissinger named off a few big names, then casually ended saying, "I would really like to meet Matthew McConaughey, the guy has a six pack within a six pack."
Throughout the night, there were little bits of comic relief like this, to which the audience reacted appropriately, laughing along and bursting into random bits of applause at times. Neal and Buzz joked about standing ovations and if the audience decided to throw money onto the stage, it would be just fine with them. The two seemed to hit it off as far as an interviewer and interviewee can do so.
The event wasn't all fun and games, however. Buzz was edgy and passionate, about truth especially.
"Everyone wants to spin, no one wants to admit failing," he said.
Bissinger put an emphasis on the fact that all journalists ever say is "tell the truth," but when it comes to themselves, people tend to don the rose colored glasses or turn the other cheek momentarily.
"We don't take enough f***ing chances," Bissinger said. "If a book doesn't get bad reviews, it's not a good book"
Bissenger's latest book, Father's Day, is definitely one that takes chances. It is about a cross-country trip Buzz took with his son, Zach. Zach is a savant, unable to express abstract thought, but if given a date, he can name the day of the week it was on. "His memory is not his past, it's his present," Buzz said. Zach loves to go back and look at old buildings because he can remember things about them most people would never notice in the first place. On the trip, Buzz took Zach to look at many old buildings, and other various adventures, but the journey was not without tension and conflict. According to Bissinger, the best way to reveal a relationship is through interactions, so that's exactly what he did, with brutal honesty, in Father's Day.
Critics of Father's Day question the reliability of a trip pre-planned specifically for the purpose of writing material.
"We're mining for material," Bissinger said. "As you get older, it gets harder." I found this response especially interesting.
Earlier in the season, author Lee Child sat in the same seat as Bissinger and happened upon a similar subject. He, however, had almost the exact opposite opinion, that it is much harder for young people to write because they don't yet have the life experiences that good writing requires. I found the contrast between these two opinions to be rather intriguing. I think both men have very valid points, but it really goes to show how one man's opinion can't simply taken as gospel.
I found this event to be rather thought provoking. Like most NWS events, I had no idea what to expect going in, but, as usual, I was not disappointed. Buzz Bissinger is a very unique man. I loved how incredibly truthful he was, even when saying something he knew the audience would most likely not agree with. One moment he would be heatedly discussing the "truth," and the next he would be talking about his son with such warmth and compassion, that it was quite touching. He seemed to be very true to not only himself, but also his son, Zach.
Neal Rubin did a fine job interviewing Bissinger. He stayed within the time limits, and kept the event on track the whole time. I would definitely hear Buzz speak again, and after watching the event, I look forward to reading some of his work.
Chloe is a member of Front Street Writers and a senior at Traverse City West High School. She will be attending Michigan State University in the fall.
---
About Buzz Bizzinger
Rarely does an author transcend his chosen genre. Buzz Bissinger managed to do it first with his breakout bestseller turned popular television series, Friday Night Lights. Not just a sportswriter, Bissinger is a master storyteller known for his artful ability to capture the everyday dramas faced by coaches and players off the court and away from the cheers of adoring fans. His ability to weave a compelling narrative and reveal the human side of every story is why some Bissinger's most ardent fans are, in fact, readers who have little interest in watching sports.
Now with his latest book, one of this nation's most-honored and distinguished writers ventures into entirely new and intensely emotional terrain. Father's Day: A Journey into the Mind and Heart of My Extraordinary Son, chronicles the lives of Bissinger's twin sons, born 13 weeks premature in 1983 and weighing less than two pounds. Gerry and Zach are twins who grew to live diametrically opposed lives. After obtaining his Master's in education from the University of Pennsylvania, Gerry is now a public school teacher while Zach, because of oxygen deprivation at birth, suffered trace brain damage and struggles every day with enormous learning disabilities.
Zach, now a savant, is challenged by serious intellectual deficits but also blessed with rare talents: an astonishing memory, a dazzling knack for navigation, and a reflexive honesty that make him both socially awkward and surprisingly wise. In Father's Day, Bissinger chronicles a summer road trip he takes with his son in an effort to connect with the inner workings of the boy's mind and heart.
The author of five highly acclaimed nonfiction books — Friday Night Lights, A Prayer for the City, Three Nights in August, Shooting Stars and Father's Day — Bissinger first won praise as a journalist working for The Philadelphia Inquirer where he received the Pulitzer Prize for Investigative Reporting for story on corruption in the Philadelphia court system in 1987.
In addition to the Pulitzer Prize, Bissinger has also received the Livingston Award, the American Bar Association Silver Gavel Award and the National Headliners Award, among others. "Shattered Glass," a 1998 Vanity Fair article about the bizarre career of New Republic writer Stephen Glass, was later made into a film of the same name. Another 2007 article for Vanity Fair entitled, "Gone with the Wind," about the saga of 2006 Kentucky Derby winner, Barbaro, has also been optioned by Universal Pictures.
---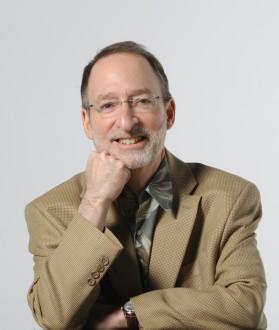 About Guest Host Neal Rubin
Neal Rubin began writing his Detroit News column in June of 2000. His typically light-hearted look at life appears Monday, Tuesday and Thursday on page 2A and at www.detroitnews.com.
Rubin came to the News after 16 years as a feature writer and columnist with the Detroit Free Press, where his greatest achievement was getting banned by the World Wrestling Federation. In addition to his column, he writes the nationally syndicated comic strip "Gil Thorp," about a high school coach and the ever-changing cast of kids at Milford High School.
His last stop before Detroit was Las Vegas, where he was a three-time state sportswriter of the year in an admittedly limited field. A Michigander since 1984, Rubin grew up in Southern California and Colorado and attended the University of Northern Colorado on a 7-card stud scholarship. He prefers dogs to cats, game shows to reality shows, and writing to actual work.