November 19, 2014
With Guest Host Benjamin Busch at the City Opera House in Traverse City
THE STORY OF WAR, THE LANGUAGE OF BEING HUMAN: Three veterans of the war in the Middle East, all acclaimed authors, come together on the NWS stage to tell their stories as literature and as a record of an epochal event.
Listen:
[audio:https://nationalwritersseries.org/wp-content/audio/nws_briancastner_brianturner_mixdown.mp3]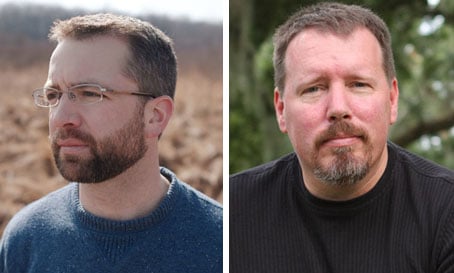 In an article he penned for the New Yorker entitled "Home Fires," previous NWS guest George Packer wrote, "Soldiers who set out to write the story of their war have to navigate a minefield of clichés: all of them more or less true but open to qualification; many sowed long before the soldiers were ever deployed, because every war is like every other war. War begins in illusion and ends in blood and tears. Soldiers go to war for their country's cause and wind up fighting for one another…No one returns from war the same person who went."
About Brian Castner
Brian Castner served three tours of duty in the Middle East, two of them as the commander of an Explosive Ordnance Disposal unit in Iraq. Days and nights he and his team would venture forth in heavily armed convoys from their Forward Operating Base to engage in the nerve-racking yet strangely exhilarating work of either disarming the deadly improvised explosive devices that had been discovered, or picking up the pieces when the alert came too late. They relied on an army of remote-controlled cameras and robots, but if that technology failed, a technician would have to don the eighty-pound Kevlar suit, take the long walk up to the bomb, and disarm it by hand. This lethal game of cat and mouse was, and continues to be, the real war within America's wars in Iraq and Afghanistan.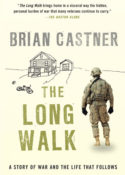 But The Long Walk is not just about battle itself. It is also an unflinching portrayal of the toll war exacts on the men and women who are fighting it. When Castner returned home to his wife and family, he began a struggle with a no less insidious foe, an unshakable feeling of fear and confusion and survivor's guilt that he terms 'The Crazy.' His thrilling, heartbreaking, stunningly honest book immerses the reader in two harrowing and simultaneous realities: the terror and excitement and camaraderie of combat, and the lonely battle against the enemy within — the haunting memories that will not fade, the survival instincts that will not switch off.
About Brian Turner
Brian Turner is an award-winning American poet, essayist, professor, and soldier. In 2003, Turner crossed the line of departure with a convoy of soldiers headed into the Iraqi desert.
Now he lies awake each night beside his sleeping wife, imagining himself as a drone aircraft, hovering over the terrains of Bosnia and Vietnam, Iraq and Northern Ireland, the killing fields of Cambodia and the death camps of Europe.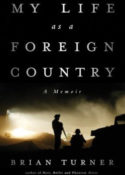 In his breathtaking memoir, My Life as a Foreign Country, Turner retraces his war experience — pre-deployment to combat zone, homecoming to aftermath. Free of self-indulgence or self-glorification, his account combines recollection with the imagination's efforts to make reality comprehensible. Across time, he seeks parallels in the histories of others who have gone to war, especially his taciturn grandfather (World War II), father (Cold War), and uncle (Vietnam). Turner also offers something that is truly rare in a memoir of violent conflict — he sees through the eyes of the enemy, imagining his way into the experience of the "other." Through it all, he paints a devastating portrait of what it means to be a soldier and a human being.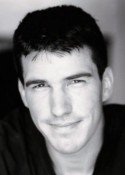 About Guest Host Benjamin Busch
Guest host Benjamin Busch is the author of the award-winning memoir, Dust to Dust. A former U.S. Marine Corps officer who served two combat tours in Iraq, Ben Busch returned to the U.S. to play a Marine in HBO's Generation Kill, where he pretended to invade towns he had actually invaded in the line of duty.
Ben lives in Reed City, Michigan, with his wife, historian Tracy Busch, and two young daughters.