Benjamin Busch with guest host Doug Stanton
November 8, 2012  |  City Opera House, Traverse City
Listen to the Program here
Event Recap
No two National Writers Series events are ever the same, but when author, actor, director, photographer and former U.S. Marine Benjamin Busch entered the stage at the City Opera House on roller skates, it was evident that this was no ordinary event.
Photos from the 2012 NWS Event:
[nggallery id=9]
November 8, 2012 was a night filled with surprises. After skating his way onto the stage, Ben tossed a single long stemmed rose into the audience.  The stage was absent of chairs, adorned only by a table topped with a vase of flowers. As he skated toward the table, with a wooden mallet in hand, Ben proclaimed, "We don't need flowers to come between us," referring to guest host Doug Stanton. With one large swing of the mallet, only the table and Ben were left on stage. Ben wished aloud for chairs and two bean bag chairs promptly dropped to the stage floor from the rafters. He then invited Doug Stanton to the stage. Doug and Ben took their seats –Ben looking rather comfortable, leaning back with ankles crossed and roller skates still on foot.
The National Writers Series was Busch's 121st appearance on his book tour for his new memoir, "Dust to Dust," which has been named by Newsweek and the Daily Beast as one of the "best books on today's wars."
The conversation alternated between humorous anecdotes – like Busch's visit with Texas Governor Rick Perry in which the former presidential candidate handed him his gun seconds into their meeting – to the personal and heartfelt account of returning home from Iraq to a one-year old daughter that did not know him and the subsequent deaths of both of his parents.
In his 16 years of military service, Busch received a Purple Heart, Bronze Star, Presidential Unit Citation and an Iraq Campaign medal. However, he told how his experiences in Iraq were anything but easy.  "How do you tell someone you're trying to bring peach while carrying a machine gun?" he explained.
In between deployments to Iraq, Busch starred as Officer Anthony Colicchio on the HBO series, "The Wire," before returning to Iraq in 2005.
"I did my best acting in Iraq," Busch said. "I was immensely frustrated all the time but could never show it."
Busch also noted that the other major influence on his work was the deaths of his mother and his father, author Frederick Busch, shortly after he returned from Iraq. He explained that they were not happy when Benjamin first enlisted in the army. "Your parents are charged with protecting you from harm. The army's job is to deliver you to it," he said.
Busch further honored his father's memory by giving out copies of his father's book, "A Memory of War." Other audience members received 1943 steel pennies from Busch's personal collection, while others received fragments of pipe stems from the 18th and 19th centuries that Busch pulled from the banks of the Thames in London.
Busch proved that his talents were not limited to rollerskating and writing when he did dead-on impersonations of Christopher Walken (reading a selection from Dust to Dust), Sean Connery and Marlon Brando.
Busch concluded the evening by reading his poem "March" about his two young daughters.
Following the event, the streets of Traverse City were abuzz with people talking about this unique and memorable National Writers Series event.  Thank you Benjamin Busch for your beautiful prose, your honest and frank conversation, and your infectious and smart sense of humor.
Happy skating.
---
More About Benjamin Busch
Read more in the NWS Author Archive
---
More about Guest Host Doug Stanton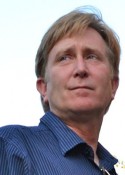 Doug Stanton is the author of the New York Times best-sellers In Harm's Way and Horse Soldiers. His writing has appeared in Esquire, The New York Times, TIME, the Washington Post, and other national publications where he has been a contributing editor. In Harm's Way spent more than six months on the New York Times best-seller list. Horse Soldiers was featured on the front page of the Sunday New York Times Book Review, which compared the book to Stephen Ambrose's Band Of Brothers.
Stanton's recent book Horse Soldiers spent over 3 months on the New York Times best-seller list, reaching #2. Horse Soldiers was also a best-seller on best-seller lists in USA Today, Wall Street Journal, Los Angeles Times, Chicago Tribune, Entertainment Weekly Publisher's Weekly, and IndieBound. Horse Soldiers is in development as a movie by Jerry Bruckheimer Films. Stanton has appeared multiple times on the Today Show, Morning Joe, and other major TV and radio outlets to talk about his work.
Horse Soldiers was named a 2009 "Notable Book" by the New York Times, and it was chosen as a "Best Book Of 2009" by Publishers Weekly, Christian Science Monitor, Barnes & Noble, and Amazon.com. Stanton attended Interlochen Arts Academy, Hampshire College, and received an MFA from the Writers' Workshop at the University of Iowa. He lives in Michigan with his wife, Anne Stanton, and their children.