Sunday, October 11, 2015 at 3 pm
Milliken Auditorium, Dennos Museum Center, NMC, Traverse City

with Guest Host Jeff Haas
---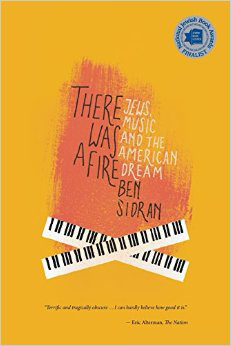 What do Steve Miller, Van Morrison, Eric Clapton, and Diana Ross have in common?
They all worked with legendary musician Ben Sidran. A true renaissance man, Sidran has seen it all and played it all—for some forty years of a fascinating and illustrious music career.
On October 11, Ben Sidran will talk with Jeff Haas, host of the immensely popular New Jazz Archive, about the triumphs and pitfalls of the music industry. Most fascinating is Sidran's witness of how music went "corporate" in the late 1970s and what the shift meant personally to him and musicians across the country—and how it's reflected in the tunes we hear today.
"I have long admired Ben's monster talent – both singing at the piano and composing and producing some of rock's biggest hits," said Haas. "I call him the 'Fascinating Renaissance Man.' He's been on rock tours, jazz tours, he writes, he recorded 30 albums, he's a scholar, he produces television, he's an incredible father."
Ben Sidran's own success began early, co-writing "Space Cowboy" with Steve Miller and forming the band, The Ardells, along with Boz Scaggs. He also played as a session musician for the likes of Eric Clapton and The Rolling Stones.
His latest accomplishment is a book about the journey of Jewish music in America: There Was a Fire: Jews, Music and the American Dream. The book charts the myriad and unexpected ways that Jews influenced American music, including the Great American Songbook.
Sidran and host Jeff Haas will share the stage with a grand piano for a few musical interludes in this unique afternoon of engaging words, eclectic music, and behind-the-scenes American music history.
Sidran said he took 10 years to write his newest book, fitting it between his work as a pianist, songwriter, journalist, scholar, and radio and television producer. He has recorded more than 30 solo albums, produced recordings for artists including Van Morrison and Diana Ross, and composed soundtracks and movie scores. Jon Richardson, president of the Toledo Jazz Society, says, "Ben is one of the rarest birds; equal parts scholar and performer. He's not a scholar who can play a little or a musician who has a degree."
Sidran has also won a Peabody for his NPR series, "Jazz Alive," and VH-1's "New Vision" series. He is author of two other books and has a doctorate in American Studies from Sussex University in Brighton, England.
In his first book A Life in Music, Sidran writes about getting signed by the biggest producer in the business, Clive Davis, who also signed Janis Joplin, Bruce Springsteen, Santana, Aretha, Christina Aguilera and Jennifer Hudson.
---
ABOUT GUEST HOST JEFF HAAS
Guest host for this special matinee is nationally acclaimed composer and Traverse City musician Jeff Haas, host of "The New Jazz Archive" on Interlochen Public Radio and other stations. He grew up in a musical home in Detroit — his father, Karl Haas, hosted "Adventures in Good Music," the world's most listened-to classical music radio show. But young Jeff discovered Motown, then jazz, and never looked back. He also is the founder of Building Bridges with Music, a nonprofit program that uses music to open minds and unite people.
After the event, guests will have the chance to meet Ben Sidran and have him sign cd's and books.