"Aarti Shahani's book is destined to take its place among the finest memoirs written in recent decades―a heartbreaking, hilarious and tender love letter to the millions of people who have made their way across lands and oceans to try and find a new life in America. This book will take you on a vivid, almost cinematic journey that is both beautiful and unforgettable."

― Guy Raz, co-creator of How I Built This, Wow in the World and TED Radio Hour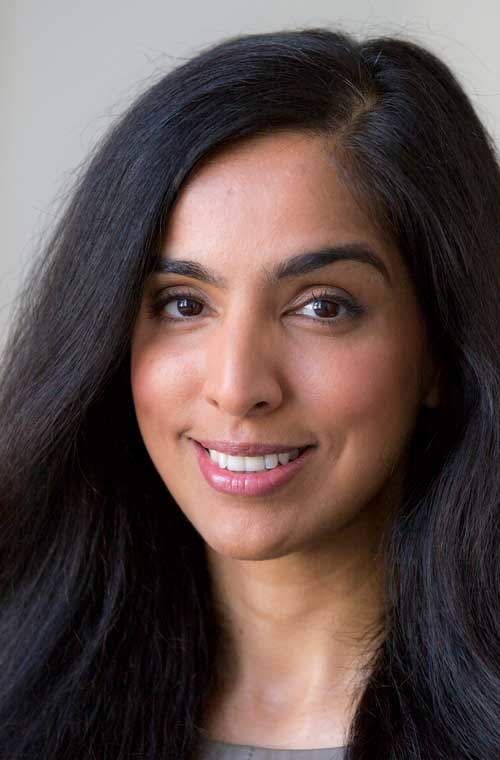 OCTOBER 6, 2019 – 7PM ● CITY OPERA HOUSE
Meet Aarti Shahani:
Who really belongs in America? That question has chased every newcomer and many native born since the founding of the republic. NPR correspondent Aarti Shahani will take the stage to talk about her heart-wrenching, vulnerable and witty memoir, in which she digs deep inside herself and her family for an answer—one that she finds in an unlikely place.
The Shahanis came to Queens—from India, by way of Casablanca—in the 1980s. They were undocumented for a few years and then, with the arrival of their green cards, they thought they'd made it. This memoir is the story of how they did, and didn't.
Here We Are: American Dreams, American Nightmares follows the lives of Aarti, the precocious scholarship kid at one of Manhattan's most elite prep schools, and her dad, the shopkeeper who mistakenly sells watches and calculators to the notorious Cali drug cartel. Together, the two represent the extremes that coexist in our country, even within a single family, and a truth about immigrants that gets lost in the headlines. It isn't a matter of good or evil; it's complicated.
Ultimately, Here We Are is a coming-of-age story, a love letter from an outspoken modern daughter to her soft-spoken Old World father. She never expected they'd become best friends.
Aarti Namdev Shahani is a correspondent for NPR based in Silicon Valley, covering the largest companies on earth. Her reporting has received awards from the Society of Professional Journalists, a regional Edward R. Murrow Award, and an Investigative Reporters & Editors Award. Before journalism, Shahani was a community organizer in New York City, helping prisoners and families facing deportation. Her activism was honored by the Union Square Awards and Legal Aid Society. She received a Master's in Public Policy from the Harvard Kennedy School of Government, with generous support from the university and the Paul and Daisy Soros Fellowship for New Americans. She completed her bachelor's degree in anthropology at the University of Chicago. She was among the youngest recipients of the Charles H. Revson Fellowship at Columbia University and is an alumna of A Better Chance, Inc. Shahani grew up in Flushing, Queens—in one of the most diverse zip codes in the country—and believes every American should visit her hometown to understand what makes America great.
ABOUT OUR GUEST HOST
Jerome Vaughn is News Director at 101.9 WDET. He joined WDET in 1992 to help chronicle Detroit's comeback and let people around the world know the truth about his hometown. Vaughn also runs the news internship program, providing opportunities for future public radio producers. He has served as a mentor for NPR's Next Generation Radio project and is committed to training aspiring public radio journalists. 
Vaughn is a graduate of the University of Detroit High School. He has a BA from the University of Michigan and a MA from Wayne State University. He was inducted into the Michigan Journalism Hall of Fame in 2018.
His interest in news reporting began when he was five years old, when his mom bought him a yellow Panasonic ball and chain radio. 
Click to Visit Grantor Site
Click to Visit Grantor Site
Click to Visit Sponsor Site
Click to Visit Sponsor Site
Click to Visit Sponsor Site
Media & Supporting Sponsors
Click to Visit Sponsor Site